For anyone in their 20s, racing against your own age ticking away as you desperately try to work your way up the career echelons is a familiar, fleeting emotion of helplessness. When it comes being held up against precocious talents and the deep-seated awe we feel when faced with their worldly success, it's even more devastating. One such talents is producer, artist, songwriter of the moment MNEK – only 21. Born Uzoechi Emenike in South-East London in 1994, Emenike – or MNEK as he is cleverly professionally known – signed his first publishing deal at 14. By 17, he was touring with Rudimental, and at 21 he has scored his first Top 10 hit as a solo artist alongside rising Swedish singer-songwriter Zara Larsson, for the single Never Forget You.  Schön! heads down to his studio in Old Street to talk about his passions – music, plantain and old Calvin Harris.
Your first official credit was for The Saturdays' All Fired Up. What was the first project you did where you thought, I can do this long term?
I've always wanted to do it long term, so I don't think there was one point whereby I said: "Now I want to do this for real". I'd say that a project that I worked on that definitely made me realise the direction I wanted to take as far as my artist projects was definitely Rudimental when I was touring with them. I was working on their first album – and I was about to turn 18 – that was great.
You've worked with some really great artists, from Madonna to Babyface. As your solo work takes off, how will you balance the two?
With my solo stuff – as far as me creating it – I take my time with it anyway. My work is more intuitive, as opposed to a factory, writing a song every day. I'll always be able to balance the two because I only ever send management or label songs I'm really happy with. So, I only make stuff I'm happy with however long it takes me. I'm always going to have that and the writing and production stuff will always keep me afloat too.
With the writing – do you have someone in mind when you create something or do you wait until it's done?
I rarely write for – I usually write with – so all the sessions I have are usually with artists that are writers. Even if they don't necessarily write, they've got to be able to go in a room. I vibe off them and we make something together, whoever it is.
Have you ever been working on a track with someone and thought, 'I wish I could keep this for myself?'
[Laughs] I've questioned it a lot. You know, in the middle of making a song – by the time we're at the chorus I'm like do I want to give this? [Laughs] A lot of the time I make songs tailored to who I'm working with.
One site called you London's answer to Pharrell – are there any producers that inspire you?
Producers that I'm inspired by are people like Jam & Lewis – they're my idols. I love Pharrell. I love Timbaland, Rodney Jerkins, Teddy Riley and Calvin Harris' old stuff – the first two albums I Created Disco and Ready for the Weekend. I love that Calvin. He was wicked back then.
Your background is Nigerian. Any plans to work with any artists from that music scene?
There's always been mild conversations. I'm never against it – I just have to find the right project.
What would need to be in place for that to happen?
I just have to like it. There's no other science to all of this stuff – I just have to like what I'm doing. Whoever comes forth and I like their vibe I'd love to get in the studio and work with them.
Would it be a house, pop vibe or more afrobeats?
I'm open. The stuff I make for people and the stuff I do for myself is beyond one genre – it stands between different things – it's R&B, electro, dance and even has New Jack Swing references. Everything I do I seep into it – it's more about making a song that's tailored to what you have to say. If it goes well you're the person who has to perform it for ages.
Obviously you're into your fashion. How much time do you spend planning your performance outfits? 
I'm definitely all up in it. I have to be because I'm a bigger guy. I have to be very mindful of what I'm wearing and I have to have a lot of custom stuff too. I collaborate with my stylist, Carri Munden, she makes me outfits and she earches out for people if they've got good pieces of clothing in XXL and all that [laughs]. When I first came out I was wearing a lot of African print – with the hat and strong, striking patterns but as I got older…it's all over here [gestures to the African print decor in his studio] and it's sick because it's such a massive part of my identity.
It's where my parents are from and my heritage but then we're moving forward and getting to the next phase of what I want to do. I've had to transition out of that and think about what I want to do next – a new colour vibe and I love bright, striking colours – I'm on that . I'm definitely invested in what I wear because it's something I have to own up to. No way will I let them just dress me up [laughs].
So, you clearly have a thing for plantain…
It's well documented [laughs].
What's your favourite plantain-related dish?
There's not, like, a plantain dish [laughs].
What's the meal that does it for you then…
Jellof rice, chicken…I don't eat chicken anymore. So, it would be jellof rice and some kind of fish, plantain and some spinach. 
You've given up meat – how's that going?
It's cool.
What was the reason behind that?
My boyfriend doesn't eat meat so I found that a lot of my meals were veggie….
What's the worst health fad you've ever tried?
I tried the juice cleanse thing for a few days.
That made me angry!
[Laughs] It did make me really angry. You can't eat anything…but if you even have the smallest morsel it won't fuck up your mood but if you have nothing but juice all day – you are pissed all day. It's crazy. So yeah I tried the juice cleanse. About three years ago I did this diet where I literally had nothing but chicken and vegetables…
Breakfast, lunch and dinner?
Yes. Sometimes I'd just have breakfast and dinner. No carbs, no bread, no dairy all of that and I smashed it. I lost nuff weight but that's hard to keep up. I think it's now about balance – everything in moderation and portion control. 
If you could form a supergroup with five other artists dead or alive who would be in your group?
[Pause] Becky Hill, Ryan Ashley, Kate Stewart, ShiftK3y and Brayton Bowman.
What would you call yourselves?
I don't know – what would we call ourselves? Turquoise…
Because you like the colour?
How did you guess! [laughs]
Small Talk is available through Virgin EMI here.

Words / Ihunna
Photography / Carl Wilson
Styling / Kylie Griffiths
Grooming / Bianca Simmons
Styling Assistant / Thomas Ramshaw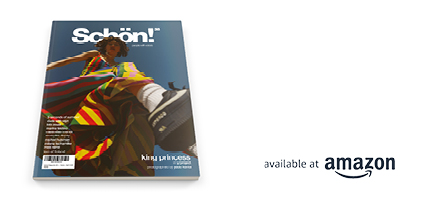 Discover the latest issue of Schön!. 
Now available in print, as an ebook, online and on any mobile device.