It's been a whirlwind few years for The Neighbourhood. Having just released their second album Wiped Out! to critical acclaim, the five piece band is on a Europe promo tour when we catch them during their London stop-over. Formed in 2011, the band has toured with big name acts like Imagine Dragons and The 1975s, and made their fame and fortune with celebrated tracks of the likes of Sweater Weather and Afraid. Schön! chats to charismatic lead singer, Jesse Rutherford, discussing the new album, his life and why he resents being labelled as alternative rock.
The Neighbourhood's first single off their sophomore album Wiped Out!, R.I.P to My Youth, is a dark coming of age track with a powerful video shot by the legendary Hype Williams. The song and video represent a more mature move for the band, something which Rutherford acknowledges himself. "I think we were kind of more ready now to be in a music video, we're kind of not as boyish as we were before." The video, like all of the band's videos, official photographs and social media accounts is filmed entirely in black and white, a tool which the band uses to create their own distinct image and brand across all platforms. "We are all so different in so many ways, the band members, I think having the black and white thing it puts us in a world in a way. We know when we're doing something for the Neighbourhood, when we picture visual things in our heads naturally I think you translate your ideas in black and white." 
The video for R.I.P to My Youth is one of many visually striking videos from the band, arguably the most famous being the video for Afraid which features Rutherford completely naked, a move which Rutherford says was a way to confront his own insecurities.With lyrics including "Being me can only mean, Feeling scared to breathe, If you leave me then I'll be afraid of everything. That makes me anxious, gives me patience, calms me down, lets me face this, Let me sleep," the song explores depression, anxiety and insecurity – all topical in an age of disenchanted youth. Speaking with Rutherford about the video, his fear and anxiety about the videos release had surprisingly little to do with appearing naked for the entire world and instead his fear was a little closer to home. "It's super scary but mainly I was scared that Mum was going to see it. It's kind of stupid because she's probably seen my dick more than any woman in world ever will." While Rutherford is still not sure about whether or not his mother has seen the video, the video is undeniably powerful. "I'm sure she's proud that I was not afraid to put myself out there."
The five band members of The Neighbourhood, Jesse Rutherford, Jeremy Freedman, Zach Abels, Mikey Margott and Brandon Friedall met as teenagers and became close friends. At first in separate bands, it was not until much later that they finally decided to make music together. Even more surprisingly, the first time the group ever played together they wrote Sweater Weather, the band's biggest hit to date. "It was just a really special moment and it felt special before anybody said it was special. When we first wrote it and showed our families and some friends that we trusted their opinion around town or whatever, it was just a different reaction than we'd ever seen someone have to our music."  Sweater Weather catapulted The Neighbourhood into mainstream prominence peaking at number one on the Billboard Alternative charts and Number seven on the Billboard Mainstream Top 40, but Rutherford is far from complacent. "It takes a lot of people ten years in this day an age to be like next fucking level, like you're on every magazine, you're a household fucking name. It doesn't always happen overnight so I just want to keep making music." 
Rutherford's rockstar image is quite a contrast to his first experience in the spotlight as a child actor in the early 2000s, starring in Life or Something Like It alongside Angeline Jolie and Edward Burns among other projects. Rutherford's passion, however, was never acting. "I really did it for a long time because it helped my family growing up. My Dad wasn't around so I kind of got to be the man of the house per se but I was just a little boy. I was just doing really well and it was helping my family a lot in the situation." 
Although his acting helped his family situation, Rutherford discovered his passion was music in middle school when he started playing drums and singing. This passion is evident when speaking with Rutherford who admits to never being able switch off. "I don't really like down time, I don't feel like I've really earned down time yet I guess. I don't know if I ever will." It is this discipline and self-control which has meant after having just released Wiped Out! The Neighbourhood is already back in the studio working on more music. The band have also just dropped news that 2016 will see the band head around Europe and the UK on a 16-strong date tour, taking them from Russia to Birmingham. What did we say about down time? Not in this lifetime.
Catch The Neighbourhood on tour – tickets available here.
The Neighbourhood's latest album Wiped Out! is out on iTunes now.
Words / Caitlin Donaldson
This Schön! online editorial was produced by

Photography / Carl Potter Wilson
Fashion & Creative Direction / Patrick Clark
Grooming / Lydia Warhurst using Bumble & bumble, Jurlique and Mac Cosmetics
First Assistant / Thomas Ramshaw
Second Assistant / Vasilis Loizides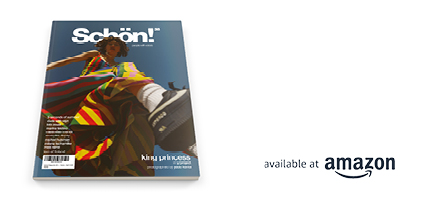 Discover the latest issue of Schön!. 
Now available in print, as an ebook, online and on any mobile device.