He dropped on the scene in late 2014, with a project that looked like it was going to shake up hip-hop, folk and everything in between. Meet Raury, the Atlanta-born guitarist, vocalist, lyricist, rapper, producer – we'll keep the list short – who's spearheading a movement of youth. An album that opens on "Don't hate my brother, God is our friend," All We Need promises to be an earnest, gut-wrenching ride of a listen. Even more so when the songwriter in question is only 19. The Sony signed talent sits down with Schön! in a Dalston side-street, unveiling the secrets of his sophomore album (following on from the success of debut 2014 body of work, Indigo Child Project), telling us about his Georgia roots and the story behind his hat.
Sitting face to face with Raury, we learn that the wise-beyond-his-years artist's vocation is one that is earnestly engaged in creating a shift. Edging away from the social weight of hip-hop, Raury engages his listeners in a spiritual journey, one which he undertook himself, to open minds, break barriers, and educate the heart, all in one fell swoop. His ambitions are high, but with such a cynicism-free approach we're all ears. "I was in a very dark place," he begins. "One album changed my life and helped me believe in myself. It made me want to chase my dreams and ever since then, I wanted to do that for other people." Conventionally commodified album releases have certainly killed the spiritual element of songwriting – something that seems to have been lost in many a genre since folk and rock repped in the '70s. Time to change. "I actually wanted to change the way that people look at music, change the way the industry looks at music because most people don't see it as something that can change your life. We have been hearing the same stuff for the past 15 years as far as what's been at the top," he relates. "This is the tipping point to start bringing dope music back to the forefront."
The audience he's targeting is of his own age, a generation disenchanted with the fixedness of society and the inability to break through identity barriers, leaving them in "a place where they make a home in disbelief and resentment towards the world," Raury explains. "They grow to become that kind of person. I wanted to create something that inspires someone to become the opposite of that." Taking the cue from soul-worthy anthems, All We Need resides at the crossroads where hip-hop and folk meet. "Folk is music about people, music about mankind, music about creation. People from Bob Dylan to Nina Simone – Nina especially – told those stories which touched people on a deeper level." Accordingly, he's a proficient guitarist, having mastered the chords since he was 8. Songwriting from there, he works with the likes of Danger Mouse, who, he explains, offers an expertise to sonically crystallize the process that brought him to a song. "We try to make sure it's a good mixture between good and evil and light and dark, as well as classical old sonics and sonics that are still 2015." In line with this, you've got depth in terms of soundscapes with accumulative harmonies, he spits a lyric like a pro and introduces a touch of nostalgic mixes.
Raury comes in a long line of Atlanta artists whose footprint crafted the world of trap, R&B and hip-hop. Not one to shun this past, Raury was even baptized by OutKast's André 3000 as the rep of the sixth generation of artists to emerge from the Deep South City: "People like this need to realise that things like this are from Atlanta and this is a part of Atlanta," he tells us. "I understand why one certain sonic is at the top for some people when they think of Atlanta because it is the most lucrative." "But if you go up in Atlanta, spend time, seeing the natural settings and spend time there, you'll understand how a kid like me comes from Atlanta."
An unconventional enlightenment process, however, differentiated Raury from the rest of the lot. His moment of breaking free was with his yearly C5 summer program, where counselors would take willing youths on mountain hikes and out of the city for wild camping. "They would be showing us all kinds of drawbacks of corporate greed, hyper-capitalism, show us how to use a compass, show us how to start a fire, where is best to get your water to boil it to purify it, all kinds of stuff like that." With the climax being a Wyoming 50 mile hike, in Yellowstone National Park, Raury finally found his head-peace. "Throughout all of that, I wore a sunhat all the time. When I got back, I was still really attached to that. I never forgot how much better I got at guitar out there, how I've never felt that way in my life. It just reminds me and it also keeps me grounded," he relates. "It's a choice that I made and it helps me decide how people feel about me that it doesn't matter. So it's a useful thing."
In line with this off-the-beaten track coming of age, Raury pioneered new forms of performance, launching his Anti-Tour with Indigo Child Project, which consisted of guerilla gigs round festivals, until the police shut down the show. "When I had just turned 17, I was a lot more rowdy, a lot more rebellious," he recalls. "Showcasing this album, I couldn't just tell everybody to come into this room and blast music while everybody networks. Those people probably wouldn't understand me off the bat so its much more targeted to a creative show.  Turn up with a big truck and van and record so that even if it does get shut down you have a video." Turning away from the spatial warfare of gigs, Raury took to the galleries of All We Need. "I wanted to bring my spectators back to a situation like in the old days where kids would put on headphones and sit on their back and look at posters and listen to the whole damn album." This closeness with his fans has led to a particular relation – one of exchange, where communication is taken off the net and into real life. "Just go that extra mile for fans," he beseeches, "because each fan that goes to that listening session, leaves for the most part as a fan for life because no one has done that for them."
The album listening, orchestrated by Raury in collaboration with an artist from Atlanta – a synaesthetic representation of All We Need, did in fact bring the kids running. A surprise drop in of Raury himself, and he has a crowd of attentive listeners in full discussion. This new form of artist-fan relation certainly breaks the digital divide, opening for new forms of spectatorship, throwing listeners into a spiritual journey. "It's not just me alone out here doing this," he underlines. "There is Alessia Cara, Lorde, Jaden, Willow, Joey Bada$$. It's because of us that there twelve-year-old kids meditating."
Where does it leave us, then? What are his ambitions for All We Need? Spiritual message aside, the album sets a clear line of thought – one that is repositioning music as an agent for change. And we're not talking Dollar type of spare change. "I just want it to set a new standard. 5 years from now, 7 years from now, when this kind of thing is a norm and is dope," he concludes. "That's what I want this album to do, to plant seeds for things like that."
All We Need is out now on Columbia Records.
Words / Patrick Clark
Follow him here.
This Schön! online exclusive has been produced by
Photography / Tom van Schelven
Fashion & Production / Kylie Griffiths
Grooming / Chloe Botting c/o Peri @ Stella Creative Artists
Assistant / Thomas Ramshaw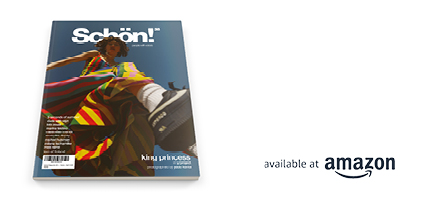 Discover the latest issue of Schön!. 
Now available in print, as an ebook, online and on any mobile device.