A masterful and modern interpretation of a timeless tale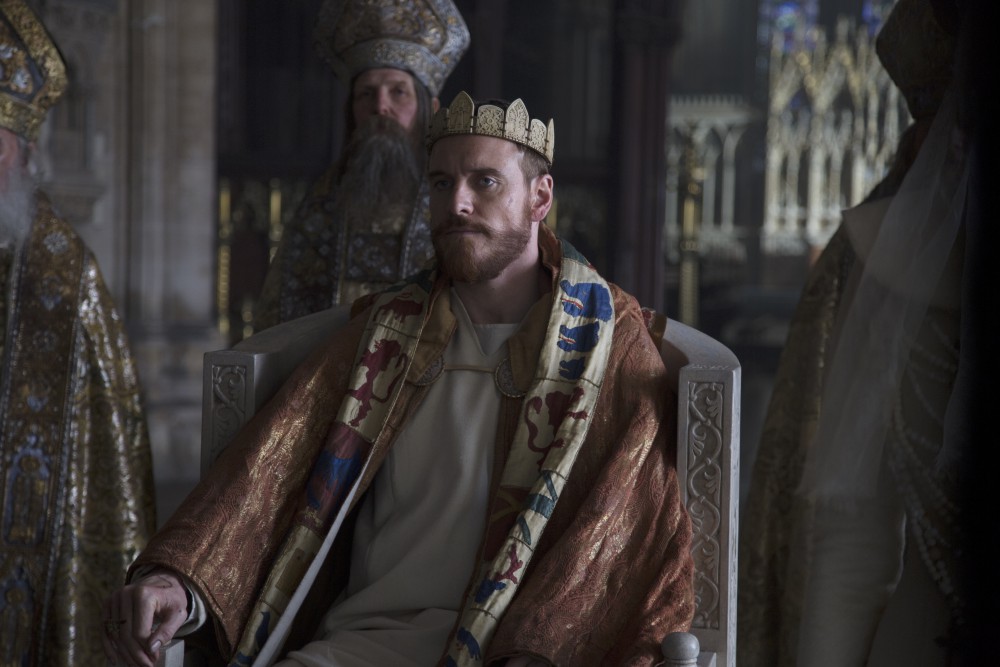 When Justin Kurzel made his first feature film Snowtown in 2011, we knew he was destined for great things. The young Australian director caught our attention and was interviewed in issue 19 of Schön! Who would have guessed though that his second feature would be on such a scale? Kurzel's adaptation of Shakespeare's classic is one of the most eagerly anticipated releases of the year… and you'll be glad to know it doesn't disappoint.
For those unfamiliar with 'The Scottish Play', as it is commonly referred to among actors, Macbeth is the story of a brave warrior who, after defeating a rebel army in defence of his king, encounters three witches. They tell him that he will not only become Thane of Cawdor, but also King of Scotland. Shortly after, the first prediction comes true and, despite his loyalties, Macbeth becomes obsessed with fulfilling the rest of the prophecy. Encouraged by his ambitious wife, he commits regicide in order to take the throne, but soon his guilt turns to madness and his paranoia of losing his ill-gotten gains drives him to enact further atrocities and leads ultimately to his destruction.
If you find the idea of sitting through hours of Shakespearian verse and hammy theatricals off putting, never fear, as there's not a slice of ham in sight. Kurzel has taken Macbeth off the boards and placed it firmly on the bloody, battle torn heaths of an 11th Century Scotland, a landscape that is simultaneously bleak and breath taking, particularly in the final, fiery scenes.
The famous lines of 'Double, double toil and trouble, fire burn and cauldron bubble' have been cut and the stereotype of warty, wizened witches turned on its head. Instead, we have eerie, ambiguous creatures that appear and disappear among the mists of the moor. The porter (a character that brings comic relief to Shakespeare's tragedy) is also missing, because the combination of madness, murder and megalomania is serious stuff and more than enough to be getting on with. The result is a visceral, realistic and, above all, cinematic two hours.
A first rate cast, led by the dream team of Michael Fassbender and Marion Cotillard, foregoes the projected voices and overstated gestures of the stage and play instead to the intimacy of the film camera. Let's talk about Fassbender (a subject we would happily dwell on all day). Watching Macbeth, it's hard to imagine any other contemporary actor in the role. He is believable as both the valiant and loyal general and the insane and paranoid king, although it would have been good to have seen more of the descent from one into the other, as the transformation does appear rather sudden.
Marion Cotillard is mesmerising as Lady Macbeth. She doesn't attempt to master a Scottish accent and somehow it doesn't matter, as the idea of her as a foreign bride seems perfectly plausible. Instead she concentrates on bringing complexity to a character that is often perceived simply as a villain. Cotillard manages to convey a mixture of grief, ambition and remorse effortlessly and it doesn't hurt that she has a face that can fill a screen for minutes at a time. One can't help but wish though, that the hair and make-up department had taken the same approach to Cotillard as to Fassbender. The latter spends much of the film bloody and muddy or scarred from the battlefield, while the former has perfectly threaded eyebrows – somewhat out of context given the medieval setting.
Although it may be hard to take your eyes off Cotillard or Fassbender, Macbeth's success is also due in no small part to a superb supporting cast, most notably Paddy Considine as Banquo, David Thewlis as King Duncan, and Sean Harris who is compelling as Macbeth's nemesis Macduff. The outstanding costumes from Oscar winning designer Jacqueline Durran, whom we also interviewed in issue 19, deserve a mention too.
It's not surprising that Kurzel's background is as a theatrical designer. What he brings to The Bard's classic, with the help of Director of Photography Adam Arkapaw, is a strong visual style that delivers a believable depiction of the 11th Century Highlands. By doing so, he's also delivered a very modern take on a centuries old story. That's before you even take into account the pretty much perfect casting. There are a handful of memorable film adaptations of Macbeth and Kurzel's powerful version can more than stand up beside them.
Macbeth is in UK cinemas on 2nd October 2015.
Read in depth interviews with Justin Kurzel and Jacqueline Durran in Issue 19.
Words / Huma Humayun
Follow her on Twitter.
Images courtesy of Studiocanal.