Ben Wheatley's adaptation of the 1970s class war classic offers up both style and substance.
Set in the mid '70s, on the eve of Thatcherism, author J.G. Ballard's satirical dystopian masterpiece explores the social tensions within a luxury apartment block, where the sense of entitlement and privilege rises floor by floor. Down below are the middle-classes, while the penthouse is occupied by the building's enigmatic architect Anthony Royal (Jeremy Irons) and his aristocratic and snobbish wife (Keeley Hawes).
New arrival, eligible young batchelor Dr. Robert Laing (Tom Hiddleston), is sandwiched somewhere in between, right below sexy single mother Charlotte Melville (Sienna Miller). He's not expecting to become quite so embroiled in his neighbours' politics, but soon discovers it's simply unavoidable. Power failures and supermarket shortages soon fuel the tensions between the lower and higher dwelling occupants to a point where animosity turns to violence, vandalism and vindictiveness. Before long, it's total anarchy, with plenty of sex, drugs and rock 'n' roll thrown into the mix.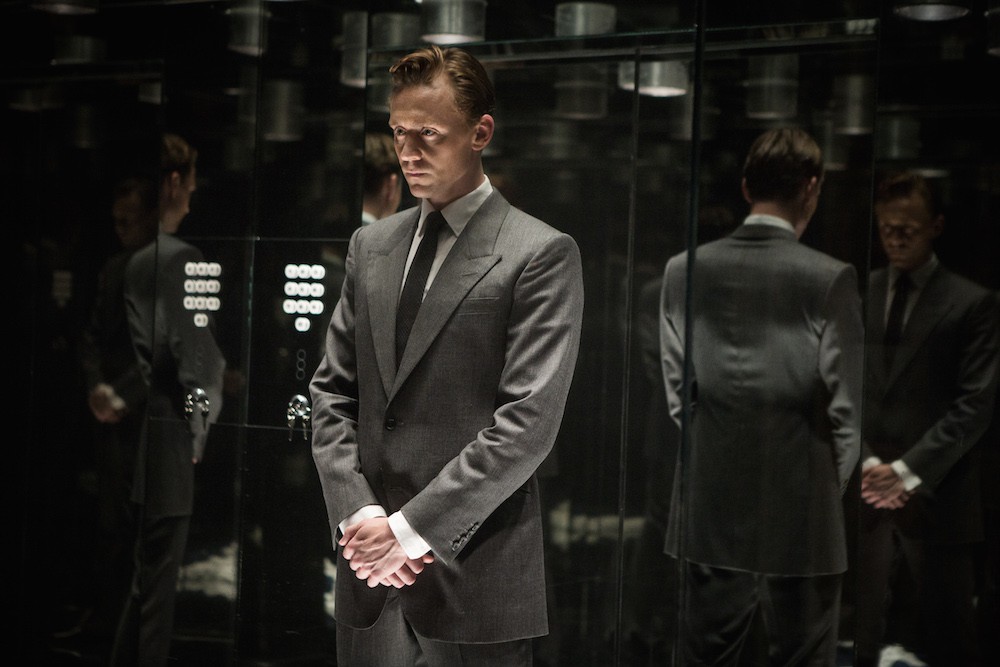 The score, by seasoned film composer Clint Mansell, is instrumental in conveying the sense of impending calamity. "I grew up in the West Midlands in the '70s. Buildings like Birmingham's Rotunda captured both a dystopian future and a bleak present," Mansell recalls. "Add a soundtrack supplied by Bowie's Low, Siouxsie & The Banshees' The Scream and Joy Division's Unknown Pleasures, and it's impossible not to feel we were the children of J.G. Ballard. It was easy to put myself in Ballard's world. It was like he was writing my world." Also notable is Portishead's cover of ABBA's SOS – a song director Ben Wheatley felt represented the glamour and disintegration of the period – slowed down to haunting effect.
Wheatley has delivered a fairly faithful version of Ballard's book, but what he adds via the cinematic medium is incredibly high production values, with sets and costumes that are as insanely stylish as the residents are, well… stylishly insane.
Having already proved himself in smaller, independent films such as Kill List and Sightseers, Wheatley and his talented production designer Mark Tildesley have spent their bigger budget wisely, steering clear of '70s kitsch and nostalgia (with the exception of a Supermarket Sweep style set) to deliver something much more complex. When Laing first arrives at the brutalist building, we are greeted by the sleek and minimalist concrete lobby, with its polished floors and ribbed walls, followed by his all mod-cons, but unpainted, 'blank canvas' of an apartment. Only, it's not a blank canvas: it's design that's trying to dictate how people should live, with its obtrusive, oddly angled columns cutting up the room.
Likewise, costume designer Odile Dicks-Mireaux avoids the '70s fashion clichés of psychedelia and flower power. Instead, Charlotte Melville exudes effortless glamour in subtler prints and chiffon maxis, while the heavily pregnant and homelier Helen Wilder (Elizabeth Moss) is wholesome in Laura Ashley-esque prairie dresses. As the characters' lives descend into disarray, so do their clothes. Laing goes from slickly suited to splattered in paint in a desperate and manic attempt to stamp his personality onto his apartment while chaos reigns around him. Royal first appears dressed head to toe in white, like a scientist hell bent on his social experiment – a look that is somewhat sullied later on by the blood of his battered dog.
The casting is also spot-on. Hiddleston holds his own as the strangely detached anti-hero, while Irons is an obvious, but nonetheless perfect, choice for the megalomaniacal 'creator'. A stellar supporting cast including the aforementioned Keeley Hawes and Elizabeth Moss, but also the brilliant Luke Evans, keeps the viewer captivated and, if there are still any doubts, Sienna Miller delivers further proof of her acting prowess.
As one might expect, the film is violent, shocking, and subversive, but it's also wickedly funny, sexy and stylish. High-Rise is definitely our highlight of the week.
High-Rise is in UK cinemas on 18th March.
Read our in-depth interview with composer Clint Mansell in the latest issue of Schön! here.
Words / Huma Humayun
Follow her on Twitter
Images courtesy of Studio Canal