It's been over a decade since Chase & Status started out in the game. Since then, we've had A-sides, countless production credits and three extremely well received studio albums. Running the run of festivals across the UK and beyond, we catch them between caravans and tents, in the company of collaborators Louis Mattrs and George The Poet, for a quick one-to-three. Hear it directly from the masters of Drum & Bass here on Schön!
Will and Saul, you started out as two friends who shared a love for drum and bass music, did you ever imagine you would enjoy such success and longevity in such a relentless industry?
It's mad to think that it's been 13 years since we released our first tune. We are truly blessed to be making a fourth album and have the careers that we do.   We still are two friends who love Drum & Bass, just older now with a few more stories. We never thought we'd be in this position with the accolades, the live show and nearly 4 albums under our belt – it really is very surreal. We still love making music and are very grateful we get to create and perform for a living.
The lead single from your forthcoming album, Spoken Word features George The Poet, it samples 90's classic Everybody's Free by Rozalla and is sure to be part of this year's summer soundtrack. How did it feel debuting a slightly different sound with Zane Lowe on Radio 1 earlier last month?
For me the tune has a lot of elements of part of our sound; a nod to the '90s, nostalgia and euphoria with rolling beats and bass. What feels different is combining George's poignant Spoken Word poetry with rugged amen breaks and the hi energy. George sounds like no one else and that's what excited us and something we always strive for – something different and original. Zane has been a supporter and a friend for any years and it was great to premiere it with him.
Spoken Word seems to have the perfect summer vibe, tailo-made for festivals, are you looking forward to spinning your new material at the multitude of different festivals and shows that you're embarking on over the coming weeks?
We're halfway through our festival season and 2 weeks ago we headlined Wireless at Finsbury Park and played lots of new music with lots of new artists. We also Dj out every week and are constantly playing new music and trying out new ideas – it keeps it exciting for us and is a great way to see what needs working on.
As mentioned before, you're touring a lot over the next few weeks, including several nights at Ibiza's Amnesia. Do you use huge venues like this as an opportunity to see how new material you might still be working on is received?
Our summer at Amnesia started on June 7th and we will have been there over 11 times this summer by the end of the season. Tonight we play our only Live show in Ibiza with the band. With the live show we do have a set list that we keep to but the DJ shows are not decided at all, there is no set list and it's different each time.
Any pre-show rituals that might be of interest? Meditation vs Vodka?
Nothing too exciting I'm afraid, before the live show MC Rage says a few words in a huddle and then we go on.
Your second album No More Idols saw you well and truly cement your cross over into the mainstream, does this sort of commercial success add another level of pressure when you are working on a new release?
Success can definitely add unwanted pressure and it's only natural to want that to continue but you really have to just make music because you like it and are passionate about it. Writing something specifically for a purpose has a pretty short shelf life whereas great, honest music is timeless.
If so, does that mean that your fourth studio album will have a mixture of radio friendly hits, such as your lead single Spoken Word, alongside your more classic heavy Drum & Bass driven tracks for your more hard core fans?
Exactly that, we have full songs on the album, instrumental D&B and other tempos and much more. We genuinely feel that this is possibly our best work to date.
Grime music is having a major moment in the industry right now, you've always championed underground artists on your past mixes, and we've already seen a collaboration with Novelist on your recent release NRG, can we expect to hear more grime in upcoming releases?
We worked with Roll Deep on Top Shotta in 2005, Kano on Against All Odds from More Than Alot in 2008 and Tempz, Tinie, D Double and Dizzee on No More Idols in 2011. Last November we released London Bars featuring Giggs, Frisco, Novelist, Bonkaz and we produced Sun City for Jammer. We've been making and working with Grime artists for many years and will definitely continue to do so. There are more tracks with legends old and new that will see the light soon enough.
End Credits with Plan B saw you reach your highest position on the UK top 40 to date. Plan B seems to be somewhat of an enigma recently, are you still in touch? If so, is there a chance of history repeating itself with you guys working together again?
Actually End Credits wasn't our highest charting single, it was our first in the top 10. Blind Faith and Count on me both charted at number 5 in 2011 and 2013 respectively. Those were our highest charting singles.
We are very much still in touch with Plan B – who knows, you'll have to watch this space and see when the album comes out. 
Talking of collaborations, past years have seen you producing for some of the highest calibre artists in the game. We're talking Craig David, Cee Lo Green, The Prodigy and Rihanna. How do you solicit such huge names? Who approaches who?
It wasn't production for Cee Lo, he featured on our 2011 album No More Idols. We remixed The Prodigy in 2009 (which was a real honour) and the Craig David records are nearly finished.
Roc Nation got in touch with us in 2009 and co managed us for a few years and we had cuts on four Rihanna records and remixed DOA for Jay Z. We're still in touch with the Roc guys and have great respect for them for taking a chance on our sound which was pretty different for them.
Collaborating is usually a very organic process, we have a relationship with most of the people we've worked with and try and catch a vibe naturally. When we produce records for others they often get in touch with us. We love working with new talent and that's been something we've been passionate about for many years.
Are you lending your hands to producing any other artist's upcoming releases?
There are definitely a few things being finished up and more on the horizon.
Spoke Word, Feat George The Poet is out worldwide on Mercury Records Ltd.
Words / Jordan Gale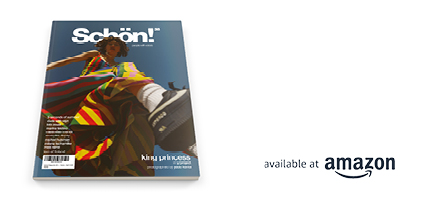 Discover the latest issue of Schön!. 
Now available in print, as an ebook, online and on any mobile device.