Yesterday Coachella came to a wrap for 2018 and, after two weekends of pure craziness, people are recovering from Beyoncé's glory, all the amazing parties, shows, special guests and various recreational activities. Queen Bey did her thing and surpassed everyone's expectations, bringing the beehive in waves for her Beychella. When the lights finally dimmed and Yoncé walked out, the seemingly never-ending crowd, of course, went absolutely insane. Even if you are not a huge fan of hers you cannot argue that her performance was an epic moment for Coachella, and music history as a whole.
But what else happened? A whole lot. Weekend one, if you don't already know, is all about the parties. Most parties are elite, hard to find, and you probably need be on the list. What's waiting for the select few that make it through the red tape? Small venue concerts with major artists, open bars, and tonnes of celebrities. So yes, unarguably, you'll want to be there. Diddy put on a three-day party-slash-concert event called COMBSFEST with Lil Wayne headlining. His performance had all the energy you would see at a major show and you could see his fans appreciated being able to get up close and personal.
Still on the event front of things, Adidas created a desert mirage with new kicks in their partnership with Coachella, providing influencers with the brand new #ultraboostclima shoes and giving festival attendees an elevated experience with surprises throughout the weekend. Fast-food empire McDonald's and California lifestyle clothing brand Pacsun teamed up to present the 6th Annual Bootsy Bellows Pool Party. And yes, Schön! 24 cover star Gigi Hadid did smash two-quarter pounders there (that we know of, could be more). 
From one Schön! coverstar to another, Rihanna's Fenty x Puma party was highly anticipated and had a lot of fun activities such as go-cart racing and a blowup slide along with food trucks and open bar. The best part was, of course, all the celebrity guests as well as the mere act of seeing the queen RiRi herself.
Saturday's Neon Carnival is likely the most elite and talked about of all the parties. Special invites go to a rough select of 3,000 people, including A-list celebrities, influencers, models, creatives and generally cool kids. With full-size carnival rides, games, and great music it was undoubtedly the party to get into.
The two-day Revolve Festival is always a win if you get in. With performances by 21 Savage, Rick Ross, and Snoop Dogg, the fun was guaranteed. Undoubtedly, the highlight of the festival was the closer of the weekend, Chicago's very own Chance The Rapper. But that's not all: Revolve also brought one of Michael Jackson's Neverland rides that partygoers couldn't get enough of. 
That pretty much sums up weekend one. So many day parties, invite-only parties, small venue performances, and your general crazy fun times happening — so much so that you won't even miss the actual festival. As long as you also go to weekend two to see the performances, of course.
Now for the actual festival. Coachella, music-wise, we love you more and more every year. Art installations impressed us and gave the landscape some great meeting points so you don't lose your friends. But the real question people ask is "who won Coachella?" Or shall we say who won Beychella? Pretty self-explanatory but, who else killed it with their performances?
22-year-old Post Malone brought out not only Lil Yachty but also Tupelo's hip-hop duo Rae Sremmurd, calling them the "best rap duo out right now" after they performed their current single 'Powerglide'. His performance gave attendees a full-on rock show feeling and he was a great choice to see right before the main attraction, Queen Bey. On Sunday, Miguel basically made love to the audience and they loved it. We loved the way his fringe mic swayed along with his hair and jacket.
The Bronx's very own Cardi B definitely stood out and had a huge crowd at the main stage showing she deserved a much later set time. Even though she finished a little early, we all give her a pass for giving us all her energy — pregnant twerking included. Keeping it in the family, Migos had some issues during weekend one but the sound was all put together again for weekend two and they took full advantage. Cardi B came out for 'MotorSport' and people loved it. 
Last but not least, Marshall Mathers (a.k.k. Eminem) closed the festival on Sunday evening and the crowd couldn't have been more thrilled when he brought out hip-hop legends 50 Cent and Dr. Dre. Curtis did a few of his own songs and Dre on his end summoned even more people to the stage, making the show so much better.
If you have never attended Coachella, do it. And hey, might as well go both weekends and experience everything the festival and associated events have to offer. Oh, and one thing: don't forget your sunscreen and bandana.
words + photography. Christiana Lucratif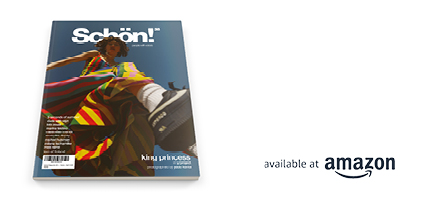 Discover the latest issue of Schön!. 
Now available in print, as an ebook, online and on any mobile device.