The so-called "20-year rule" sees fashion move cyclically. As such, the 90s are currently undergoing a renaissance, which means it's perfect timing for Super Sharp, an exhibition concerning the roots of the Jungle and UK Garage scenes and their relation to style and culture, to be staged.
The brainchild of Tory Turk, an independent exhibition curator specialising in style and popular culture, and Saul Milton, one half of Drum & Bass duo Chase & Status, Super Sharp investigates the adoption of luxury Italian designer brands such as Versace, Moschino, Iceberg and D&G, into "the underground music scenes of Jungle and UK Garage" and seeks to recount a more accurate representation of the era than is available on the internet, for "the Internet's version can be subverted, the overlap between Jungle and UK Garage style can become confused." The exhibition is to be shown at London College of Fashion's Fashion Space Gallery as the "first instalment in the RTRN II JUNGLE series we're doing this year celebrating 15 years of Chase & Status," Milton explains.
Tory Turk and Saul Milton first met back in 2014, when Turk curated an exhibition entitled 'A Streetstyle Journey' and invited Milton to style the jungle mannequin in it. "It was then that Saul told me about his Moschino collection," Turk details. "I went and saw Saul's collection and it blew my mind, a curator's dream," she continues, revealing that from then onwards the exhibition concept for Super Sharp began developing.
Milton embarked on amassing such a collection as a result of the longing to be back in the headspace of his driven and inspired 18-year-old self while writing Chase & Status' third album in 2013. At 18, Milton was also clad head to toe in Moschino. "I dug out my old clothes and rekindled my love of the brand and collecting and the next thing I knew I had 1500 pieces of men's and women's Moschino," he concedes.
He took up the creative reigns of this project whilst Turk assumed responsibility for constructing a narrative. "I plan the structure of the exhibition and then Saul —and other people who were involved in the development of both scenes— have shaped the content.  It's great that Saul has not only built such an impressive and important archive but he can also guide the musical story that is so obviously integral to the jungle and garage scenes' styles," Turk discloses. "I've been passionate about street, style and culture for years and Tory shares the same passion and here we are," adds Milton.
By involving those who were actually there, Turk and Milton hope to paint a more accurate picture of the time as it happened. "The aim of Super Sharp is to communicate a selection of themes associated with jungle and garage styles through the voices of people who actually experienced them," outlines Turk. Those who shared quotes include artists such as Goldie, Skibadee, Navigator, PJ and Smiley. Indeed, the response garnered to a call for contributions was apparently "amazing," perchance due to the nostalgic subject matter, both Turk and Milton concur, "people love to look back and celebrate the scenes that nurtured them."
Tory Turk, having completed an MA in Fashion Curation (a course at London College of Fashion renowned for investigating contemporary approaches to curating fashion) has cited before that she is interested in the immersive, interactive potential of fashion exhibitions. So this begs the question of how the Fashion Space Gallery been utilised to optimise the audience's engagement with the exhibition content. Turk explains that "the music selection that Saul has picked will captivate the visitor and having the physical garments on display has a much more visceral effect than seeing the garments only in a digital flat format." Together, Turk and Milton affirm, "we hope people feel that the combination of music and physical garments on display will go some way in transporting the visitor back in time."
Specifically, Turk and Milton intend for Super Sharp to resonate with millennials. They point out that because "Super Sharp is on display at a university and most of the students won't have experienced the jungle and garage movements first hand, it is the perfect place for young fashion students to be educated by the originators of the 90s scenes that are 'having a moment' today."
The topic of Milton's own youth is also broached. Is he longing for his 90s heyday again, having reminisced for the sake of Super Sharp? Apparently not. "TBH my clubbing days ended ages ago —when you DJ every weekend all year you get your fair share of sweaty nightclubs and loudspeakers. I think the very nature of my Moschino collection is a nonstop trip down memory lane. Memories of a time when I was most inspired and that's how I feel today —inspired like I did then."
To look to the future instead, we can eagerly await everything else the RTRN II JUNGLE series has in store for us. RTRN II JUNGLE, comprised of a much larger exhibition featuring a full multimedia experience and Milton's full 1500 piece Moschino collection, "an absolute must-see for anyone interested in fashion and style," as well as DJ tours and music "which will all be released under the RTRN II JUNGLE banner," sounds absolutely fantastic. Primed to be a majorly culturally enriching and edifying experience, RTRN II JUNGLE is not to be missed —paying a visit, whether by way of the forthcoming Super Sharp showcase or the main exhibition later down the line, will prove to be immensely worthwhile.
Super Sharp opens at the Fashion Space Gallery from Thursday, February 1st until Saturday, April 21st this year.
Words / Hollie Williamson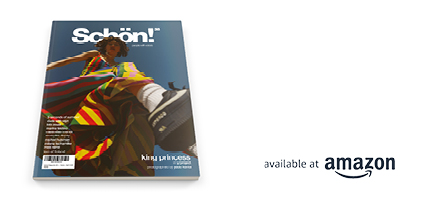 Discover the latest issue of Schön!. 
Now available in print, as an ebook, online and on any mobile device.