The SS19 Balkan Fashion Week held in Sofia, Bulgaria, was indeed an international affair. Designers represented a range of backgrounds and educational experiences; from upbringings in Kazakhstan to recent graduates of IED Milan. There was a refreshing mix in the summer air. Schön! found the following collections particularly intriguing.
Sandy Aman hails from Kazakhstan.  While this founder was far from home, the brand appeared very comfortable on a Sofia runway. The collection featured formal attire — women swept the catwalk wearing ballgowns, cocktail dresses and tuxedos. The colour palette was black heavy, with the odd interspersion of gold or pale blues. An array of sheer fabrics, ruffles, tiers, beadwork and feathers reigned supreme here. The collection was brought into a modern context through novelty sized hats and cylinder bags. 
The Rustina collection was a plethora of pales. Soft as air, this collection explored washed out mints, baby pinks and muted blues. Fabrics were lightweight, with sheers often being draped majestically over the shoulder and arms. Models moved gracefully along the runway, their bodies predominately adorned in feminine dresses and skirts, with the occasional appearance of a pant and blazer. Draped tier earrings added another layer of delicacy, while sleeked back hair and bright orange heels gave each full look a sense of simultaneous grounding and boldness. 
Since childhood, Carlo Cimmino has been on a mission to create haute-couture clothing. A recent graduate of IED in Milan, his latest collection explores the controversial figure of Lilith. Cimmino explores both the angelic and devilish sides of this complex character. Tea dyed cream-shaded chiffon initially reveal a lightness, however, from here the collection endured quick alterations of light and dark, with textures transitioning from silks to neoprene to velvet, to black dyed chiffons with heavy creasing and raven-like feathers. Models had ruffled hair and at times adorned hoods, adding a further sense of drama to this collection.   
At just 19 Aleksandra Kachulkova left her home in Bulgaria to study a BA in fashion design at IED in Milan. Since then she has had her designs posted on Vogue Italia and has worked in textiles for Tom Ford. This was going to be an exciting collection. For SS19, Aleksandra drew from her home life – her family's tea factory to be precise. The collection was titled 'Between Noise and Silence.' The majority of the garments were white, reminiscent of the purity of a tea laboratory. Fabrics floated around the models — mainly sheer, with the odd opaque adding a strong contrast. The plunging of a tea bag into boiling water was also depicted in the collection through the sporadic swirls and streaks of colour across garments. Face masks completed the collection, perhaps a more literal reminder of the factory and a time when Aleksandra worked in a different form of production. 
There was softness and lightness across the SS19 Sofia collections, whether it was the use of fabrics, colour palettes or feminine silhouettes. This approach seemed a very fitting prelude to the upcoming spells of sunshine. 
Find out more information about Balkan Fashion Week here. 
words. Alana Flood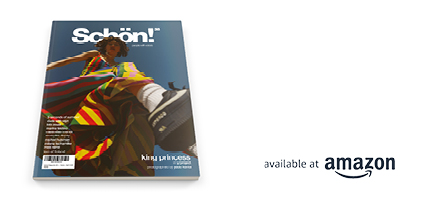 Discover the latest issue of Schön!. 
Now available in print, as an ebook, online and on any mobile device.