Kyla La Grange is rt musician who refuses categorisation. Her sound can be described as a fusion of diverse genres, merging anything from pop to synth, to garage and indie. A testimony to the versatility of her folky, ethereal voice, La Grange's music continues to evolve and mature, originating with an acoustic guitar, to an increasingly electronic sound. With two albums already to her name (Ashes and Cut Your Teeth), the singer is now gearing up for a series of single releases, and with this, a new and exciting musical direction. As Schön! premieres her latest single Justify, La Grange discusses her inspiration, and what to expect of her latest ventures.
After touring with Faithless and producing tracks alongside Ben Pearce and Jakwob, La Grange's upcoming singles will showcase the influence of these dance music talents. She wrote her latest single, Justify, in a "little music room", before meeting with Pearce in the studio, adding in the "dark brass synth stab to chunk it up a bit". Alongside working directly with these producers, she explains how being surrounded by dance music and hearing it all the time meant that it just seeped in, as though by musical osmosis.
This more recent espousal of dance music suggests that La Grange's sound adapts according to where she might find herself at a given moment in life. She describes herself as having "done everything the wrong way around", in that: "the older I get the more I like going out and dancing all night… when I was younger I didn't really do that so much because I was quite unhappy and just wanted to stay in and be emo. It's nice doing it now though, I think it keeps me young".
La Grange takes a distinctly eclectic approach to songwriting, which she believes is owed to her wildly varied taste in music. She lists Joni Mitchell, Elliott Smith, Rihanna and Sean Paul, Booka Shade, Camo & Krooked, Grimes and Sia as just some of the artists she listens to. There is, however, one mantra that remains consistent: "write how you feel", which is, incidentally, the only way La Grange claims she knows how to write.
The singer describes herself in terms which conjure up a picture of someone just as multi-faceted as her disparate music taste: "I feel like my life has moved through a lot of different shades of colours, if that makes any sense. And I've always been someone who doesn't quite fit in – I was always artsy and academic but I also loved playing sports, I love dressing like a 15-year-old boy but I also love wearing elaborate outfits and makeup, I'm a vegetarian but I don't really like vegetables, and I'm a feminist but I like porn. So I guess it makes sense that my music would be mixed up."
An established and international name, La Grange has sung for audiences all over the world. However, for her, London remains "the most special" place to perform; surrounded by friends and family: "It just feels like coming home". She recalls a recent gig at Oval Space, when she spotted a group of friends dressed as her in the audience, mainly men in Kyla drag, during a "really sad, heartfelt song", which made it difficult, understandably, "not to burst out laughing!"
It is clear that La Grange is much more than a vocalist. Throughout her career she has self-produced much of her music, and spoken out about issues which are important to her, particularly surrounding feminism. When questioned on the topic of gender discrimination in the industry and how it might be addressed, she said that the "one thing I love about music is how many diverse and incredible female acts there are always pushing through, breaking the mould… And certainly we've got a long way to go before people judge those artists in the same way they judge male artists, but the best way to do that, I think, is to call people out when they're being sexist, and also to enable all these female acts coming through to speak their mind, to speak up, to be present and loud and unashamed to be themselves."
With a career spanning well over a decade and two critically acclaimed albums, La Grange's advice to those just starting out in the industry is telling, in spite of her success, of her humility: "Remember you got into music because you love music, and even if you don't make a success of it you'll always have that love, so just enjoy it and nurture it because it is such a valuable thing." 
Justify by Kyla La Grange is out now and available here.
Words / Daisy Schofield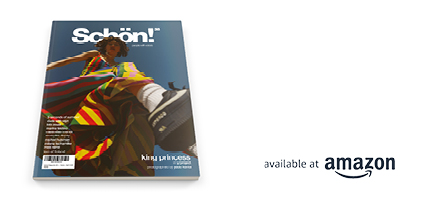 Discover the latest issue of Schön!. 
Now available in print, as an ebook, online and on any mobile device.