What's life without a little fun? In a time where the political and social paradigms threaten to bring us down, the need to express our voices — and have fun with them — becomes a crucial constituent in our lives. Now more than ever, it's a time to celebrate: our differences, our interconnectedness and our idiosyncrasies.
For our 34th issue, we say, "You can't bring us down," and throw a party to extol the figureheads showcasing the beauty of life. Whether perfecting their craft, speaking out on social issues, or just stepping into the limelight, these trailblazers prove that, indeed, we can work hard and play hard.
First off is our cover star, Sophia Lillis — captured by photographer Elizaveta Porodina — who at only 16, has made her way into the Hollywood elite with her captivating performance as Beverly in the modern adaptation of Stephen King's It. Lillis fills us in on her next big project, HBO's upcoming series Sharp Objects.
Also in the world of film, we chat with Glee's very own Darren Criss about his starring role in American Crime Story. Pitch Perfect's Hana Mae Lee lets us in on the importance of telling your own stories and the power of representation, while Riverdale's Camila Mendes, star of The New Romantic, opens up about stigmas and stereotypes. Additionally, Cailee Spaeny talks about her role in Pacific Rim and Olivia Holt reveals what is it like joining the Marvel family powerhouse.
In the music sphere, we chat with DJ and musical maverick Diplo, NYC's Junglepussy and Canadian artiste Tommy Genesis about their latest ventures. Emerging rap star Mozzy proves why he's Kendrick Lamar's favourite, Rina Sawayama opens our eyes to musical activism and we catch up with Metro Boomin, the industry's most trustworthy producer. On home turf, Britain's next starlets Mabel and Anne-Marie outline music's universal ability as a communicative tool.
If you're here for the fashion, we've got you covered. Industry icon Pat Cleveland talks us through turning life experiences into art; artist-cum-model Torraine Futurum's infectious joie de vivre permeates through our pages and Molly Constable's contagious laughter leaves us spellbound.
Designer Ryan Lo reveals why he loves an 'East meets West' cliché and creative duo Rianna + Nina unveil how a chance encounter led way to a stream of colourful designs.
Join these groundbreakers as we celebrate the gaiety and buoyancy of the future. After all, a little #party never killed nobody…
Raoul Keil
editor-in-chief + creative director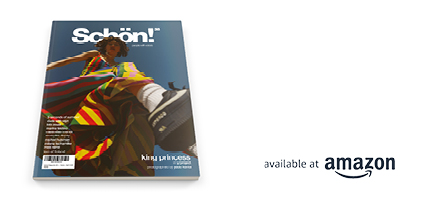 Get Schön! 34 | Sophia Lillis by Elizaveta Porodina
in print
as e-book download 
or on your mobile & tablet