On a crisp winter night, past a maze of red-lit passageways and in a concrete courtyard, TRAUMABARUNDKINO beckoned us with the promise of a good time and exciting possibilities. Beautiful creatures in outrageous fashion exuding cool nonchalance — as is the typical Berlin crowd — made pilgrimage to Heidestrasse 50 to witness Trauma's first in-house production, a fashion performance cryptically titled 'NOW YOU MAY TELL THAT I'VE BEEN SEEN BY YOU' and Schön! was there to witness it all. Down the rabbit hole and onto the underground dance floor, the music was bass-heavy and abstract. The air, smoky and alive. The atmosphere, electric. Everyone was drawn to the pristine white square in the middle of the room and so gathered around. The lights dimmed when anticipation peaked and, from the shadows, a beautiful, twisted dream came alive.
Trauma does fashion differently. It doesn't think of it as a binary concept. #SEENBYYOU, under the creative direction of Tanja Bombach, is a new way of experiencing it, combining the mediums of art, dance, fashion and drama in a visceral performance. In the dark, the dancers chant discordantly. What is a thing that's not a thing that's still a thing? It's eerie and manic. When the lights come on, Michael John-Harper's choreography is powerful and complex, like the dialogue it carries. Bodies and emotions become one in incredible primal corporeality.
The four-part show presents the works of four local designers, progressively transitioning from Olga Khristolyubova to Johanna Liebl, Don Arentino and finally Maria Miottke. The clothes are as much part of the performance as the dancers themselves. Once one collection is shed, another takes its place like a new skin, recounting another chapter of the same story. Vulnerable, violent, soft, sharp, feminine, masculine and everything in between: it's a harmony of contradictions articulated for the eager crowd to see.
TRAUMABARUNDKINO played host to an extravagant spectacle of raw emotion and pure creativity. This incredible production gave full artistic freedom to creatives and in a collaborative effort showcased how pure and boundless fashion can be. In a city famed for breaking down walls, why keep artforms separate when they make for such a beautiful union?
creative direction. Tanja Bombach
choreography. Michael John-Harper
fashion. Olga Khristolyubova, Johanna Liebl, Don Arentino + Maria Miottke
sound design. Mikka Madisson
photography. Floria Hetz
hair + make up. Kenny Campbell
light design. Rasmus Lauvring
production + technical direction. Troels Primdahl
video. Nikolas Kasinos + Jeremy Carne @ Ouroboros
dancers. Lukas Städtler, Ty Gurfein, Ernst Van Hoek, Daniel Schabert, Jules Boutet, Peer Liening, Stephan Quinci, Jessica Comis
event photos. Matthias Neumann
photoshoot images. Olga Khristolyubova
words. Sarah Osei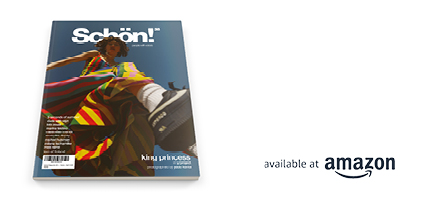 Discover the latest issue of Schön!. 
Now available in print, as an ebook, online and on any mobile device.