Nicholas King is a multi-talented designer whose career spans a myriad of aspects within the luxury goods industry. From small beginnings as a young boy making tea for designers, to boldly procuring a job with Galliano at just 19, King's talented arm has now reached from London to New York through his acclaimed jewellery brand, Nicholas King Jewellery. Having recently taken a small hiatus from the industry, King is now back and branching out further than ever. Schön! sits down with the dynamic designer to discuss the new direction and his much anticipated charity eyewear collection.
Can you tell us about the beginning of your career?
I studied Fashion Design at Nottingham University before going to Paris for one semester. It was there at a show in Paris, 1995, when it all started. I met one of the designers at a stand and ended up organising a tour of Galliano.  When I arrived the president assumed I was there for work experience, so I went with it and never went back to college! Luckily, when I called my Dad after that term they had offered me a job as production assistant! So, I learnt French and stayed for three years. It was the point when Galliano had only been in Paris for two or three seasons so it was all very fresh, there was always something crazy happening. Then I came back to London and worked with Francesca Amfitheatrof before moving to New York to work for Donna Karan.  
Would you say through these experiences you learnt to be successful in the luxury industry?
Yes, 100%.  I think it's the only way you learn. Everything I've learnt, I've done on the job. I don't know how you would come out of college and immediately set up a fashion business, it took me 15 years to work up the courage and knowledge for that!
Alongside running your brand, you also teach at The Fashion Retail Academy here in London…
I teach here every month and it's been one of the best things I've done. Teaching people who are looking to come into the industry reaffirms so much in your mind. Every time I finish my week's teaching I feel stronger about my own direction.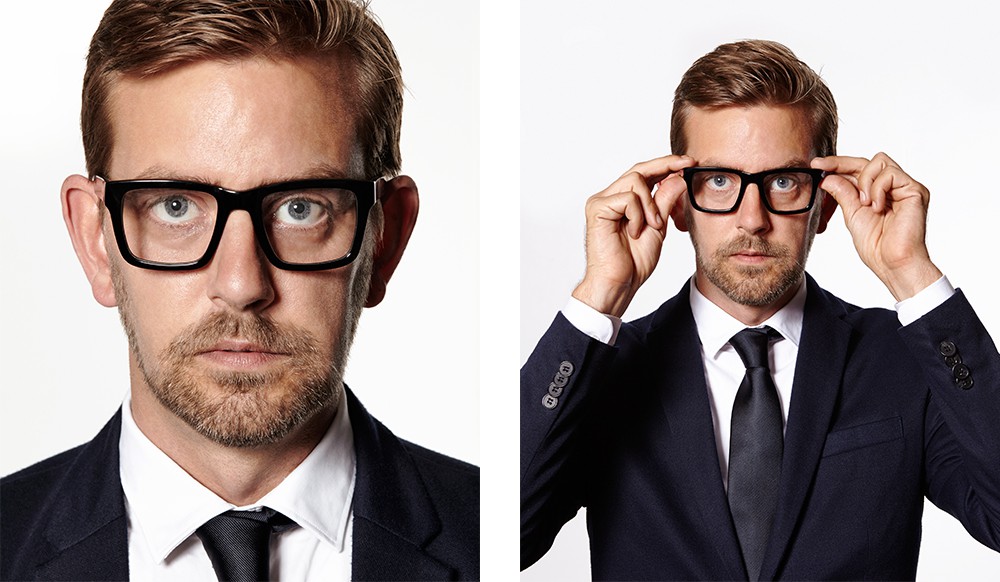 Are you still involved in all aspects of your brand?
It's still there. With my brand, I had hit a point where I wanted to make major changes in terms of the design. Therefore, last November, I stepped away to have a moment of change. Costume jewellery has become saturated, I felt I needed to step away and see what was happening. Now, I'm going back in creatively to look at what I'm going to do next.  I plan to come back with a brand new collection, and it won't all be jewellery.  I want to move into a broader range, including home wares. After a while people like change, don't they?
How did your first get involved with the charity eyewear project?
MyOptique wanted to do a charity collaboration with a designer and my name came up. I absorbed the materials, colours, techniques and learnt the restrictions. The concept of the range is that my jewellery inspires the glasses.  For instance, the stud pair references my first collection, the moment it all started. I kept it simple, choosing my favourite pieces and using black, gold and silver, which complement a lot of pieces in my collections. Each pair of glasses all have my signature crown on and individual names, which actually reference my friends. They are also designed in men and women's versions; the men's have the stars on the inside, my little secret.
How did Orbis become the chosen charity?
It was always going to be for charity and when Orbis was mentioned, it made perfect sense; it's a truly amazing charity. They have a flying eye hospital, which teaches people in remote areas challenging operations that would otherwise not be available. It's giving people the opportunity to access really important care. All the profits from these glasses will go to the charity.
Do you think that the fashion industry, having such a strong following, can make a big difference by doing charity collaborations? 
I've reached out to every press person I know, which I probably wouldn't have done just for myself.  I know the project is worth getting into magazines, as it's a wonderful project that can hopefully make a change. The charity side is a new epiphany to me; I hope I can do more.
Can we expect to see more like this from you in the future?
I hope so! My initial plan this year will be to continue working on my products, consulting and teaching. Every project leads to another, so it's an exciting time and I'm feeling very inspired.  People are now coming to me and requesting commissions, which I'm really encouraging! It creates opportunities to do new things. You can get so stuck with your head down, doing day-to-day work, and then someone throws a spanner in, it's a refreshing challenge!
Discover more on Nicholas King and the Charity Collection here.
Support Orbis here.
Words / Treeney Harkin
Photography / Anthony Lycett
Discover the latest issue of Schön!. 
Now available in print, as an ebook, online and on any mobile device.