Mode Suisse, which presented its 13th edition in Zurich earlier this month, is a platform that promotes both established and emerging brands. While the catwalk draws in a national and international audience, the event –with a typically Swiss pragmatism– aims to achieve not only press exposure, but to secure a commercially viable future for its designers. The runway show is therefore flanked with sessions in the showroom, where buyers mingle with the makers and get to see more looks from each collection.
"We hope to see consumers become more courageous," says Mode Suisse founder Yannick Aellen. "However, we are well aware that buyers need more than just appealing media coverage: the right price-quality ratio. We are constantly looking for new ways to further promote fashion diversity in Switzerland and foster the labels' profitability."
The nine designers selected this season covered both menswear and womenswear, including lingerie. Schön!'s highlights included Collective Swallow, a Basel and Berlin-based brand, which caught our attention with its non-seasonal, mixed gender collection. Models posed amongst piles of pizza boxes in tartan teamed with jersey, denim and velvet, tracksuits and hoodies juxtaposed with sequinned gowns and an oversized suit in nude patent leather.
After Work Studio also pays scant attention to seasons, preferring to continuously grow and develop its womenswear by adding individual garments and objects. The label aims to combine "feminine elegance with a masculine casualness" and the No Guns Allowed in the (Valley) Studio collection is nothing if not eclectic. Asymmetric cuts in soft shades of lemon, putty and white are contrasted by stronger colour blocked hues of scarlet, electric blue, pink and orange and layers of silvery chainmail.
Swiss fashion and textile designer Rafael Kouto only recently completed his MA in Amsterdam but has already honed his skills in couture (at Alexander McQueen and Maison Margiela), ready-to-wear (Carven) and ethical fashion (United Nations). The customisation and upcycling of discarded garments and materials are integral to Kouto's collections, as is his West African heritage. This is particularly evident in his current collection which proposes a hybrid of Africa and the West in its aesthetic, but a rejection of the mass-production and waste fuelled by globalisation.
Garinson is a high-end menswear brand that wants to "re-examine the uniformity of the contemporary suit" and offer instead an alternative that has been "freed of the heavy tradition of Western masculine dress". Designer Luka Maurer combines the classical techniques learnt at Ozwald Boateng in London, Egon Brandstetter in Berlin and Paul Davis in London and Paris with new lines and innovative materials to offer "avant-garde tailoring for modern heroes".
Although the Zurich event takes place over the course of an evening, a selection of brands will also be presented under the DACH Showroom platform at Paris Fashion Week in collaboration with the Austrian Fashion Association and the Berlin Showroom. It's clear that the Mode Suisse designers will be heroes and not, in the words of David Bowie, "just for one day".
For more information, visit modesuisse.com and dachshowroom.com
Words / Huma Humayun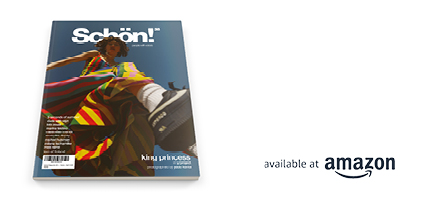 Discover the latest issue of Schön!. 
Now available in print, as an ebook, online and on any mobile device.