The city of Prague flourished in the Gothic, Renaissance and Baroque eras – its dramatic beauty and presence needs little contesting. Culturally rich, it comes as no surprise that a city so ornate and apt for such an event has only played venue to the international network of fashion weeks organised under the patronage of Mercedes-Benz since 2010.
The September edition of Mercedes-Benz Prague Fashion Week (MBPFW), in its sixth year, serves as a reminder that fashion thrives not only in Prague, but across all of the Czech and Slovak Republics. The venue has changed year on year, we've seen an open air show on "the longest catwalk in Central Europe" in Pařížská Street, through to a white "fashion tent" to the present conception of "a fashion temple" at various historical buildings which serve as an excellent base for designers to exhibit their creations.
This year MBPFW went underground, literally. The event took place in the underground service car park of the legendary department store Kotva, in the centre of Prague. The unassuming space offered unexpected beauty and a brilliantly stark and brutal backdrop for each of the shows. It is worth noting that although the location, the venues, the sponsors and the high profile guests are all integral parts to what makes a great 'fashion week', it is fashion week after all, therefore the fashion needs to be stellar and MBPFW did not disappoint in that respect.
Antonín Soukup, Miroslava Kohutiarová and Katarína Ravasová are the Czech-Slovak trio behind Laformela. The brand, at their own admittance, is aimed towards the customers who are in creative fields due to the bold nature of their designs and details. Laformela is avant-garde, undoubtedly feminine and a little bit underground. The brand specializes a lot of different garments and also accessories, particularly bags.
The S/S17 collection was as bold as to be expected from Laformela, flouncy textures and great coordinating dresses and metallic bags were at the crux of their collection, accompanied by a strong collection of structured jackets in sheer and pastel hues.
 Martina Špetlová is quite the fashion anomaly, in Prague she studied Chemistry, in London she studied at the prestigious Central Saint Martins – now she is one of the most successful Czech designers out there at the minute, with her eponymous line she has scooped an array of awards and has her designs in all three of the legendary Dover Street Markets in London, Tokyo and New York.
Špetlová specializes in leather. Ruffled leather, bold stripes and geometric prints formed a truly extraordinary collection. She notes that her brand is for 'self-confident women who can appreciate high quality', some of the pieces in her collection require more self-confidence than others admittedly. This was Schön!'s stand out show during MBPFW, without a doubt.
The Chatty brand was founded in 2005 by Anna Tušková and Radka Sirková. Masters of denim, the brand is famed for their custom-made jeans, unparalleled in Europe. Three-time nominees for the Fashion Designer of the Year title at Czech Grand Design awards, this pair have serious clout in the European fashion industry. The Chatty S/S17 show only served to extend their legacy of great denim – the collection had everything from patchwork three-quarter lengths to full indigo denim overalls, with the mix of patent, denim and wrap around jacket accompaniments as exceptionally brilliant.
Not to be pigeonholed as a purely denim brand, the season collection also features a really cool selection of jumpers and long coats alongside which the pair design couture evening dresses, on request. Chatty is hi-end and ready to wear, whether it be in denim or not.
Discover MBPFW here.
Words / Jordan Gale
Follow him here.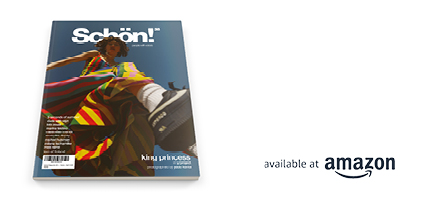 Discover the latest issue of Schön!. 
Now available in print, as an ebook, online and on any mobile device.