Following Tumblr's controversial adult content ban, Russian artist and activist Slava Mogutin challenges the rampant censorship with XXX Files, his latest digital exhibition in collaboration with Tom of Finland Store. Composed by a series of photographs and past works, Mogutin's familiar and powerful queer imagery serves as an effective response against hypocrisy and censorship across all social media platforms. While artists worry about where to publish their content following the ban, Mogutin aims to shine a light on the darkest corners of sexuality as he states that being different is a blessing rather than a curse. Schön! caught up with Russia's iconoclast to discuss the impact of Tumblr's ban on queer art, his exile from Russia and how he continues to use queer imagery as a form of activism.
Using the press as the main platform for visibility, what is the leading message you aim to convey through your work?
I use all available media and platforms, and my work ranges from poetry, journalism and performance to photography, drawing, video, music and multimedia installation. It's both a personal account and documentation of my travels and relationships, but also a commentary about the world we live in and the issues that are of personal importance to me. At [a] time when most of pop culture celebrates consumerism and materialism, I celebrate humanism and non-conformism.
Does your departure from Russia continue to influence your work today, or is this something that you've chosen to move forward from?
I'm proud of my Russian roots and I still draw inspiration from my native culture. My dissident and refugee experience shaped me as a person and artist, and it informs everything I do. I think being an immigrant gives you a different perspective on art and life, which makes you more open to other cultures. I believe in building bridges, not walls. I also believe that we can achieve way more through cultural dialogue than any political slogans or propaganda.
After years of your exile as an openly gay activist, do you believe that there is space to improve gay rights in Russia today?

I always say that Russia is no more homophobic than any other country; it's the government that creates this hostile climate. I haven't been back to Russia since the adoption of the infamous "gay propaganda" law, but it seems as though everyday life is worsening for the emerging gay community there. Still, I remain optimistic about the prospects for Russia becoming a more tolerant and open society, and I'm willing to contribute as much as I can to this cause. Western sanctions only cement Putin's regime; what we really need is cultural exchange and diplomacy.

Given the recent wave of Internet censorship, how do you hope to reach your audience with your latest exhibition, XXX Files?
This online show is my statement of protest and defiance against censorship but also an attempt to create an alternative, independent platform for queer artists that is free of censorship.
You are admired for your candid queer writings, how did you shift from writing to photography?
I started out as a poet and journalist, but I was always interested in art and photography. I spent my teenage years writing, studying music, drawing and taking pictures—portraits of friends, underground rock stars, artists and writers I interviewed. It's not until I moved to New York that I started focusing on my visual work, partly because I befriended and worked with so many great artists, which gave me confidence in showing and publishing my own art.
Do you believe that photography has the power to improve an individual's perception of individuality and life in its entirety?
Photography is a very democratic and versatile medium. I'm very much inspired by documentary photography and photojournalism. Alexander Rodchenko, Brassaï, Cartier-Bresson, Diane Arbus, Peter Hujar and Larry Clarke are definitely some of my heroes. Beauty is in the eye of the beholder, as they say, and I often find beauty in marginal places and situations that some people would consider obscene, shocking or too "hardcore." My goal is not to shock or provoke, and not to arouse or entertain, but to make people think and look differently, and share my vision of the world as one global community where everyone can coexist peacefully, if only we could overcome and overthrow the differences and barriers that divide us.
Knowing that your earlier work studied machismo as a primary focal point, do you see a change in the impact of your work given its recent presence of feminine elements?
I enjoy working with talented people regardless of their gender or sexual orientation. A lot of my early pictures had to do with male bonding and different codes of machismo because that was very much a part of my background. In Russia, I was photographing a lot of straight guys in uniforms and various stages of undress, and it was just as exciting as shooting gay skinheads in Berlin or "rough trade" go-go boys in New York. But I also really enjoyed and learnt a whole lot from working with female and non-binary talents like Marina Abramović, Rita Ackerman, Elizabeth Peyton, Giselle Xtravaganza, Omahyra Motta, Sofia Lamar, Candis Cayne, Zackary Drucker and Rhys Ernst, Katya Zamolodchikova, Christeene, and Susanne Oberbeck of No Bra. I don't subscribe to [the] misogyny that is often prevalent in the gay male world, as I believe in the non-binary future that is neither male nor female.
All of your photographs are so distinct from one another. How do you develop concepts that are so intricate and inimitable, yet still manage to convey a unified message?
In my art, I always follow my heart and intuition. I usually come up with an idea for a series; the concept comes first and then comes the hard work. I wish I could just make art and do nothing else. Shooting is always my favourite part, but production, editing and archiving is the part that I find difficult. The more work you produce, the more time and space it takes to process it.
Do you feel that you must establish a relationship with your subjects, given how personal your work can be?
I prefer to work with friends or people already familiar with my art because I don't like to direct or impose anything. It's more about collaborating with my subjects; it's about personal connection, synergy, trust and compassion. I consider myself lucky to meet so many gracious subjects who became my muses and friends over the past two decades.
What are your thoughts on politics and the government structure as a Russian exile now living in America?
I'm not an expert on politics, but I think it's important for an artist to be socially conscious and politically involved. I belong to a generation with strong beliefs and a strong sense of justice. I could never separate activism from my creative practice, and I've always been inspired by other artists and writers who follow their hearts and speak their minds. After spending most of my adult life in America and recently becoming a US citizen, I paid my dues for addressing the evils and injustices of Trump's government, just as much as I paid my dues for speaking out against the evils and injustices of Putin's rule.
Knowing that Tumblr fostered a community built around queer and ostracized sexuality, how do you think its recent adult content ban will shape other social media platforms?
We're way overdue for a censorship-free, members or subscription-based alternative that provides a queer and fetish community which has a safe-haven platform for networking, sharing our ideas and creative expression, without the fear of being policed, bullied and harassed online. I think looking back at the early days of unregulated Internet, we'll remember those days as the time of lawlessness and impunity, with censorship and bullying being outsourced by corporate entities without any due process. This has to change; we have to claim back our rights and lives taken over by evil corporations.
How do you react whenever your personal work is censored?
Well, my work is being routinely censored on social media; it's an ongoing battle because of the very nature of my art. My response is always—double up on the queer, double up on the fight and what the censors don't want us to see.
Although you continue to successfully challenge social norms and shine a light on the darker components of sexuality, how do you see your work evolving in the future?
It's not my goal to challenge social norms, it's about changing hopelessly outdated and reactionary perceptions about [the] human body and sexuality, and human nature in general. Thanks to the Internet, corporate entities in the US now have more control over our lives, bodies and brains than any totalitarian regime in history. We're witnessing the new wave of neo-conservatism, with our fundamental constitutional rights under attack from the very government that is constitutionally responsible for protecting them. Online censorship is just a tip of the iceberg, it's a much larger political and cultural trend that I find very troubling.
Besides your most recent XXX Files exhibit, do you have any other major projects in the pipeline for the New Year?
I'm always working on many projects at once. I'm now putting together several new books, including a bilingual collection of poetry and a book of journalism covering 25 years of work. I'm gearing up for shows in Berlin, Stockholm, and New York, and artist residency in Lawrence, Kansas, where I'll be working with the archive of William S. Burroughs and Brion Gysin. I'm also about to launch a fashion collaboration with Helmut Lang based on my Stock Boyz series, which will be out in January.
Slava Mogutin's 'XXX Files' exhibition and its special edition of prints are available exclusively at ToFS until June 18, 2019.
All images courtesy of the artist and Tom of Finland Store.
words. Amanda Breeze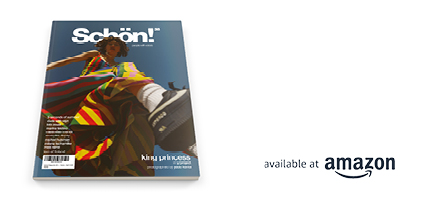 Discover the latest issue of Schön!. 
Now available in print, as an ebook, online and on any mobile device.