Daniel Trese's lens is intimate and gritty, whether he is photographing a stranger, a friend, his native home of Los Angeles or all of the above. For over a decade, while his work was being published and exhibited internationally, L.A. has served as a muse Trese always returns to. From 2007 to 2018, he documented the burgeoning city, its iconic figures and its blossoming queer culture. Now, he has compiled a collective of still lifes and portraits titled Surface Streets, a personal love letter to L.A. Earlier this year it was published as a book by Bywater Bros, and this month the photographic series was released as an online exhibition at Tom of Finland Store with a special edition of prints exclusively available until February 6, 2019. The retrospective poetically navigates identity down L.A.'s iconic surface streets, queerly capturing the city in flux.
"Take surface streets," says the L.A. native photographer, "it's usually faster to get where you have to go by staying off the highway. Take Venice to Western, avoid the 10, that sort of thing. Of course, that ends up being a big part of how you experience the city, always driving these indirect ever-changing routes. It's really how you get to know this place." It is along these ordinary streets that we encounter Trese's fascinating subjects which include Don Bachardy, Ashland Mines, Karis Wilde and Sean Delear. "[These are] artists whose work I admire. Friends. Lovers. People I think are beautiful." He acquaints us intimately with their fleeting smiles and bodies, creating a feeling somewhere between nostalgia and celebration. For many in L.A.'s underground music and queer scene, these are familiar faces and Surface Streets will feel like an ode to the city and the culture. Trese tells us his favourite photographs of the collection are the portraits of Sean Delear, the recently deceased glamorous maven of the L.A. party scene. "She was one of the most joyful, talented, and GLAM people that I have ever had the pleasure to know. I'm so sad she's gone. But the portraits make me smile. We had so much fun doing them."  
LA's LGBTQ+ community features heavily in Trese's portraits. His lens doesn't question sexuality but soberly captures it. It is this subjective exploration of identity, both erotic and pure, that plays into Tom of Finland's legacy. "So much of Surface Streets is about Queer culture, Queer artists, and Queer space in LA,"  the photographer explains. "Tom of Finland himself and his Echo Park home obviously play an important and informative part". The collection includes photographs he shot there over the years, and the Tom House serves as an integral part of the series, symbolically connecting the intimate portraiture and sober urban landscapes of Trese's L.A.
Yet, it wasn't until he distanced himself from the city that he could piece together this body of work. "My boyfriend and I moved to New York last year," Trese explains. "The distance geographically helped me to put everything together. It's nice to be in one place but thinking about another." From New York, Trese created an anthology of the sun-kissed metropolis capturing its ambiguous spirit as it blossoms into an international cultural hub. "I wanted to create groups of images that would be evocative of this transitional time in Los Angeles." He notes that this "probably won't last forever" — Surface Streets is a project that could not have been conceived in any other city at any other time and this temporality is rendered timeless through photography. When asked what makes Los Angeles so special, Trese simply answers: "the light."
Daniel Trese's 'Surface Streets' is on show at Tom of Finland Store online until February 6, with a special edition of prints exclusively available at TOFS.
words. Sarah Osei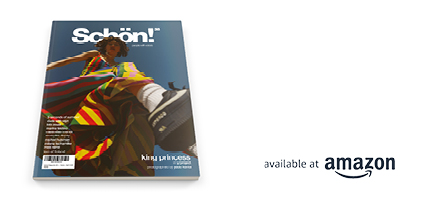 Discover the latest issue of Schön!. 
Now available in print, as an ebook, online and on any mobile device.