Having spent most of her life in the spotlight, you may think you know everything about Peyton List but the 20-year-old is a box full of surprises. This Brooklyn native isn't afraid to use her voice and hone her acting skills, even behind the camera. After gaining everyone over with her performances in Disney's original series Jessie and Bunk'd, List is now ready to say goodbye to the long-held stereotypes about child actors. Dispelling myths and spreading positive social messages, List has already proven to be a great role model for her loyal following of more than 13 million. With two solemn film projects on the horizon, Anthem and Departures, List is ready to show everyone a different side of her. We sit down with her to talk about Disney's omnipotent power, the importance of voting and why her generation will change the world.
You have been acting professionally since you were twelve, what do you think has been the best part of stepping into the industry this young?
I guess just the amount of experience that I'd been able to get. When college came around, I didn't feel like I needed to go for the arts, theatre or anything. I felt like I've learned so much just from being twelve and sitting [on set] watching directors, camera operators and everyone work. When you are young, they take you in under their wing and are like "here, you want to come control or get behind the camera?" They talk to you, help you out and give you lots of tips and pointers. I feel like I just learned so much from being there and observing. We were talking about that with makeup — being twelve, I didn't do makeup but I would just watch the mirror and learn things from everyone around me. I feel like that's been such a blessing.
You traded your native Brooklyn for LA a while ago, do you miss it or are you used to the West Coast by now?
I definitely missed NY at first. I missed the energy of the city when I was [first] here [in LA] and felt like it was so much harder to meet people. [I was] so young,  [this] was when I first got the TV show Jessie, which we filmed here. [Back home,] I would take the subway to school and to auditions so it was like suddenly I couldn't get myself around and had to rely on my parents. I felt like such a weird thing but I think LA has definitely grown on me. I found really cool people who I love here and my family is out here so I love both. I miss NY [but] I get to go back a lot, which is nice.
Who are some people you look up to in the industry?
Oh my gosh, there are so many people who I look up to. I've been listening to so many podcasts recently — like Alec Baldwin's podcast. I feel like everyone who has ever been his guest on there is amazing. I really love Margot Robbie too. I really admire her career, her choices and also her dialects. I was listening recently to how she prepares for a role and apparently for I, Tonya, she picked a pit bull as her sort of "animal". She hung pictures of pit bulls all over and even incorporated the underbite [into the performance]. I thought that was such a cool way to think of a part. I just listen to some many people and take so much in. Also, just growing up, I had some awesome female leaders on the show.
What role has been your favourite so far and who are you looking forward to playing in the future? Is there any specific genre you'd like to tap into?
I mean, I haven't really tapped into action that much. I feel like getting to play a character where I do get to do fight scenes and fight sequences would be really cool. But I don't know. I read all kinds of scripts, and usually, it's just whichever script that really touches me that I want to do. I'll put my heart into the audition or onto the meeting with the person and do as much work. But really, I never know until the project comes to me. I just get some many different types of films all the time. It's funny because something that I haven't really wanted to do lately and it's what I'll do next, is a horror film. I've kind of been staying away from that, probably because whatever energy is on set at the moment, I end up taking home. I just passed on one. I was like "I don't want to do a thriller right now, I want to do something a little different." But we'll see. We'll see what comes.
So you're set to have your directorial debut in the third season of Bunk'd. Is directing something you are contemplating for the future? What about writing and producing?
No; after doing it, because these are the people I grew up with around on set, I had so much respect for everyone. I feel like it is an insane amount of work. Directors know every single point of the script. You just have it in you. You can repeat every single little moment and part. It really is: they are the first people there working on a project and the last in post-production. I feel like just coming now, as an actor, I want to be more prepared for the director. I want to be helpful for them because I just have so much more respect. Writing is something that I love and that I like to do in my free time, but directing is something I have to wait little bit longer to see if I really want to do. Because [my experience was with] multi-cam, we do four cameras on our show, I feel like it's such a different format. It's something that I know so well from doing it for so long, so I got to really think about doing the single cam. It is something that I would love to do, but I feel like I need to study all the camera work more. I do love it and I have so much respect for directors.
Disney has given you beautiful friendships with fellow actors like Karan Brar and Cameron Boyce, but you are branching out into more solemn genres with The Thinning and now Anthem. Do you still want to be involved in future Disney productions or are you looking to branch out?
If I were [to work on] a Disney show, I would say no. I always relate it to The House Bunny. In that movie, I think she is 27 or so and she is like "I'm retired in bunny years". I always kind of think about that with Disney, I'm like "okay I'm retired when it comes to TV". Now I feel like the next part if I did a show would be as a mom, which I don't want to do right now. But Disney, I feel like it's so huge and they are doing so many cool features so I'd definitely be down to do a feature with them. I mean, they bought Marvel, even ABC is under their wing… I feel like they own so much now, so much is through Disney, so I would definitely work with them again. And they've been great to work with. It's funny because I heard so many weird things growing up: "oh, Disney, be careful, Disney might make you into this or they might control you," and they never did that ever.  I think like people just create this really huge kid sort of persona and then when they find out who they really are, it just shocks them and they think that's Disney's fault. But it's not at all. They've always been that way.
How you do feel you have matured in your craft as an actress since you started in Disney?
So much, also from just growing personally… From 12 to 20, you change so so much. I feel like I [have] definitely matured. On my hiatuses, I also worked on a lot of cool movies and projects, so I've grown outside of there as well.
What are you most excited for your fans to see with Anthem?
I'm excited because it's a darker movie than they've seen me. Fans who were younger and watched Jessie when it first came out, I feel like they have kind of grown up with me so I feel [this is] the sort of movie that fits the age everyone is now. It would be cool to see me in this different light. It is a heavy movie, and it really is touching and so I'm excited and I hope that people can relate to it. It is so cool. It changed me, so I hope that they feel touched by it.
The film is based on Anthem of a Reluctant Prophet, did you read the book in preparation for your role?
Yes, I did read the book and I continued to re-read on set too. Then Joanne, the author, was there on set for a lot of filming, I got to meet her beforehand too and she was so sweet, she was just so hyped about everything going on. Seeing something you created, suddenly have this entire crew and this huge production — everyone being flown out to a location and all — must be so exciting for her. It was sweet because at the end of the filming she came up to me crying and I was like "what's wrong?" and she told me "I just can't even believe that you brought this character to life so well!" I was like "Oh my gosh, that's so nice to hear". Because you want to do the writer's justice to their project, and then she was saying "I think that I didn't realize it until now but I wrote your character, Faith, as based on me and who I was at that age". It just was so nice to hear. That meant so much to me. It was really nice having her there. I feel like I ended up not asking her as many questions as I should have about the character, I just kind of did it and then I'd look at her face after each take to see what she thought.
In the film, you act alongside your partner, Cameron Monaghan, as well as your twin brother, Spencer. How was the experience? 
It was cool. [For] Cameron and I, this was the first project that we did together, and also having my brother — he played more of a guy you really didn't want to hang out with in the movie —, was really cool. Cam and I ended up dating and falling for each other after the movie. We ended up going on a date during the movie and really liking each other and we are still dating now, so it's been a year. I really ended up with loving so many of the people. We were all filming in Canada so I feel like when you are away, you kind of don't really know anyone else in the town so the whole cast and a lot of the crew would hang out together. I feel that just created such a nice bond between everyone and a special connection. It was a really special set.
You also appear alongside Maisie Williams in Departures, what can you tell us about that? How was it working with director Peter Hutchings again?
It was great getting to work with him again. It's also amazing when a director reaches out and wants to work with you again, because you're like "they liked working with me, that's great!" Peter, he is the sweetest guy, and Maisie was cool too. I'd been such a Game of Thrones fan before and I didn't obviously want to tell her but it was really cool getting to work with her. We played best friends in the film and it's always a funny thing, you are just thrown like "oh nice to meet you" and then it's like "okay, now let's put our hands around each other and hug and take best friends pictures." She was such an easy person to [work with] and just love. She's always making jokes, and she has the most adorable British accent… she is such a lovable human.
You have a massive platform and are you using it for more than leisure, for example promoting voting with ATTN? Do you feel responsible for shouting on social issues? How important is it for you to use your platform to speak out?
[Very,] especially for something like that. Because I do have fans who are younger or who are just getting the ability to vote, it was important for me to be like "use your voice, you can." I feel like I don't even need to tell our generation that because they are the ones that are coming out right now — with all the different protests and really using social media for such an amazing thing, so much more than for just posting a photo of a latte or whatever. You need to use it to actually speak on things you are passionate about. It is a fine line, because there are a lot of threats and hate that come along with posting things politically, but it is so important so that outweighs getting all the hate, I think. It's just really making your voice heard and it feels really important, especially, to the young kids right now. Get out there, register and vote, this is how easy it is. It's funny how something like that, that you would think it's not controversial at all: saying everybody has a voice, use it to vote; how you even get attacked on that. I'm not telling you which way to vote, I'm saying vote.
Lastly, what are you most excited about the future?
It's such an exciting time right now because there are tonnes of scripts, and tonnes of different cool projects coming out and so many streaming services. I feel like there are so many important films being made and really important stories being told. Even from just the scripts I've been reading, I feel like more people are getting represented. It's a really cool time. I'm just kind of picking the right projects now, after being done with Disney. Now I'm like "what do I want to do? What do I what this to look like as I go forward?" It is a really exciting time for me.
'Anthem' and 'Departures' will hit theatres later in the year.
This Schön! online exclusive has been produced by
photography. Lauren Naylor
fashion. Sara Acevedo
talent. Peyton List
make up. Marlu Soria using MAC Cosmetics and Dr. Dennis Gross
hair. Kelly Peach
art direction. Claire Quest + Lauren Naylor
prop styling. Claire Quest
words. Sara Delgado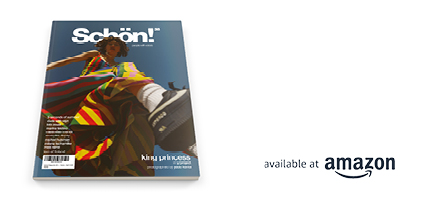 Discover the latest issue of Schön!. 
Now available in print, as an ebook, online and on any mobile device.