With a career that began when he was just eight years old, it comes as no surprise that Cameron Monoghan has a monumental number of projects on his plate at the moment. After filming three different shows in three different places during just this year alone, it's difficult to imagine any room for personal time, but he's not complaining. With an iconic role on Gotham, who would want to slow down?
Growing up in front of the camera has taught Cameron the joy of hard work and a positive attitude. "I really appreciate how I was raised early on as an actor. I feel like it's really shaped who I am as a person. It's been strange, but I've met cool actors, artists and so many people who care about what they're doing. I started at a very young age being exposed to that life. I really love movies and TV, and being able to experience that passion very young is serendipitous and really an amazing thing." After winning the Young Actor's Award for his role on Malcolm in the Middle at twelve years old, his career has sky rocketed. It set the tone that would define future roles in his vibrant collection of characters, all troubled or broken, but beautiful and offbeat in some way. "He was very strange. I think he was the first crazy guy I ever played. It was the first in a long line. I guess since then it's become a trend."
His biggest role to date is that of Ian Gallagher on the now celebrated TV show Shameless. Following the lives of a struggling family in Chicago, Cameron takes on the heavy role of a gay teen with bi polar disorder. He hopes that his character speaks to those watching that may be wrestling with their own demons. "I've heard that this role has helped young people with their own struggles and growing pains, and it's definitely something that is special to me. I wanted this role to help people, whether those people are gay and feel like they don't want to come out, or are afraid of how people are going to react, or not used to seeing someone like them in the media. I've also talked to people who are bipolar. My character gave them some sort of voice." He has also taken on the very heavy roll of a civil war veteran with PTSD in Mercy Street as well as the horror movie scream king role of a mysteriously recovered comatose patient in Amityville: The Awakening. He also had a role alongside Hollywood icons like Meryl Streep, Jeff Bridges, Taylor Swift, and Katie Holmes in the film The Giver.
Despite taking on so many projects, Cameron still appreciates the incredible opportunity to work with some of his heroes. "Thankfully they don't act like they're these big icons. They were incredibly gracious and very nice people. I only had a couple of scenes with Ms. Streep, but it was absolutely phenomenal to be in one with her. Jeff was there for the duration of filming so I spent a lot of time hanging out with him and the whole cast. We were always playing music together and he's just so cool," he relates. "Success doesn't mean it should change anything about who you are or how you communicate with people. If anything it should only make you more gracious and more open. It's so lovely to see those qualities in them."
One of the most anticipated roles of the year is definitely his role of Jerome on the TV series Gotham. "It takes place in a world before Batman has become Batman, because Bruce Wayne is still a young man at this point. It makes sense for an actual Joker to exist, but we have the unique opportunity of seeing the beginning of the story and how he became how he is with his ideals and his crazy mindset. It's been a really awesome thing to be able to do that since I grew up reading the comics." This is where Cameron took most of his inspiration for the preparation of his role, choosing to not develop the character from the actors who came before him, but to take his influence from animation. 
"Initially when I got the role for the first season I read every comic that I could that had the Joker in it. I wanted to see how he was drawn and what was emblematic about him and what immediately jumped out about him, so I sat on that between the hiatus and tried to create Jerome from that. I made the decision in the second season to not to take any more inspiration from those references since I already had defined the base of the character. I wanted to grow him in my own unique way."
Inspiration, it seems, didn't necessarily come from the most obvious places. "I created a playlist of all sorts of different kinds of music from hardcore gangster rap, to classical, to Norwegian death metal that I would listen to obsessively to try to put me in a certain kind of mindset. The good thing about Gotham is that it is a heightened show. It is a heightened universe and the character himself is even more outrageous and heightened on top of that." 
Cameron plays the unusual character very well, and fluidly transitions from one to the next without trouble. We have many stories he has shaped to look forward to watching in 2016, so mark out plenty of time in your calendars to keep up. This is going to be a very long, dark ride.
Gotham airs Mondays at 8 pm on Fox.
Words / Mynxii White
Follow her here.
This Schön! online exclusive editorial was produced by
Talent/ Cameron Monaghan
Photography / Ricky Middlesworth
Styling / Brett Alan Nelson
Grooming / Andrea Pezzillo
Digital / Apollo Digital Capture
Assistants / JD LeFogg
Location / Quixote Studios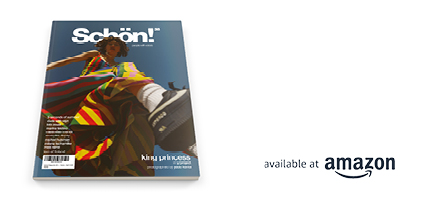 Discover the latest issue of Schön!. 
Now available in print, as an ebook, online and on any mobile device.