You may recognise him from Adam Sandler's comedy film Grown Ups or as Ryan Ross' mini me in Panic! at the Disco's The Green Gentleman: meet Cameron Boyce. He's been a firm fixture on our screens since a young age, with his big break at only 8 with movies like Mirrors and Eagle Eye, before heading into the much sought-after Disney family. Now 18 and with the sequel to the hit movie Descendants 2 about to release – Cameron opens up to Schön! about his future career and the stigmas surrounding young actors.
Cameron was born and raised in L.A. When most of his peers ventured into elementary school, he started acting professionally. "I literally don't have memory of a time when I was just a normal kid," he confesses. Cameron seems wise beyond his years, acutely aware of the implications of his decisions and of the reality of having faced the intricacies of stepping into one of the toughest industries at a young age. "There is definitely a stigma surrounding child actors, and rightfully so," he says. "We are a unique group who is thrown into the fire at our most vulnerable stages of development and a lot of the time it can change people for the worst. At our most innocent we're exposed to the ugliness of an industry that comprises people who you would describe as greedy and selfish, more than forthcoming and nurturing."
Thanks to his family, Cameron learned how to maintain a balance between his professional and personal life. "I was lucky enough to be surrounded by adults who didn't want to see me turn into the stereotype," he says. Unlike many Disney stars, Cameron went to high school rather than being homeschooled and has just graduated with honours. "That's a testament to my parents being the opposite of stage parents. Not stirring the pot, getting into my head, revealing ugly truths, or pushing me harder than I wanted to be pushed. In fact, my parents were hesitant about me pursuing my career at one point because they were aware of the pattern that took so many child actors hostage. As I grew, I developed a knack for recognising ugly traits found in the industry. You could say I've become jaded. But at least I didn't fall victim to the harsh reality most child actors endure."
Despite being known for acting, Cameron's first interest was dancing, having even had his own break dance crew X Mob. "[Dancing] was my first true passion and what really showed me the values of creative freedom, and surrounding yourself with people who have a similar drive and love for the same things you do," Cameron explains. "Dancing will forever be a passion of mine. It was instilled in me at such an early age and celebrated so frequently." He fell into acting almost by chance: "I never thought it would become the axle around which my life circles, but here we are," he confesses.
Cameron certainly grew up under the spotlight of Disney, having worked in two Disney Channel original series Jessie and Gamer's Guide to Pretty Much Everything. "[All my characters have] brought something different out of me, and have forced me to flex muscles I didn't have before," he says. "My years trying to figure out who Luke [his character on Jessie] was were also the years I was trying to figure out who I was. I grew up on the set of Jessie so thinking about playing Luke takes me back to all of the memories of the people who I consider to be family." But Descendants, a Disney Channel original movie revolving around the offspring of Disney's most infamous villains, really was what put Cameron forward. The record-breaking movie debuted with more than 10 million viewers, becoming the fifth most-watched cable TV movie of all time "Not to say I didn't expect the movie to do well, I did; but to hear it in numbers is pretty crazy. Knowing you impacted that many lives makes you want to do anything you can to continue to do it," Cameron tells us. With the second movie about to release, the only real question regarding the hyper-successful saga is whether there will be a third instalment. "If I'm being completely honest I'd be shocked if there wasn't. But if Disney doesn't fund a third movie the fans can pool their money together and we can make it happen anyway," Cameron jokes.
Disney has sure served Cameron as an outlet to express a greater good. Through his constant family support, Cameron decided to share his grandmother's – Jo Ann Allen Boyce – story last year during Black History Month as part of Disney's Be Inspired social responsibility initiative. Cameron's grandmother was part of the Clinton 12, a group of twelve black students who led the integration of a Tennessee school more than 50 years ago. "It's amazing to see my Nana, after all of these years, finally getting the recognition that she and the Clinton 12 deserve," he says. "It's a shame that it took my connection to the industry to get her story across but I'm just happy people finally know her struggle and triumphs against all odds. It's bigger than her or me or any movie or show I'll ever do, so making sure that the whole Boyce family lives on to tell her story is a top priority for us. […] Initially, the project didn't include her, [but] one Emmy, and a better-informed generation of children later, I'd say it was a massive success."
Coming from black and Jewish family, representation is in the back of Cameron's head 24/7. "I will always be an advocate of inclusivity, not just in the industry but in every walk of life," he says. "My background is Jewish and black so you can only imagine the kind of stories my ancestors had to tell. I enjoy learning about my history and more importantly, continuing their fight to progress us even further into a better future. It's something I take pride in and hope to spread to others so they can do their part as well."
Cameron is using his voice and platform to promote social justice and pay back to the community even further; something his massive following of 4,6 million on Instagram can attest to. His latest venture comes with the Thirst Project, a non-profit organisation dedicated to building a socially conscious generation of young people who is striving to end the global water crisis. For his 18th birthday, Cameron called out for his fans' help to raise enough money to build two wells and provide people with access to clean safe drinking water. "I'm going to be doing a lot of traveling in the near future, some of which for charity, and some to have a better understanding of different cultures," he announces.
What comes next, then, after the Disney chapter? Last year, he had a short stint in the medical drama Code Black, the perfect opportunity to show a different side of his work as an actor. "I'm super eager to branch out and challenge myself. My time with Disney has provided an amazing platform but I want that to be one chapter in my life's book. I'm so excited to move on and show people a mature side of me that has always been there. It will allow me to express more of my opinions and take on roles of grit and mature content," he says. "This transition is super important for the rest of my career. It will establish the way people will see me as an actor for years to come. Because of that, I'm trying to expand my range while staying selective – a balance that can be difficult to maintain. Whatever project you see me in next is going to be one that I'm going to be proud of."
As for Cameron's future? "I enjoy playing characters [that] are yet to be played," he says. "Playing Peter Parker or Bruce Wayne would be an honor, but the freedom to make a character your own is super liberating." But that's not everything; Cameron is on his way to becoming a trailblazer, adding producing, writing and directing to his already impressive set of interests and skills. "[I'm] trying to stay as proactive and creative as I can in anything I have an interest in," he concludes. This is one young star with his sight set high up at astronomical heights. Keep your eyes peeled. 
Descendants 2 is released worldwide July 21st.
Support the Thirst Project here.
Words / Sara Delgado
Follow her here.
This Schön! Online exklusive has been produced by
Photography / Louie Aguila
Fashion / Michael Mann
Grooming / Mynxii White
Fashion Assistant / Tyler Mann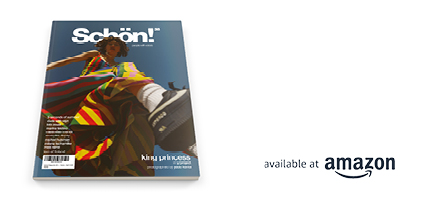 Discover the latest issue of Schön!. 
Now available in print, as an ebook, online and on any mobile device.