"It's an interesting time in fashion history when the kids are literally controlling the future of fashion without realising it," says Shaquille Keith, a member of the fashion collective PAQ. In the past years, streetwear has become the unlikely rising star in luxury fashion, with fashion houses like Louis Vuitton, Balenciaga and Burberry completely rebranding themselves, the youth are now the tastemakers the world looks to. Perhaps no one embodies this new era better than PAQ, the streetwear show fashion never realised it needed. Created by best friends Shaq, Elias, Danny and Dex, the weekly Youtube-series produced by Kyra TV, tackles streetwear and the culture surrounding it with infectious humour and creativity. Each episode set a challenge, asking the most crucial (and trivial) questions in streetwear — like can you buy a fire fit for fifty quid? Can you scale a mountain in Supreme outerwear? And how do dad shoes hold up in dad activities? Each challenge is judged by impartial influencers, celebrity guests… or Shaq's mum.

PAQ is making the conversation on streetwear, and with almost 450 thousand dedicated subscribers tuning in every week, the boys are finally creating a community for a culture that has existed and thrived for so long. Schön! had the pleasure of talking to the 'pack' and got to pick their brains about this changing fashion terrain. One flamboyant member, however, was noticeably missing. "[Elias] is shooting today so we don't know what he's doing now because we always try to keep it a secret. El's off doing his thing somewhere," Danny tells us. Each of the hosts has something different to offer, sometimes even on different ends of the fashion spectrum, which makes the reveal so exciting every time. For instance, there's dapper Danny, who has a knack for dressing smart; Dex 'the master of black' with influences from Ozzy Osbourne to MF Doom; Shaq, the artist, with a love for dungarees and berets; and, finally, Astroboy, Elias, whose swanky, futuristic style is out of this world. It's part of the allure of the show, explains Danny, "having four lads which are so different means that you've always got someone that you relate to because we're so different you're always gonna gravitate towards someone."

PAQ resonates because it fills the void for young people who have been looking for someone to relate to in fashion. "Fashion is such a big thing in our day, and no one's really put some sick content out, that's why we did," says Shaq. They recognised a need to bridge the gap in fashion programmes because, as Danny puts it, "it's either bloggers doing half-an-hour videos, showing what they've just bought, or it's like fashion houses making hour-long documentaries […] before we started Youtube we were the same people who were following fashion, really into it, realising together that we just felt like this is the right time." PAQ's goal was to create a Top Gear for fashion, "where you don't have to be mad into fashion to be able to find it entertaining but also if you are into fashion then you can still find really good, informative stuff." Fashion that doesn't take itself too seriously, but goes to the core of why clothes matter in our culture. "It's about expression," Dex explains, "People can identify a person, or kind of catch a vibe of a person off what they wear, in a sense, if you express yourself properly." Conversely, sometimes fashion ceases to be liberating and many people fall into the traps of being locked in the consumer chain. "Some people use clothes as their mask," he goes on, "there [are] so many people that are very low on money but then will spend their first cheque on a designer jacket just to keep up."

Alas, what would a discussion on streetwear be without the cul-de-sac that is the hypebeast culture? With streets shutting down for 'drops', and kids lining up for hours to buy the newest sneakers and garms for several hundreds or thousands, only to make a brief #fitpic stint on Instagram, hypebeast has become the behemoth of street style. And PAQ is split on the impact of the beast. Dex finds the insecurity behind the phenomenon concerning. "Once that brand goes out of fashion what are you gonna do? Once people wanna learn about you personally, you know, your background and why you've got into this you don't really have an answer apart from 'I wanted to get likes on Instagram', that's not enough…" Yeah, a lot of it is about seeking acceptance, but there's more to it. The hypebeasts have managed to finesse these shallow waters and create veritable resale empires, as well as cultural waves that are being felt by established luxury fashion. "Sometimes the hypebeast culture can be an antihero," says Shaq. "It's more positive for me because fashion is changing, the hypebeast culture has influenced these big designer brands. Like the best designers are probably 16 year-olds in their bedrooms right now, as opposed to the 60 year-olds in Paris working on their next collection. Maybe the hypebeast culture could be the new renaissance of fashion, you know, flip on its own head. It could be crazy. You never know. I guess that's just how fashion goes. It's always unpredictable."

At the end of the day, as Dex says "[PAQ] is there to show people that fashion isn't always about buying the most expensive thing," it's about style and having the confidence to be yourself. With a cult-like following, and endorsements from the likes of Adidas, Converse, Spotify and Levi's, there's no slowing them down. For the boys changing the conversation on streetwear has been life-changing. "Everything's just falling into place," Danny chirps and Dex confesses "everything in my wildest dreams has pretty much already come true." It's safe to say this is just the beginning of something iconic.
To keep up with the PAQ guys, subscribe to their YouTube channel here.
photography. Jack Orton
words. Sarah Osei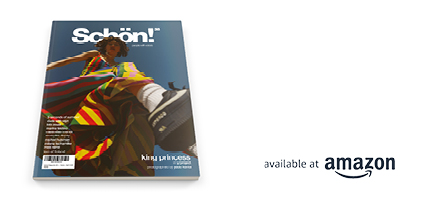 Discover the latest issue of Schön!. 
Now available in print, as an ebook, online and on any mobile device.