Bubblegum pop star Kim Petras is ready to take the world by storm. Having honed her songwriting skills in LA, this German native isn't afraid to share her experiences of love, friendship and escapism. Whilst Petras gained fame from a young age as one of the youngest people to undergo gender reassignment surgery, it's her hard work as a singer-songwriter that brings her centre stage once again. Petras' catchy pop anthems and sugary sweet music videos have gained her a loyal following and a coveted spot as one of Spotify's RISE artists. With a debut album on the horizon, she discusses her experiences working with producer Dr Luke, how film and fashion influence her music, and why it's time to look beyond gender.
Your music is unapologetically pop, what is it about the pop genre that you find so appealing?
I've always listened to pop songs and just been obsessed with the idea of how do you make something pop and how do you make something so crazily catchy? When I was younger I used to go home from school and watch pop music videos to help forget about my problems in life. I was able to completely shut off from the outside world when I put my headphones on.  That was always my thing. Pop music enabled me to escape my problems.
Has music always been a form of escapism for you?
Music is the one thing I can do where I'm not thinking about anything else.  When life gets a little hectic or I'm thinking about a ton of things, music is about letting those things out.  It has always been hard for me to tell people how I feel and communicate with my friends and family. I've always felt that I can write it better in a song than I can say it to people.
What themes and ideas do you like to write about?
I write a lot about love, it's just one of the most interesting topics you can write about.  You feel understood when you hear people talking about the exact same thing that you're going through.  I love writing about what I experience whether that's friends, how I wish my life was, things I'm obsessed with. I can watch a movie and somebody says a line of dialogue where I'm like, 'Oh my God, that's a song title'. It can be all kinds of things, just whatever interests me at that moment. 
Who has influenced your music over the years?
A lot of people have influenced my music.  Recently it's been my friends: songwriters, producers, the people I'm creating with. But I'm also inspired by the likes of Queen, Freddie Mercury, early Madonna, Cyndi Lauper, Billy Idol—I'm obsessed with the 80's. I can't get enough of 2000s pop too. I love No Doubt and Gwen Stefani – 'Love, Angel, Music, Baby' is probably one of my favourite albums.  Right now I'm obsessed with a ton of urban artists like Kendrick Lamar and SZA. I'm ultimately inspired by all great music.
How has your gender transition influenced your music?
Being transgender has influenced everything about me. I don't write songs about being transgender but it's undoubtedly made me who I am today. A lot of things about my personality are the way they are because of that experience.  The main thing is that I don't really care about what other people think of me. It's made me stand up for myself and, because of it, I know exactly what I want to do. A lot of things come from me being bullied in school, never being popular, and having people throw their lunch at me.  It makes you a stronger person early on as you realise that despite everything you still want to live your life the way you live it.
How does the musical process come together for you?
It's always different. Ideally, I start with a lyric – that's the spark. Sometimes I have the full melody and lyrics immediately in my mind and other times I play a piano riff and then the whole song comes together.
How has being selected as a Spotify RISE artist impacted your career?
I'm very blessed to have Spotify on my side, especially Troy Carter, who has been a total angel. He's really pushed my project and has been very vocal about it to Spotify.  So when they asked me to be a RISE artist I was like 'hell yeah'! It's been crazy, they've put up billboards of me and streamed exclusive content. They're amazing, the way they work is so innovative! I think streaming is the future of music. Spotify gives new artists a chance to do it on their own, even without the support of a major label and I think that's amazing. 
What is the inspiration behind your first album?
There's a lot on there about my entire life. I think the first album for any artist is really special because it's the build-up of so many years of material.  There's definitely a thematic thread running through it. Escapism is a big theme for me, and just glamorising what I dreamt my life to be like versus what it's actually like – moving to LA, having nothing and then making something of myself.
How have you found the creative process?
There are songs on this album from when I was 18 that I've been sitting on for a while which I'm super excited to finally finish.  Those are some of the most interesting because you kind of dig up the songs after years and years of having them. The songs on the album are considered 'the greatest hits of the last 10 years'. I've written hundreds of songs and these are the best ones. 
What have you learnt from working with Dr Luke?
I've learnt about the simplicity of pop songs. I've become a better songwriter. Before I came to LA I was writing songs on my own in my mum's basement. Since being here I've collaborated with so many great people and learnt a lot more about music production and making great lyrics and melodies.  I've had so many great experiences with people who really understood what I wanted to do with a song.  I can always call up a friend and be like 'hey I just wrote this song I need someone to help produce it' and somebody will get it and be great at it.
Were you reluctant to work with Dr Luke after the allegations raised by Ke$ha?
I allowed myself to make my own opinion about it.  I had a great time working with him and we have a lot of mutual connections that we both know really well. So for me, it's been a good experience.
You gained recognition at an early age for being one of the youngest people to undergo gender reassignment surgery. Did you feel that you had to work harder to be known for your music?
Yeah, but at the same time, I think to be known for your music you have to work hard.  I definitely get asked a lot about being transgender which I love talking about because I think awareness is so important. I want people to be more educated about it and I want to be a positive face for the transgender community.  But I still want to be known as a great artist and not for my gender.
How do you hope to change any misconceptions or prejudices against the transgender community through your music?
I don't think I'm trying to change any prejudices with my music.  Personally, it's important that people see transgender people as just normal people. I feel a lot of people think it's a freaky thing to be transgender. It would be amazing if the whole transgender thing was explained more in school to help educate people about it.  So far, I've not really explored that in my music.
I think it would be good for a transgender person to be known for being good at something instead of just their gender.  For me, gender never says anything about a person. I care more about what you're doing and if you're good at something if you're a nice person, and if you work hard.  All of those things say more about a person than being transgender, or being gay or straight.
Have you ever experienced any prejudices within the music industry?
People in higher up positions have asked me if I'm transgender because it's trendy. Others have said if you work with a transgender person it's against God. Unfortunately, there are people who have a problem working with someone who's transgender. But honestly that's like 5% of my experiences – the other 95% have all been amazing and really accepting people.  Especially the writers and the artists, I've never had a problem with them. I'm lucky, there are so many amazing people in this industry.
Do you feel a responsibility to be a spokesperson for the transgender community?
Yeah, but it's not a heavy responsibility for me at all!  I'm so proud of being transgender and I love the transgender people I meet – they inspire me.  I know how tough it is, especially for kids being bullied or going through a difficult time because they're transgender and they're different.  For me, it's a part of me and I want to help as much as possible.
Your music videos for 'Faded' and 'I Don't Want it All' draw on a lot of creative influences – how do fashion and art guide your work?
Fashion has always been very important to me. I loved going to school in a latex dress and Dr. Martens or in orange overalls. I had to wear something crazy to express my mood.  In music videos and photo shoots it's so cool to get to paint a picture through clothing and set design. I'm always inspired by movies. 'I Don't Want It At All' was inspired by all the iconic brats like Veruca Salt in 'Pillow Talk' and Audrey Hepburn in 'Breakfast at Tiffany's'.  I love to find things that visually speak to me. Making a music video really amplifies what the song looks like in my head. I get such a strong image immediately after I write a song and how I want the music video to look like.
Lastly, what's next for you?
I just dropped a new music video. 'Heart to Break' is the first single that's been played on the radio so it's exciting for me to be doing the radio tour for it. I have a lot more singles and the album is ready to go.  I can't wait to go on tour – this whole summer is going to be packed with Pride and club performances which I can't wait for! I'm definitely not going to get much sleep, but I like it that way!
Kim Petras performs at London's Courtyard Theatre on Friday 25 May, and Birmingham Pride and G-A-Y London on Saturday 26 May.
photography. Thom Kerr
talent. Kim Petras
words. Katie Shuff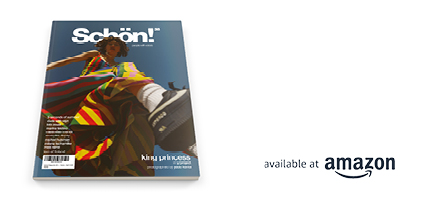 Discover the latest issue of Schön!. 
Now available in print, as an ebook, online and on any mobile device.