Jacob Banks is the rising star following a long line of Brits who've made their mark on the modern soul genre. His gristly sound, moving delivery, and timeless voice is unlike any other on the British music scene today. Much like the "Sam Smiths" and "Adeles" before him, Banks truly stands out from a crowd.
The 26-year-old singer-songwriter was born in Nigeria and moved to Birmingham at age 13, a dual heritage he wears with pride and deeply informs the kind of music he makes. "Nigerians are proud people and I always have to make sure I don't say anything that will shame my mum and pops," he says. However, music wasn't always on the card for Banks. Before charming our ears with his poised raspy vocals, he pursued a civil engineering degree at Coventry University and told his parents he was moving to London for a year's work placement in engineering. In reality, he was playing gigs. "Music wasn't a thing in my family at all," he says. "I was a civil engineer. I wasn't pressured but I felt the need to be that for some odd reason."
They say everything happens for a reason, and Banks' university experience was no different. It was at university that he bought his own guitar and taught himself to play via Youtube. Banks reveals his first memory of making his own music "was in my uni bathroom writing a song called 'Let Me Love You' on my guitar." When a burglary took place at Banks' university home, all they left was his guitar — giving him no choice but to harness his craft and shape the blues melodies we hear today.
Growing up to a soundtrack as diverse as Nigerian afrobeats pioneer Fela Kuti, classic soul singer Al Green, pop band Westlife and Disney soundtracks, Banks' songwriting journey began with a love for poetry. Banks cites Anis Mojgani's "For Those Who Can Still Ride Airplanes" as a piece that particularly resonates with him. It wasn't until Banks paired his poems with the guitar that he finally found his calling.
After signing to a major label in 2016, Banks released his EP "The Boy Who Cried Freedom", which gave light to some of his most popular tracks "Chain Smoking" and "Unholy War." Banks' powerfully pensive sound has a reach that spans the globe, taking him on a US tour last year. Meeting fans around the world is something Banks particularly enjoys. "I make music to impress my friends so, ideally, if you like my songs there's a great chance we could be friends," he says.
Unique talents like Jacob Banks are only destined for greater heights in 2018. Banks' song "Diddy Bop", in collaboration with music duo Louis The Child, will feature on the soundtrack for the final chapter of the Fifty Shades of Grey film franchise —Fifty Shades Freed. In April, US fans can catch Banks live at Coachella on the same Sunday Eminem is headlining. For those itching for new music, you're in luck. Banks is working on an album as we speak: "got an album. Can't wait to share" he reveals. An undoubtedly exciting year ahead is set for one of the UK's most promising artists.
Jacob Banks' sets off on a European tour in March. Find upcoming tour dates here.
Photography / Grace Rivera
Words / Shama Nasinde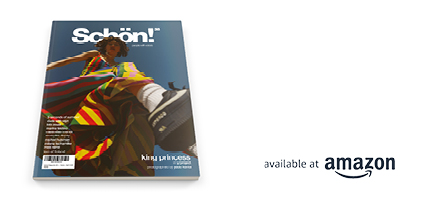 Discover the latest issue of Schön!. 
Now available in print, as an ebook, online and on any mobile device.