Whether CIA analyst, Apple design chief or ruthless pimp, Giles Matthey is the British-Australian thesp known for his roles in hit television series and films across the industry screens. At the age of 28, Matthey has already built a strong repertoire of acting, already landed roles in hit television series True Blood, NCIS and 24 as well as movies including Jobs and Boulevard, working alongside iconic actors such as Robin Williams. Most recently, the globe-trotting actor has began to branch out into a modelling career, becoming a professional poser. Currently filming in America, Schön! manages to pin down the talent for a special shoot in the Romanian Cultural Institute.
Born an Aussie, Matthey moved to London where he became exposed to the world of acting at a young age. In the belly of the theatre beast, he became captivated by the skill of actor Charles Dance in Shadowlands. "I was watching his every move and realised that I felt like I was not watching a play, it felt like these events were actually unfolding in front of me," he tells us. "I thought if I could do that, if I worked hard enough, if I had the talent, I would love to be a professional actor."
Eventually moving to New York to study the vocation he'd discovered at the Lee Strasberg Theatre and Film Institute, Matthey landed his first major role in TV series The Good Wife in 2011. This was soon to be followed by work on True Blood as Claude Crane, and with the role as CIA analyst Jordan Reed in 24: Live Another Day and NCIS' Daniel Budd."It's such an honour to be part of these shows, you really have to enjoy it when you are doing it and at the same time remember to keep the benchmark up there," he enthuses. "These shows become popular usually because they are well written and acted, so you have a responsibility to keep the level high and enjoy yourself in the process."
In person, he's quite the English gent. With such a gracious and polite personality, taking on outrageous roles has become exciting for Matthey. "It feels more creative to go out there, research aspects about a character who could possibly be from a sub culture in society that you have not had any experience with, physicality is also great, working on posture, accent and background."
In this vein, Matthey took on the persona of Eddie, a brutal pimp in Dito Montiel's Boulevard.
Shot in 2014, Matthey worked on his role alongside the late Robin Williams, whom he refers to as a 'legend': "He was a creative spark that doesn't come around often, so to work with him was an honour. Acting with him was a privilege and he was fantastic in Boulevard" – believing that he learnt valuable lessons from the late actor, who taught him to always be open, kind and caring. Matthey recalls watching him one day give up his chair for the make up artists. "I remember thinking to myself 'Robin has not sat down once'," he relates. "So, if an Oscar winner like him treats people with kindness and respect, no one can be full of themselves."
Since, Matthey has been working on 24, By Way of Helena and NCIS, whilst expanding his career into modelling, where he similarly creates characters on camera. "You are not going to want to be giving a psychotic stare into a camera while doing a photo shoot for GAP, for example. But, there are some things that do cross over and I like meeting all these different people that are behind the shoot." 
Completing the filming By Way of Helena whilst continuing NCIS, and currently filming in Birmingham Alabama, Matthey's involvements stay mysterious.With his last words being, "I am very excited to start 2016 doing good work", we are sure to see Matthey on our screens in the near future. It might be him psychotically staring in your face as a GAP campaign flashes up on your screens. Most likely, though, it will be in Western. Keep your eyes peeled.
Words / Emily Gallagher
Follow her here.
Talent / Giles Matthey
Photography / Alin Kovacs
Fashion / Sylvester Yiu
Grooming / Virginia Bertolani using MAC Pro
Photography assistant / Caoimhe Hahn
Location / Romanian Cultural Institute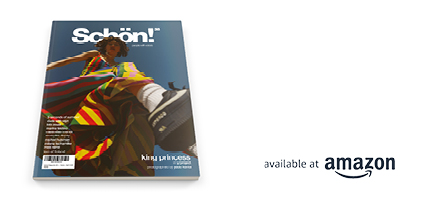 Discover the latest issue of Schön!. 
Now available in print, as an ebook, online and on any mobile device.