Andrew Salgado's ebullient yet weighty portraiture looks to the inner worlds of his subjects, making their internal lives external. Oscillating between representation and abstraction, his paintings do much more than record a likeness. Monumental canvases teem with colour, intricate marks and scrawls, which electrify his still and expressionless sitters. The disparate media he uses in a single canvas – from oil, to pastels, spray paint and collage – present a fractured and fluctuating notion of identity. This idea is embodied by the title of Salgado's latest exhibition at Beers London, The Snake; a transformative metaphor, or a reference to 'shedding skins' in order to forge new identities.
The theme of transformation extends to every inch of the exhibition, with grass carpet covering the floor and walls, and 250 live butterflies circulating the space, defying the traditional white cube format. Salgado's decision to blur the lines between traditional painting display and installation stemmed from feeling "unfulfilled by the limitations of the canvas". He believes it has become "too easy to send 10 paintings to a gallery and not give a damn where they hang. Or how they hang. Or if they hang". "Exhibition is theatre, it's melodrama and performance. Every step is crucial. The title. The exhibition. The message". For this reason, Salgado has decided to release his first monograph, TEN*, as a statement to accompany the works at Beers. The artist's desire to escape the confines of painting pays testimony to his ambition: with each new exhibition offering abundant creative opportunities, they always pose an "exciting challenge".
It is easy to get swept away by the vibrant colours, stitching, mosaic-like application of paint and real butterflies adorning the exhibition's canvases, yet behind all the artifice there are loaded messages. Salgado upholds art as a "powerful tool for communication". Partly driven by his experience as a victim of a gay-hate crime, his art addresses the injustices faced by the LGBT+ community, and seeks to elicit an "open dialogue about tolerance".
In this series of paintings, the horrors of the massacre in Orlando reverberate throughout the exhibition: in one canvas, the word Orlando is scrawled repeatedly in naïve child-like handwriting; a devastating reminder of the innocent lives lost. For Salgado, "when people or children are viewing the work and questioning the message, then we've succeeded in accomplishing something." In this sense, his art forces viewers to take on an active role, navigating their way through the complex canvas surfaces to arrive at fundamental understandings.
Salgado fully recognises art's ability to edify, and to awaken social consciousness. According to him, this is in an intrinsic and necessary part of grasping his paintings: "I often say to people that 'buying into' my art is also buying into these social issues… You cannot be – even partly – misogynistic, racist, homophobic, and think the works are good. Because that desire to challenge and accept, that's all inextricably linked to the works. I feel really vocal about promoting positive change."  
This ability to turn pain into a message of hope and optimism is perhaps the most profound transformation The Snake achieves. Salgado describes himself as "a positive person", recognising that "a lot of beautiful expression can come from pain." The dynamism and vitality characteristic of Salgado's work, with its bold and expressive colour palette, imply exuberance in the act of painting. After 11 sold out exhibitions and a number of upcoming show, it is evident that Salgado subscribes to his own belief that "good spirits make for good productivity".
It is this positive attitude, and constant striving toward self-improvement, which enables Salgado's art to keep evolving. "As people, as artists, I think we are always learning", he says. He claims that learning to make art for himself has been pivotal in his career, and not constantly feeling inferior or second-best. "For a long time I felt like there was some cosmic joke I was just not getting. Sometimes I still feel that way, but I channel that into working more, working better, working bigger."
Salgado's portraiture may be seen as a fusion of various artistic influences. Bacon's psychologically complex portraiture, Richter's preoccupation with surface texture and Basquiat's intricate scribbles are all discernible in The Snake. "You know any novelist can only work with the arsenal that each author before him has already used…but with skill, he can still stop you and make you go 'wow'." Filled with powerful social commentary and innovative painterly techniques, Salgado's art continues to elicit precisely this response.
The Snake runs at Beers gallery until 17 December and the Gallery of the Canadian High Commission will present a retrospective of his work from 12 January – 8 February 2017.
Words / Daisy Schofield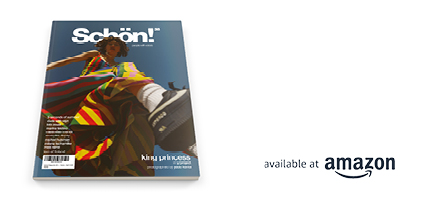 Discover the latest issue of Schön!. 
Now available in print, as an ebook, online and on any mobile device.