On March 12th, DOING FASHION, the Swiss Institute of Design and the Museum der Kulturen, came together in Basel to present an explosive Graduate show of flooding fashion statements. After seven months of hard work the 21 designers presented their collections, a platform from which to launch a successful career. The show explored new spaces and ways to experience the rapid changes of the world through new shapes, experiences and alienations.
With previous graduates already employed by fashion houses, the institute has promising talents emerging every year. For example, former student Elisa Kaufman has been working as a junior designer for Dior in Paris since 2015; whereas others have been successful in creating their own labels, such as Ottolinger in Berlin, a brand created by two graduates, Cosima Gadient and Christia Boesh. The Institute is greatly recognised for its outstanding results: graduate Isabelle Meyer was awarded the Swiss Design Award in 2015, and nominated for Vogue Italia Talents. This fashion show therefore enables the most recent final year students to start their professional life and show off their polished collections in the hope to follow in past students' successful footsteps.
The two highlights of the show for Schön! were menswear designer Ghislain Clerc and womenswear designer Tuyet-trinh Ly. The collection by Ghislain Clerc represented the alienation of male fashion when faced by the task of surviving a blizzard. His collection consisted of knits, fur, technical materials and distinct fashion-forward pocket designs, mixing concept and functionality. Ghislain is an avant-garde designer who focuses on aesthetics as well as the practical utility of clothes, affecting the wearer's sensations. The collection was very effective, portraying a man experiencing a new sense of identity in a snug but light design for survival in extreme weather. 
The WOW moment of the show was Tuyet-Trinh Ly's WOW NOW! collection. From 3D objects to flattened geometrical shapes, her collection gave a real lightness and movement that challenged everyday dress code through extravagance, playing with the idea of using costume as a disguise. Glittery faces, white sunglasses and large accessories created a sense of the enhanced modern individual. From cloud-like shapes, sheer, crystal or fibrous materials and colours, the collection offered a great amount of diversity of shapes and textures.
DOING FASHION believes that education is a complete investment for the future of their students, and is dedicated to breaking away from conventional fashion in order for the new designers to have a new personal approach with their collections. As ever, this year's Graduate show was full of innovation and experiments, and with a reputation that now spans the globe, a large crowd of spectators. Each individual's vision of the changing world proffered a deconstructed, poststructuralist approach to the future of design. With some formidable success and immaculate reputation, Schön! has no doubt that this year's graduates will be as successful as generations before them in their future careers.
Discover more on DOING FASHION here.
Words / Aurore Groult
Follow her here.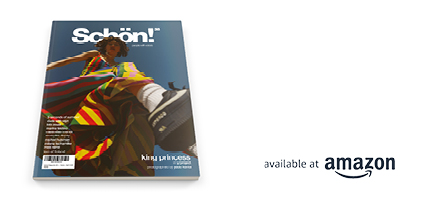 Discover the latest issue of Schön!. 
Now available in print, as an ebook, online and on any mobile device.