Doing Fashion, the Institute of Fashion Design in Basel fashion show, took place this year highlighting the innate talent from both its Undergraduate and Mater's courses. As precise as only Swiss fashion could be, this edition paid rendition to fashion as a powerful communicative tool. With the slogan "Now is the future" and "Land on Glitter", the message was clear: use our creativity and intuition to fight against the current trends that threaten to our world, thus "unsettle normative ways of knowledge production and reinforce our senses, our intuitive awareness".
Creativity being the key word in the collections shown, the Institute of Fashion Design in Basel showcased once again unparalleled attention to detail and precise tailoring; all the while presenting transcendental social messages. Here are Schön!'s standouts from both the BA and MA courses.
From the MA in Fashion Design, Friedrike Traub presented the collection "Detached". Focusing on functionality, the designer presented an array of amply colourful puffer jackets that served both their "classic" purpose whilst being a fashion statement and combining the practicality of a backpack. Designing "hybrids", the collection was aesthetically pleasing, technically flawless and fashionably functional. Proving to be an all-rounder by presenting a multipurpose collection, Traub is certainly one to watch.
Also from the MA was Rebecca Ammann's outstanding work. With a collection entitled "Boys' Catcalls", Ammann tackled the issue of toxic hypermasculinity head on. Denouncing the stereotypical "shameless, testosterone-laden unmannerliness", Ammann created a romantic, subtle and immaculate collection for the new "nonchalant gentleman", thus "celebrating mannerly exuberance". With a superb colour palette that combined both neutrally muted tones, precise patterns and colour accents, the collection had something for everyone. 
From the Undergraduate Degree, Nina Britschgi stole the spotlight with "Lifestyle of a Post-Apocalyptic Urban Peasant", a collection that accentuated fashion as a form of fiction. Taking Dostoevsky's Crime and Punishment as a standpoint, Britschgi tackled the themes of depression, guilt and redemption through a contemporary lens; reinventing 19th-century silhouettes to inform the prevalent modern-day athleisure aesthetic.
Bearing out the importance of education, Doing Fashion continues its wholehearted dedication to its students. Full of innovative ideas and technical experimentation, the Graduate Show extols individuality once more, cementing its immaculate reputation and making us thirsty for the talent to come from the next cohorts.
Discover more about Doing Fashion here. Check out the videos from the graduates' collections here.
Words / Sara Delgado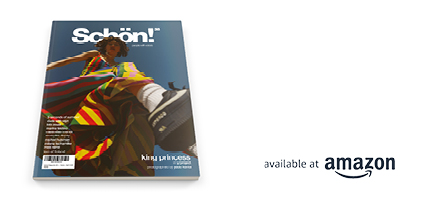 Discover the latest issue of Schön!. 
Now available in print, as an ebook, online and on any mobile device.