Andy Warhol is the icon that just keeps on giving. This month during Frieze Los Angeles an exhibit at Casa Perfect will show never-before-seen photographs by the Pop Art pioneer, revealing another facet to this enduring legend's art. It is a body of work that spans decades of the artist's life — encompassing subject matter from his mundane fascinations to glitz and celebrity. It's Warhol's intimate gaze at the world that has been markedly missing from his iconic catalogue of work, which Casa Perfect founder David Alhadeff and collector and art collector James Hedges want to display.
Perhaps one of the greatest puzzles of contemporary art is the way in which the art world appreciated Warhol's works on canvas and managed to neglect his photography, disregarding the fact that most of his paintings were directly derived from his pictures. It's a puzzle James Hedges made it his mission to put together. With a specialised focus on Warhol's photography, he gathered the largest private collection of the artist's photos. Now it's time for us to discover the genius of Warhol in a new way. Casa Perfect, the unique art and design space and David Alhadeff's response to L.A.'s flourishing art scene, presented the perfect context to showcase this series merging reality and art. Ahead of the exhibition launch on February 15, Schön! speaks to the duo behind this Warhol revival about the project, giving new life to a legend and why now was the right time.

How did your paths cross and this project come about?
David Alhadeff: Jim and I met through mutual friends a while back. As we have a social connection, it all came together in a really friendly and organic way. Jim reached out about the opportunity to curate an exhibition and showcase never-before-seen Warhol videos during Frieze. Given the periodic history of Casa Perfect and the incredible chance to show such a rich body of relevant artwork, I jumped at the chance!
What is it about Andy Warhol's photographs and his legacy that made you create this exhibition now?
D.A: Andy Warhol is a very relevant and interesting part of the current art conversation, largely due to the large-scale exhibition at The Whitney Museum in New York City. With Frieze Art Fair landing in Los Angeles this month, the city is bound to be buzzing with art happenings, and this Warhol installation makes a perfect addition to an exciting calendar of not-to-miss events.

How will this exhibition at Casa Perfect differ from previous projects showcasing Warhol's photography?
D.A: To me, it is all about the context. We are familiar with viewing Andy Warhol artworks in a museum setting. However, these works will be on display in a residential space, thus mixing design and art. It is an incredible experience to view the work in a way that is related to how the work was intended to be viewed. I am excited to provide the chance to showcase this type of work outside of the white box.

Given the popularity of Warhol's work, why do you think his photography has been largely overlooked?
James Hedges: While Warhol utilized photography throughout his career, largely as source material for paintings, it was not until 1987, six weeks prior to his death, that the artist mounted a show at The Robert Miller Gallery to shine a light on his photography with an exhibition of stitched photos, images actually sewn together in a serial pattern using silver gelatin prints made between 1977 and 1987. Because the artist died prematurely, he was unable to showcase the work as was his intention.
Andy Warhol has a large catalogue of photographs that document most of his career. How did you make the selection for Casa Perfect?
J.H: The works selected for the show represent a broad survey from a variety of photo styles (Polaroids, stitched photos, Photobooth strips and unique silver gelatin prints) and subjects covering the period from the 1960s until 1987.
Much of Warhol's photography offers glimpses into his personal life, what does this collection tell us about Warhol, the man behind the icon?
J.H: The most interesting insights into Warhol's personal life come through the unique silver gelatin prints taken between 1977 and 1987. During that period, Warhol carried a 35mm Minolta camera with him everywhere he went, and he shot photos on a daily basis. The breadth of subjects and settings showcase the way in which the artist spent his time, and interestingly, those things which fascinated him when he was alone or travelling. His eye frequently remained fixated on recurrent themes and subjects.

Why do you think Warhol is such a lasting fixture in popular culture even in the age of the internet?
J.H: Warhol's oeuvre captured the spirit of post-War America and its obsessions with consumerism and celebrity, and the breadth of his subjects provides a connection to nearly all viewers.
D.A: Andy Warhol's works overtly attempt to connect to a mass audience through subject matter that everyone is familiar with, including mundane objects and celebrities. These ideas seem even more relevant to me today than they were back when the work was currently produced.
Is there any particular photograph that stands out to you as a personal favourite?
JH: This photographic piece shows '70s icon Farrah Fawcett at The 860 Broadway Factory getting her makeup applied prior to her Polaroid photo shoot to create source material for her paintings. The work is a beautiful image of a beautiful subject, showcasing the artist's art-making process and his discernment.
David Alhadeff and James Hedges' selection of Warhol's photography and filmography will be on show at Casa Perfect, Beverly Hills, from this Friday (February 15, 2019).
words. Sarah Osei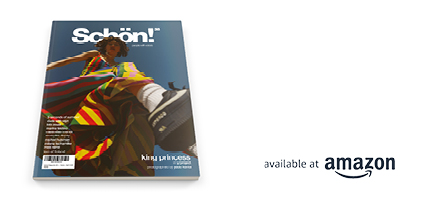 Discover the latest issue of Schön!. 
Now available in print, as an ebook, online and on any mobile device.