In an age where conformation culture is threatening individuality in the music industry, The Asteroids Galaxy Tour are a unique feat – a group who haves repeatedly rebelled against the norm. Since the band's inception, not only have they released three studio albums but their songs have been featured in iPod and Heineken commercials, and hit USA TV shows including Gossip Girl, CSI Miami and Suits. Their current album, Bring us Together, was released to critical acclaim in September 2014.
The band's lead singer Mette Lindberg formed the band with fellow Danish musician Lars Iverson in 2007. They met through mutual friends, who introduced Mette to Lars, the latter of whom was looking for a singer for his band. "We kind of looked at each other and said OK – let's try to give it all we got." Similar to her stage persona, Lindberg is ebullient and effervescent and possesses the ability to be refreshingly candid. During her conversation with Schön! she discusses all things Asteroids Galaxy Tour, from the beginnings of the band, to their evolution and their future plans.
They have had a meteoric rise – space pun intentional – and went from recording at Iverson's home studio, to partying on a private yacht with Katy Perry and Rihanna. So does it feel like fame happened overnight? Mette Lindberg disagrees. "It takes a lot of time and a lot of hard work to make things happen. And sometimes when you create a song you have to remember that it might be a long time before you hear it on the radio. Of course we got some attention from the beginning, as in within the first year, but it took two years before our first album was released, so to us it feels like a long time coming." Their first big break came when they were contacted by the management team of Amy Winehouse to open for her whilst on tour in Copenhagen. It was their first stadium show and Lindberg remembers her moment on stage as "super fast and super slow at the same time". Recommended to Katy Perry by a friend, the band also got to support the California girl on tour in Europe.
Lindberg still finds it strange when her music is played on TV and radio. "It's a bit funny, you know", she says of her listening to her music on CSI Miami or when she first saw the iPod Touch commercial in a pub in London. Her first thought was "What the hell, they are playing my music", followed by bewilderment.
Working in tandem as a duo certainly means she and Lars have gone beyond the stage of being merely colleagues. She clarifies, though, that like all friendships it has its ups and downs. "We toured a lot for the second album and at one point Lars and I got a bit annoyed at each other. We travelled so much together, we were always together and it felt like we did everything together…we lost that friendship and I think most bands can relate to that. It's the big issue that splits up bands. We took a break after that, we wanted to think about whether we want to make more music together." Time off and a DMCs meant they decided not only to renew their friendship but to start work on their third album.
Listening to Bring us Together, it is obvious that it has a very different sound and feel to Fruit and Out of Frequency. For this album Lindberg and Iverson "wanted to write about [their] longings and the lust for everything….their search for euphoria" combined with a "moment that will never end". It is a much more personal record about "that everlasting emotion [of love] that will not diminish" and the need "to stay in that moment forever, to feel the loneliness and longing" which eventually ends in jubilation. Lindberg further explains that with their second album they "tried to create a retro '60s or '70s vibe, whereas Bring it Together focuses on getting a more present and more futuristic tone". They have foregone the use of drums in this album entirely and instead the beats resemble more of an electro and club sound. The change in direction is in keeping with the bands ethos in that they "don't want to be the kind of band that can be defined into an exact genre".
Having just finished touring to promote their new album, Lindberg explains "there are too many highlights", but if she had to pick she would say it was the pleasure of playing the album to a live audience. The ability of music to affect people in a sub dimensional level and to have that connection with the audience is "invaluable and priceless". Her one take home piece of advice for up-and-coming musicians would be to "learn to say no [if offered something they don't believe in] as it's much easier to say yes". Now that touring is over will they be taking a break before recording again? "Well actually I'm on my way to the studio to meet Lars now, we are going to collaborate on a song but I'm afraid I can't tell you what it is… though it's going to be big and exciting I think." Wait and watch this space, then. In the meantime, The Asteroids are well and truly on their way to conquering the universe.
Words / Eshika Haque
Follow her on twitter.

Photography / Douglas McWall
Follow him on twitter.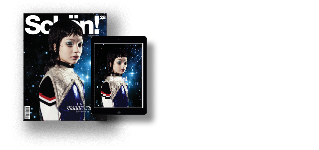 Discover the latest issue of Schön!. 
Now available in print, as an ebook, online and on any mobile device.