"We imagined ourselves on a huge submarine – we had visions of a party on a submarine." It may seem Complètement Fou, but it's a perfectly plausible plan: French pop sensation Yelle is retracing her steps through the starting points of her latest album, released last year. Submarine life seems to be a big step away from the saccharine synth, dance-driven pop that Yelle brought to the world with Pop Up. With tracks of the likes of Je Veux Te Voir and A Cause des Garçons, front woman Julie Budet and Jean-François Perrier (also known as GrandMarnier), took the French pop scene by storm during later half of the '00s. With two albums under the Yelle belt – Pop Up (2007) and Safari Disco Club (2011) – their third effort Complètement Fou came as a result of a fortuitous love child: one that originated upon the encounter with producer Dr. Luke, who is better known for signing off hits for Katy Perry, Britney or Flo Rida. "We got wind of the interest that Dr. Luke had for our music. So we struck up a contact with him – exchanged emails, pieces, music," she explains. "He told us 'I really like what you do, I think we could really do something together – come to LA and we'll give it a go'."
A prolific and productively pop relation was built, and with a speedy writing process, the 13 tracks that build up Complètement Fou rapidly took form. While the submarine theme seems to have gotten lost along the way, the key, Budet tells us, was that there were neither deadlines nor objectives. "We realised that we were able to create something away from home, far away from our little cocoon-thingy-of-a-studio in Brittany, and that meeting other people could engender something new." Juggling the recording sessions between the sunny shores of California and the (slightly less sunny) beaches of Brittany, where Yelle's home is, the album is a cosmopolite child.
In fact, the last album was explosively successful in the US, rather than on home turf, with an apex gig at Coachella (to be repeated this year). The Yelle tour is well under way when we speak, with the main US leg of the journey done, and the European tour half completed. UK fans, too, have proven to be adepts of the French tracks that bust out the moves. "Every time we play here it goes really well. We played two or three years ago in Brighton, Manchester, we toured with Katy Perry for a bunch of time too."
The album is brilliantly eclectic, and breaches thematic gaps, from Stendhal Syndrome Tourism with Florence en Italie, to a tutorial in club grinding moves with Ba$$in, as well as two intervals of Nuit de Baise (translating should be self-evident, ask a French friend if stuck). "We spoke a lot – and from the conversations, ideas were born and instances of creative production took place." Voltaire's Candide comes up in conversation: other than the El Dorado theme, the inherent positive vibes that Candide, Voltaire's eponymous hero, is famed for, also features. "It's always been a leitmotif in our work – even more so for this album. A vague sense of naivety, the double meaning that characterises our work," she tells us. "We're so constantly bombarded by difficult situations and things, that at some point – and you have to be conscious in life, I'm not saying that you have be blinkered for everything – you have to be able to detach yourself, respond humorously, even if it's black humour."
Yelle comes from a place of high-powered, adrenaline fuelled positivity. Originally the acronym of You Enjoy Life, dance and saccharine pop tones have built up the basis of Yelle. "We've always stayed in that hyper-positive mood. I am overly positive. It annoys people, I see it – I always say that you have to see the positive side to things in experiences, in life…"
The radiant positivity shines through in the Complètement Fou video – where a jovial 1980s colour palette collides with the butt-busting-bounces of a voguing crew. And dance has always been the crux of Yelle's vibe, as it's the live that counts, we're told. She tells us she's set to release the video for new single Ba$$in recently shot in L.A. Known for her flair in picking up the wackiest directors, another healthy dose of craziness is to be expected
"With GrandMarnier, we like to say that we do temporal music – and by that I mean that it's really anchored in a moment or in a time period," we're told. "It reflects a mood, a moment in you're life when you're happy or not." This also takes the form of being reflective of a specific cultural moment – such as Yelle's link with tecktonik. "It was really a thing of a moment – of an energy that exploded. I loved those dancers as they really had a sort of give-a-shit and of living-for-your-passion thing." A Cause des Garçons, for those who weren't aware of the clubbing lifestyle that it engendered, became an anthem for tecktonikers worldwide. "It's one of those moments where there is something – a sort of collective energy. Something is born, people support each other in it – but it's only for a very determined duration of time."
Musically, Yelle blends a whole range of references. With Complètement Fou, the duo brought together a wide spectrum of genres into one synthesized whole. From Chanson Française to Madonna, techno meets house, rap meets pop – always with a brilliantly lyrical input. "It was an evidence that we should carry on singing in French for this third album," she tells us. "I would be scared of not being able to go further than something linear, very school-like English. And I really find that French is a beautiful language."
While we continue discussing the closed-mindedness of the mainstream French pop scene, her love-hate relationship with Paris, the je t'aime moi non plus relations with the French public and plans for the next music video, Yelle's infectious positivity that she told us about has us inebriated. Much like the Jacquemus dresses she dons on-stage, or the sugar-packed Oreos she's recently provided a soundtrack for, Yelle offers a condensed dose of pop culture through dance, beats, colour, humour and irony, offering a much-needed break away from the crunch of the daily grind.
Yelle is playing at Village Underground, London, on March 4th.
Discover the Complètement Fou album here.
Words / Patrick Clark
Follow him on Twitter.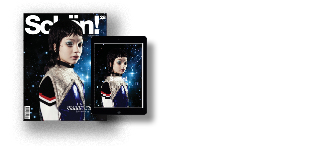 Discover the latest issue of Schön!.
Now available in print, as an ebook, online and on any mobile device.