Peru's position on the economic and comercial global map is largely underdocumented and barely spoken about. Yet, with over a decade of economic growth, incredible strengths as an exporting country – with services and industries thriving (and under 3% unemployment to boot) – Peru is a world force making its mark. When it comes to fashion, thus, it makes sense that this relatively recent Peruvian prosperity has led to the fashion industry also going from strength to strength – and it will undoubtedly continue to build upon a culture that goes way back in the millenniums.
 
Organised by the Ministry of Foreign Trade and Tourism and PROMPERU, Peru Moda and Peru Gift Show combine to create an annual event of industry showcases – where local artisans, producers and buyers meet to connect. At the heart, of course, is Peru's pride: Alpaca wool and cotton, both materials that are interwoven into the very fabric of the country's history. The former, found in the Andes, results from thousands of years of breeding Alpacas – the wool of which is unlike any other for its softness; buyers and major houses flock to the South American peninsula for this product which is unparalleled in quality – with Guess, Gucci, Private Brands, Twin, Tommy Bahama and MaxMara now focusing on Peru for cotton and Alpaca.
Speaking to Schön! the Minister of Foreign Trade and Tourism, Magali Silva Velarde-Alvarez, explained how delving into the history of the industry provided  renewed energy for both upcoming and established producers to gain maximum exposure on an international platform. "Our focus for this edition is to strengthen and relaunch the brand image of the textile and apparel industries in Peru, as a government policy to drive exports,"  she explained "We will promote and highlight Peruvian brands synonymous with indisputable quality."
Buyers came from 44 different countries – amounting to over 1500 guests – 40% from the United States, 13% from Brasil and 5% from the United Kingdom, with over 60% of international buyers being first-time attendees:  proof that the industry is gaining increasing exposure and ultimately becoming an unmissable date in the trade calendar. For the companies involved, the event accounts for for 65% of annual exports.
Held at the newly inaugurated Lima Convention Center, Peru Moda also presented the collection of Jorge Salinas, whose work recently merited a platform at New York Fashion Week. With a collection inspired by the winds of Paracas, Jorge Luis Salinas created elegant pieces using national textiles and materials. Winning an agreement with Macy's in 2015, Salinas' positioning on a global platform was deeply rooted within the heritage of the country's industry.
In line with these aims, this Peru Moda edition saw Peru Textiles launched. With the textile sector in Peru representing 12.2% of total exports of non-traditional exports, positioning the Peruvian industry in a global eye, Peru Textiles seeks to collectivise and internationalise the retail format of the companies united for the Peru Moda event. "This new brand is the combined effort of the public and private sectors to position our country as a textile cluster offering vertical integration, from natural fibers to the finished garment," explained the Minister. "Our goal is to generate value for the consumer. Peru Textiles will position Peruvian garments worldwide as high quality products that meet the expectations of demanding consumers."
 
Equally promoting the emerging generation of design talent, the Young Creators To The World contest saw 10 young designers present their collections created according to a theme, using Peruvian textiles and materials to produce their collections. The winner, Vania Tafur, presented a collection rich in textures, combining leathers with wools, in an intricate interlacing of textures.
"This contest is vital to motivate and demonstrate the work of our young talents. Today we have witnessed beautiful collections inspired by the rich oceans. All of them applying cotton and alpaca, natural fibers that represent Peru and are highly valued around the world", explained Magali Silva Velarde-Alvarez.
Internationalisation, consequently, is the prime aim for the Peruvian textile industry. Not just burgeoning in its contemporary relevance, but re-evaluating a rich  history , Peru's position in the garment, textile and fashion industries is indisputably full of potential.
Discover more about Peru Moda here.
Words / Patrick Clark
Follow him here.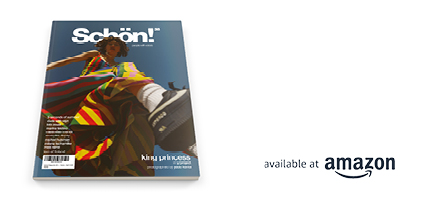 Discover the latest issue of Schön!. 
Now available in print, as an ebook, online and on any mobile device.