Stephanie Pfriender Stylander's innate emotion, grit and passion translate through her photography, earning her the status of visual storyteller. A prolific photographer known for her fashion and music imagery, many might assume that Stylander is aesthetic-centric, but her understanding of human emotion, cognition and complexity is unparalleled, making her photographs unsurprisingly distinctive and powerful. Inspired by classic cinematography, her niche of storytelling is fine-tuned and to look at one of her images is to be exposed to the life of the person within it. It's no wonder that, over the last two decades, her magnificent shots have graced the pages of fashion bibles and media super-giants such as Vogue, GQ and Harper's Bazaar Uomo; to name a few.
Now, she embarks on a new chapter with her first monograph, The Untamed Eye, releasing next month. The Untamed Eye is a collective of her images reflecting over her extensive and rich career, sporadic with well-known faces such as Kate Moss, Keith Richards and Heath Ledger. Her genius and natural talent is bound within the pages, and will soon grace the walls of La Galerie de l'Instant for her new accompanying exhibition. We catch up with Stephanie to discuss remaining untamed, "pinch me" moments and archaeological digs.

Can you tell us about the moment you fell in love with photography and portraiture?
I was a fourteen-year-old high school student living in Glen Rock, New Jersey. My friends and I went to see The Kink's, one of the great British rock and roll bands, at this intimate theatre during the mid-1970s. These older kids from school asked to sit on our laps, as they were taking pictures for the yearbook, and we had envious fourth-row centre seats. I was immediately transfixed by this little black machine, with the numbers on it. As the music floated into the background, I just kept my eyes on the round dials, the constant focusing, and their hands tightly wrapped around the black and silver camera. The next school day, I followed them into the darkroom, the magic of images slowly disclosing themselves beneath the liquid, the scent of chemicals, a room bathed in red light. Well, that was it, I became a photographer.
The face, portraiture, curiosity of the other, was even earlier. When I was around six, I started asking strangers and relatives questions, basically trying to find out who they were, where they came from, what was their life like. In essence, I was creating a portrait. Photographing is a drive, an act of aggression and curiosity all rolled up into one.

Your imagery is known to evoke emotion and grit with a cinematic flair, how do you explore this when you're shooting? Is this something you think of when you shoot or does it come naturally?
Photographic style is an unspoken code, a personal language. To be a photographer, I have a need to tell a story, evoking emotion, mystery, mood, ambiguity, through my pictures. I don't want to give all the answers, there is something left unsaid. Life is filled with stories, by characters, that show their vulnerable selves, we are human, fragile and strong, that is what interests me. Then the grit, the human condition, comes through, not everything is perfect, we have trials and tribulations, therefore we live. When I am working, shooting, I project a certain atmosphere, a direction, we all live together, so to speak, there is a combination of the talents, from the subjects to the styling, to the locations, to the story, to the technical choices, all the ingredients that I rely on. There is also a didactic planning with fashion and celebrity portraiture, a tremendous amount of work goes into research and production before the actual shoot, which is essential for achieving a powerful group of images.

Which of your large variation of images stands out most to you from The Untamed Eye?
I think photographers are historians of time. This really interests me. I look at these images that are in my book, and many of them are twenty-five years old, one image, another image, another image, are filled with experiences from then till now. Photographs conjure up memories, elongate time, pronounce time. I think of Kate Moss, special unknown young girl, Heath Ledger, poetically upside down, Marie-Sophie, whose eyes never stopped searching, Keith Richards, an ocean of cool, Luca Vellani who knew things I didn't, Barbara whose last name I lost.

There's a beautiful poem in the back of the book which marries well with the emotion and intimacy that your work evokes, what inspired you to write this?
I love words. The written word. Poetic abstraction creates a visual piece. I wanted my book to have my words. It is very dear to me, every, did I tell you, did I tell you.
What provoked you to put your first monograph together? What did you have in mind for the reader when you put it together?
I thought about doing a book for quite some time, but it just never felt right for one reason or another. Last year, I started revisiting the idea, then the uncanny took over, within one month I began receiving emails, Instagram's, stories, people talking about my pictures, telling me you should do a book, so I did. It has been a fascinating process, putting a book together, going through a certain period of my career, and rediscovering my work for myself and others. It is like an archaeological dig.
The photographs that are in my book are from a time when I had a lot of creative freedom, and the industry had a lot of creative freedom. Magazines could create a world for their readers, great editors knew what they wanted to say about fashion and or fame. Even during the 1970s and 1980s when in high school, then college, I poured through magazines to learn, to be inspired, by the great talents of Avedon, Moon, Turbeville, Frank, these photographers had very specific photographic styles for their entire career. Magazines hired you because of how you saw, period. I moved to Europe in 1990, because there was more visual freedom than in America. The Untamed Eye speaks to this, I wanted to remain untamed. What I hope for is that the reader is stimulated to think and feel from looking at my pictures. Wherever that takes them, if they are moved, I feel seen.

Alongside the book, you have a new exhibition coming to La Galerie de l'Instant on the 10th of September. How was it putting together your exhibition with the curator and what can we expect from it?
Julia Gragnon, the gallery owner, has a wonderful human quality, that reminds me of the years I spent in Paris. She has 'that other' that makes the gallery authentic, timeless. We work easily together. When living in Paris, I would go to the small movie theatres off the Champs-Elysees with my assistant and watch films from the master filmmakers like Godard and Truffaut, who influenced my work tremendously. Julia's father photographed all these great actors and directors, from the French New Wave and the Italian neorealism periods. These icons that influenced me, are buried inside the walls and the floors of the gallery, a perfect home, for this period of my work.
You've worked for some of the world's biggest publications and won an extensive collection of awards for your iconic work. What has been your biggest "pinch me" moment of your career so far?
When standing in front of legends, when boarding a plane to Sicily, when speaking to a group of students, all this and more. But really, it is when I found my voice, when I realised what I wanted to say with my pictures, and how to get there, I found the map, a personal roadmap, that was the "pinch me" moment of my career.

What have you learnt from your rich and extensive career?
I am very lucky to have found this medium so early in my life. I believe it was my calling. It just fit. With that, I have worked hard, took many risks, had lots of failures, travelled all over the world, met many different types of incredible people, had wonderful highs, all moments that are never forgotten. This is my tapestry, and I cherish it.
Looking to the future, who would you like to shoot next? Would you consider going into cinematography as it's so influential to your work?
Javier Bardem is one. Film direction is something I do think about.
What's next for you? Any big plans?
My husband and I are off to Bali, and then eager to get back for all the great book events from New York, to Paris and Los Angeles.
"The Untamed Eye" will be published by MW Editions in September 2018. The accompanying exhibition will be open at La Galerie de l'Instant from September 10 until November 18.
All images courtesy of the artist. Feature image: Kate Moss for Harper's Bazaar Uomo, 1992, wearing Christian Roth sunglasses
words. Lauren Hadley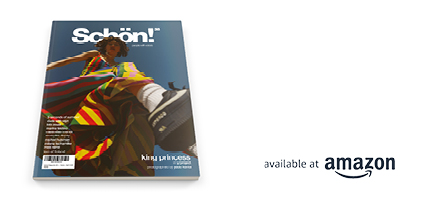 Discover the latest issue of Schön!. 
Now available in print, as an ebook, online and on any mobile device.