Guided by innovation, positive energy and new ideas, Swatch Cities is the campaign highlighting the importance of art in the most unexpected places. To kick off the journey, Swatch took over the Spanish capital of Madrid, a city famous for its social, business and retail evolution. Swatch selected 15 young artists living in Madrid, aged 18-30, to develop projects alongside a team of creative mentors to explore and provide platforms for new artistic techniques tied alongside the themes of contemporary art, urbanisation and music. With this initiative, Swatch Cities hopes to make its mark by sparking a never-ending surge of inspiration and expression in the areas it visits.
Boa Mistura, a Madrid-based artist collective with roots in the graffiti scene, have always felt an attachment to the city they live and work from despite displaying their art in public spaces globally. With the support of Swatch, they were able to breath new life into Mercado San Cristóbal, an area in the city that has recently suffered demographic deterioration and dilapidation. Boa Mistura transformed the neglected buildings into colourful displays adorned with the tagline 'La Vida es Movimiento' – which translates into 'Life is Movement'.
"There are two ways of moving: the physical movement and the social upheaval," Pablo León Sánchez, the founding member of Boa Mistura, explains. "This work pays tribute to the neighbourhood that has mobilised its forces to preserve its identity." In response to this, Swatch has released a new, limited art range, called 'LAYERS OF TIME', with this very own message. Time only exists if you make it real. "LAYERS OF TIME invites you to reflect on the ethereal and abstract features of time when you are not turning it into actions."

Swatch has also collaborated with young Spanish brand Aristocrazy, uniting European traditions and design skills into a new concept of fashion jewellery. Together they have created three special watches available in limited quantity in Spain, France and Mexico. A surprising inspiration for the collaboration was the chameleon, a reserved master of self-reinvention. The three watches take the key features of chameleons. Entitled CHAMECRAZY, the first watch simultaneously reflects and transforms the reptile's signature scales, adorning a sleek metal hoop and giving the everyday look an elegant touch. The whirling tale served as a pattern for CHAMESKIN, even its buckle is in a circular shape. While CHAMESPARKLE SKIN is a masterpiece of demonstrating the artisanal aspects of traditional jewellery. Each watch is accompanied with an exclusively made bracelet.
Following its collaboration with the Rijksmuseum earlier this year, Swatch Cities continues to highlight its appreciation and respect for the art industry and history. Taking its second step in travelling through internationally renowned art museums, Swatch Cities interprets three pieces from Madrid's Thyssen-Bornemisza Museum to create an unexpected yet respectfully contemporary array of watches.
Flowers have been known for centuries to be a painter's tool in serving symbolisms of seduction, death and beauty. Regarded as the expert in flower paintings, Balthasar van der Ast's Chinese Vase with Flowers, Shells and Insects inspired the GRACIOUS BOUQUET watch. As a revival of Flemish beauty in the 17th century, the watch features the iconic blue iris with subtle lines of neon circling the petals.

Franz Marc, the founding member of The Blue Rider, painted his views of the world, focusing on the pursuit of freedom of speech through new symbols and transcendent visions. Swatch Cities' THE SLEEPY GARDEN watch enters Marc's mystic world of The Dream, celebrating his signature oeuvre of dégradé palettes.
The third and final watch in the collection is a tribute to one of the most iconic artists of the 20th century: figurative and abstract painter Piet Mondrian. THE RED SHINY LINE watch is a direct influence to Mondrian's masterpiece, New York City 3, using one of his signature colours and catalysing all the lines of the world in one continuum.
Yes, this is not the last exciting step for the tandem that is Swatch Cities and Contemporary Art. While the name of the next museum is still under wraps, Swatch is giving the general public a chance to design their own wrist-born masterpiece online and in-store in the meantime.
To discover more about Swatch Cities, click here.
words. Phoebe Gardner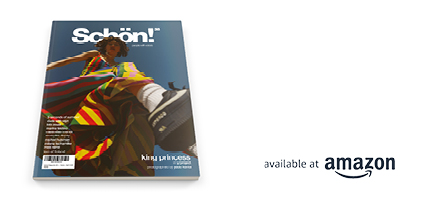 Discover the latest issue of Schön!. 
Now available in print, as an ebook, online and on any mobile device.