The annual ITS Awards event is fast approaching and over 50 fashion finalists from all over the world are hoping to score a win this summer. Exciting, challenging, and creative; the competition is a resourceful opportunity for the multiplicity of young talents who apply every year.
As an artist, being able to showcase your work is key. Having someone that believes in it, however, is a goal. People see creatives as free souls able to express the emotions they themselves cannot describe. They can be inspiring, and they can be empowering. At times, they can also make no sense. Still, there is something about their carefree attitudes that make each one of us want to be one. Yet, taking the leap of faith is not always enough: many creatives feel the pressure of "making it" or rather "making a difference", especially within the fashion industry. How many dreams have bloomed through passion and quickly ceased to exist? 
By understanding these challenges, ITS (International Talent Support) was created as a platform to showcase and support the strongest emerging fashion talents around the globe, as well as an ever-growing network that supports creativity. Based on a "deep and widespread research of talent offering support, visibility and opportunities for young designers coming from all over the world," as the ITS team explains, the Trieste-based awards are without a doubt a landing opportunity. 
The past years have seen talents applying from all around the world: over 1000 entries are received every year, from 300 schools across 80 countries. Divided into four main categories (fashion, accessories, artwork and jewellery), the contest selects its finalists through a long and rigorous process that includes jurors the likes of Sara Maino (Deputy Editor-in-Chief of Vogue Italia and Head of Vogue Talents), Carlo Giordanetti (Creative Director of Swatch International), Simone Marchetti (Fashion Editor La Repubblica) and fashion influencer Bryan Yambao. Talents and jury are then summoned in Trieste for a grand final event, which also sees the presence of over 400 guests: from journalists and trendsetters to opinion leaders and major representatives of the fashion system.
Founded in 2002 by Barbara Franchin, the ITS Awards are more than a pat on the shoulder, some pocket money and a dusty trophy. "ITS isn't just about temporary support. Instead, we have always strived to provide real opportunities for our finalists, experiences that would last beyond the event, that could potentially represent a radical change — for the better, of course — in their professional lives". In partnership with brands such as SWATCH — which also created the fourth category of the competition, "artwork", aiming at discovering the most art-oriented young talents and challenge them with an artistic brief — ITS helps its finalists' blooming dreams to never wilt by guiding them in the right direction and connecting them with the right people. 
The sixteenth edition of ITS will take place in Trieste on June 27, 2018. Discover this year's finalists here.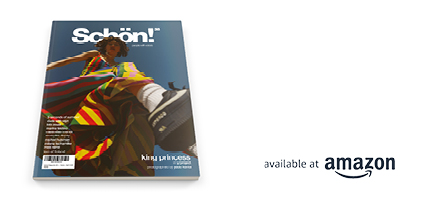 Discover the latest issue of Schön!. 
Now available in print, as an ebook, online and on any mobile device.