Bob Matthews and Catherine Pockson make up dynamic musical duo Alpines. No strangers to ethereal vocals and bassy waves, Schön! premieres the cinematographic version of their new track, Out of View. The setting for the video, a harmonic juxtaposition between the urban backdrop of a city and mother nature's flora, aptly encompasses their forthcoming album's title, Full Bloom. With a bassy beginning transitioning into a backbeat style rhythm that descends quickly, the newly released track is overlaid with the heartfelt enchanting vocals of Pockson. Out of View is a journey in which the listener can be transcended to another place, a melody that lifts you up and carries you to pure bliss, married with a brand new eclectic tone. Out of View shows Alpines in full musical bloom growing anticipation for the collective of tracks soon to be released across Full Bloom. To accompany the premiere, we catch up with the duo to talk Out of View visuals, dream collaborations and rocky starts.
The lyrics for Out of View, although catchy, evoke a very deep emotion. What inspired you to write such an anthemic yet emotionally charged track?
Catherine Pockson: Thanks so much! I wanted to write lyrics which were both deep emotionally but also uplifting too. Those are often my favourite kind of tunes, [the ones] that give you that real sense of euphoria. I was inspired by lots of tracks from the '90s which I would listen to when I was growing up and driving myself to school listening to music in my car, going between the cassette player and Kisstory. That kind of tracks would range from old-school soul, garage, R&B, anthemic rave classics and much more. I feel like Out of View, lyrically and sonically, captures a lot of those references and that period in my life.
The video is an unadulterated marrying of mother nature and an urban city background. Can you tell us about your creative decisions behind the video?
C.P: We filmed this video ourselves on iPhone over the course of a year. We filmed hours upon hours of flowers in bloom across different seasons and shot each other in various landscapes, both urban and natural. The beauty of filming and directing a video yourself is that you can, if you forward plan enough, spend many months creating and building up footage. We also had to learn to edit properly, so it has been an all-encompassing creative process but one we have loved doing and can't wait to do more of! This juxtaposition of mother nature and the manmade is something we have used a lot in our visuals, since the start of the band, but this time it is more stark and extreme for sure. Nature has always been a key focus and inspiration for us. This time we wanted to make a video that really captured how we were feeling about the world right now. Climate change and our place as humans within this world [are] very real and it is time to make big changes. Our generation has a great responsibility on our shoulders, but we didn't want it to all feel doom and gloom, there is hope too, which is embodied in our use of colour this time.
Why did you decide to release the video for Out of View as the first of your album Full Bloom? Does it have a special meaning to you?
Bob Matthews: We felt it was the best song to introduce this record. Both in terms of the sonics of the record, but also when you come back after not releasing for a while you want to make people sit up and listen. We felt this track did that for us. It does also have a special meaning for us, in that when we wrote it it was the first time we felt like we understood what this new album was going to be.
Out of View is quite a different tone to your previous tracks on your albums Oasis and Another River, was this a conscious decision? Is this something that we can expect from the rest of the album?
B.M: Yes it was a conscious decision — we're always trying to evolve and push new boundaries with our music. It keeps it interesting for us, and I think that gets us better results! We love the fact that we're not easy to categorise. There are some more tender moments on our new album, as well as some more poppy tracks too. But we always work very hard to make sure our records have a cohesion to them.
Full Bloom is your third album now. Going back to the very beginning, could you tell us a bit about how Alpines came about?
C.P: When we met we were working with other artists and producers, trying to pave our way in music. But for some reason, the songs Bob and I were making just had something about them: they came very naturally and we wrote a lot of music very quickly. We also both had a ridiculous amount of drive to try and take things to the next level. We were real equals in that sense. As a result, after a couple of shows, the music got noticed very quickly and within only a year of meeting each other and making music we were signed to Universal. It was all very surreal and a huge learning curve. Now we are releasing our third album, which is amazing — after everything we have been through, it is such a humbling and wonderful moment to reach. We have worked so hard and given absolutely everything to get to this point so it means the world to be able to release this record.
Is there a particular message that you'd like listeners to take away from Full Bloom?
C.P: Full Bloom, the first song on the album, is about climate change and we wanted to name the album after this theme because it is something we care so deeply about. For us, right now there is nothing more pressing or more important and we wanted to honour the earth with this release. But there are more themes and messages throughout the other songs on the album. There are songs about love, loss and hopefulness. We are all human, we are all going through something and we have to look out for one another: keep choosing kindness. In many ways, it is a very vulnerable and exposed record lyrically, which isn't too far removed from our previous album, Another River, but this time we have created a whole new sonic and visual world to take people to another place. We feel it is important, as artists, to keep paving new paths and conjuring new worlds for people to immerse themselves [in].
You've collaborated with the likes of Sub Focus and Lana Del Rey previously, can we expect any more collabs in the album? Is there anyone particular that you'd love to collaborate with next?
C.P: We've written and produced all of the songs on this album. The only additional parts came from a couple of good friends who play cello and guitar. So overall, Full Bloom was quite an intimate and insular process. But we love collaborating and feel it is so important to do. There are so many people we would love to work with, my dream was to work with Prince but I'm obsessed with everyone from Erykah Badu to Rick Rubin! Brian Eno is one Bob would love to get in the studio with. Anyone on our latest playlist would be amazing to work with.
You guys were signed to a music label but then went on to resiliently self-release your debut album Oasis. Do you have any advice for aspiring musicians going through a tough time breaking into the industry?
B.M: I think the harsh reality is that it doesn't get any easier! You have to have a lot of self-belief, you have to know that this is what you want to do, what you were meant to do. Trust in yourself. Know that no one in the music industry really knows any more than you. Music is so personal. No one knows for sure what is going to be successful — just do you. Don't try and be like anyone else.
You have an upcoming show on November 15 at Rich Mix London, that's the day before Full Bloom is set to release. Can we expect to hear tracks from your new album?
B.M: Yes for sure — we'll have an all-new live show and be playing a lot of new songs — it's going to be a special one. We'll be releasing more singles from the album between now and then, so there'll be time for people to get acquainted with the new music!
Last but not least, what's next for Alpines? Is there a tour on the horizon?
C.P: There are a few things on the horizon and we'll definitely be touring! We are also really excited for festival season already. We feel this album would suit being played out to people in fields bathed in sunlight or moonlight! In the meantime, we will be making more music in our studio, and most importantly of all, we will be releasing lots of Full Bloom tunes, videos and more over the next few months. We really hope people enjoy this album and can't wait to hear what people think!
Alpines' forthcoming album, 'Full Bloom', will be out November 16. 
direction + production. Alpines
colour grading. Harvey Pearson
words. Lauren Hadley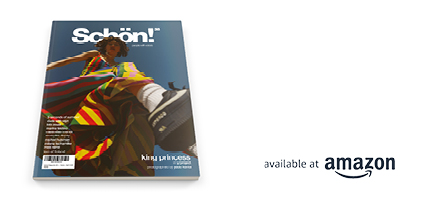 Discover the latest issue of Schön!. 
Now available in print, as an ebook, online and on any mobile device.