Up-cycling by definition is to reuse (discarded objects or material) in such a way as to create a product of higher quality or value than the original. This meaning, namely the higher quality essence of it, is reflected in what Who's Next and Premiere Classe had in mind when the idea of (RE)CREATE came about. 
(RE)CREATE is an up-cycling styling project, created by the leading international fashion trade show Who's Next in conjunction with the similarly pioneering accessories trade show Premiere Classe. With the sustainability of the fashion industry under increasing scrutiny, the project theme is more relevant than ever.
(RE)CREATE tasks seven fresh design talents with creating mini-capsule collections comprising of 20 pieces, using previously owned garments and/or accessories. The designers, who all share a Mediterranean heritage, have been allowed free reign in the EUREKA FRIPE warehouse in Rouen. This colossal 25,000m warehouse holds around 3,500 tonnes of second-hand clothing stock and is a supplier to some of the world's best vintage clothing stores. Think a Brick Lane vintage stockroom, on steroids – then double the image you have in your mind. 
To be faced with 3,500 tonnes of fabric might seem a daunting prospect to most, but each of the forward-thinking designers has a meticulously planned and well thought-out vision for their designs. Let's meet them:
SEA FOR SINNERMAN: Nicholas Capron created this label and named it as an ode to Nina Simone. An avid sailor, he stayed true to his maritime sensibilities by picking out 1930s sailor trousers and transforming them into "hooded sailor smocks".
SECOND ST.: Beirut-born Tracy and Sarah set up their socially conscious, free fashion programme in 2011. The duo decided to create a "progressive take on a classic shirt" by using a variety of different materials, such as military fabrics, silks and cotton, all drawing inspiration from the Mediterranean colour pallet (read olive trees and arid landscapes). 
LOUIS GABRIEL NOUCHI: Runner-up at the Festival de Hyères in 2014, this designer already has great fashion credentials. Not only does he like to wear second-hand clothes, but to completely deconstruct pre-worn garments and breathe new life into them. For (RE)CREATE Nouchi will be combining black suit jackets with multi-coloured kimonos. 
WORK ON: Giuseppe Caniglia is well versed in up-cycling for his brand Work On, re-working old pairs of trainers with a street edge. This time, the Napoli born designer is taking on the classic Converse and customising the shoe way above and beyond its original form. 
DELPHINE DÉNÉRÉAZ: In order to transform gaudy football scarves into high-fashion shawls one must possess huge design gravitas, or at least be French. This is exactly what Delphine Dénéréaz, from Nice, intends to do. Drawing from a background rooted in bold and colourful jewellery design, she will be taking these scarves from necks of fans in the football stands, to the fashionista shoulders of the FROW. 
MANÉMANÉ: Miguel and Guillermo are the Spanish brains behind Manémané and were spotted by Who's Next at their latest fashion show. The mix and match addicts are recycling old jeans to produce an ultra-contemporary range of Levi's 501. Everybody knows denim gets better with age, so this reinterpretation should be one to watch. 
BLUE LINE: Last but by no means least, is Skinner M'sa, who is used to working with recycled materials, using fabrics from renowned fashion houses to complete her designs. She will be using blue worker overalls to create a beautifully-blue capsule collection. Shades of cool, one might venture.
From the 1st to the 5th September, the pieces created by these seven designers will be at Who's Next and Premiere Classe at the Porte de Versailles. 
From 1st September until 2nd October, the limited edition collections will go on sale at the Kiliwatch Paris vintage store in Etienne Marcel, Paris. Throughout October 2016, the (RE)CREATE pop-up store will be open at the LAFORET Harajuku in Tokyo. If you are in a position to attend any of the dates above, you really must. Up-cycling is a movement which is only set to expand in the fashion industry, and rightly so. 
For more information, visit recreate.whosnext.com
Words / Jordan Gale
Follow him here.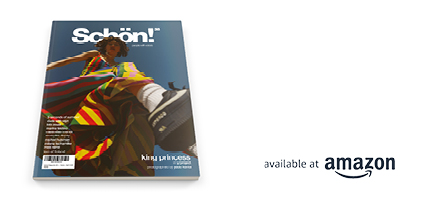 Discover the latest issue of Schön!. 
Now available in print, as an ebook, online and on any mobile device.