Even with a polar vortex in tow, frigid fashionistas of New York City, made their way through wintery conditions — past the slush and frigid winds — to Skylight Clarkson Square for the first day of Women's Ready-To-Wear Autumn/Winter 2017 Collections. Inside the venue, designers were coming in hot, kicking off the week with design duo Nicholas K's nostalgic, burnished nod to the 1990s and Desigual's multifaceted bohemian rhapsody of harlequin prints and pom pom trimmed accessories. 
Lush metallic leather bomber jackets were accessorized with elephantine hoop earrings, mixing tribal eclecticism with a crimson 1990s sheen at Nicholas K. Designers Nicholas and Christopher Kunz oscillated between off the shoulder printed sheaths and conceptual flaxen velveteen dresses wrapped at the waist. Statuesque silhouettes were lengthy and layered, accented with leather berets and lustrous headbands. Eco-conscious materials were employed to create gossamer copper blouses which evoked an effeminate sphinx-like beauty, thus reinventing the Bronze Age of ready-to-wear.   
An ode to spirited women and their colourful idiosyncrasies, Barcelona based label Desigual unveiled a delightfully unmatched ballad of bohemian silhouettes that epitomized the iconography of punk. Influenced by the Spanish New Wave and Californian rock scene, fishnets were worn on top electrifying stockings that accentuated flamboyant plaid minidresses and studded rock jackets and biker vests. Fur and leather newsboy hats were a nod to the British counter-culture of the mid 1960s and complimented grungy knitted sweaters and tartan blazers. Floret folklore embroidery danced on fraying denim and lace, while animal print awakened classic outwear.  
Melodious femininity reigned as husband and wife team, Laura Vassar and Kristopher Brock, narrated a lyrical spectacle for their label Brock Collection. A live piano performance accompanied flowing vermillion forms and floral frocks with blouson sleeves that oozed plush Romanticism. There were two distinct identities running through the show: one being the woman of the country and the other, the woman of the city.  Prairie pinafores were married with mink scarves and protracted fur coats were partnered with pointed toe runners — final looks were dainty and sophisticated to reveal that the Brock girl is both rural and regal. 
Diaphanous ruffled gowns with lace detailing and mauve floral accents took inspiration from Lolita subculture at Adeam. The New York-based brand, created by Japanese designer Hanako Maeda, displayed deconstructed dainty dresses as fragile as porcelain dolls. An inky, off the shoulder, double sleeved sheath, showed laces attached to either side of the bodice — offering a reenergized corset effect. Openwork was plentiful and added a refined delicacy to some gothic looks, illuminating two-tone Edwardian-style dresses and peplum chiffon jumpsuits. 
Denim on denim often symbolizes one's arrival to the Canadian border, but at Adam Selman's eponymous show, jean was not reserved for Mounties and girlfriends of hockey players. Instead, dungarees were embroidered with pink roses echoing a majestic 1970s garden that was hedged with surrealistic floral veils. Selman's botanical bouquet of frothy confections showed silken striped dresses sashed at the hip and a stand out 'boyfriend' blouson tapered in the front with a spun-out behind. 
American designer Michael Costello (known for outfitting Beyoncé) encapsulated the va-va-voom vixen —  focusing on big hair — a smouldering red pout and dangerously plunging necklines. Transparent form-fitting corset dresses were harnessed with thin white belts and adorned with romantic lace detailing. Femme fatale forms with exaggerated flared sleeves were proffered to us like bleached cigarettes— they lingered for a moment — before we inhaled the next tantalizing look. Like angelic apparitions of Studio 54, models in revealing sequinned silver fringed dresses and caplet jumpsuits amplified Costello's feral, feminine disco. 
Words / Chloe Montana Rash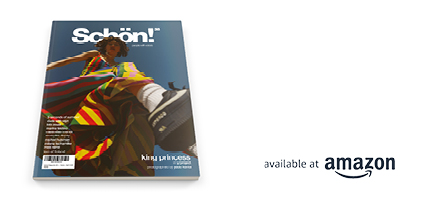 Discover the latest issue of Schön!. 
Now available in print, as an ebook, online and on any mobile device.