In the fast-paced world of fashion, there's no such thing as a pause button. As the new year rolls in, the fashion sphere presents us with not-so-traditional menswear circuit as an introduction to the ever-evolving fashion week schedules around the world. Setting foot in the British capital, the first stop in the cycle comes from the rebranded London Fashion Week Men's (LFWM). Showcasing homegrown talent — from emerging labels to seminal brands for Britain's fashion legacy, as well as en vogue street-wear options—, the twelfth edition of the London menswear catwalks and presentations took place this past weekend under the premise of "paying homage to the ever expanding creativity of the capital". Schön! brings you the highlights of more than a weekend of shows. 
Breaking the boundaries of the traditional and the contemporary, British Menswear designer Alex Mullins based his A/W 2018 collection looks at the relationship between the right and left functions of your brain. The juxtaposition of the stern versus the creative of the collection's ethos was perfectly captured through the use of quasi-sculptural graphics and apliquées in contrast with timelessly tailored silhouettes. A daring take on tailoring traditions that manages seamlessly encompass audaciously new elements whilst maintaining a balanced and muted colour palette.
Perhaps one of the utmost British contemporary heritage brands, fashion designer and activist Vivienne Westwood once more utilised the A/W 18 presentation as a call to action to stop climate change. Sporting her famous mantra of "Buy Less, Choose Well, Make It Last", the consummate designer presented a wearable genderless collection, faithful to her standards, in which camouflage greens, army pinks and colourful folk stripes were the protagonists.
Known for its fascination with the entertainment culture, Bobby Abley turned once again to the silver screen for inspiration —this time taking it a step forward with an official partnership with industry giant Warner Bros. The lively energy of the show was perfectly mirrored in the vivid collection. With the Looney Tunes characters as protagonists, Abley presented fluffy graphic embroidered sweaters, playful dungarees and comfy tracksuits—all in strikingly bright colours.
For AW18, Blood Brother takes a look into instant gratification provided by the Lottery. Entitled "IT COULD BE YOU", the collection "reflects the 'loaded expectancy' of the current generation" through the brand's trademark graphic prints featuring lottery paraphernalia representing "ostentatious success". The extravaganza is further exploited through opulent satin suit pieces, puffer jackets as well as Blood Brother's own take on the infamously luxurious jewelled tracksuits. A collection filled with satire and social critique that carries through symbolism whilst providing sartorial and streetwear options.
Scottish designer Charles Jeffrey looks back to his homeland for his A/W 18 collection, aptly named "Tantrum". Centred around the "myth of gay pride and confidence", Jeffrey offers an introspective narrative that proves extreme and elegant, as he fuses animalistic shapes with sublime tailoring. As it could only be, Scottish tartan becomes integral in the collection, which features knitted sweaters dancing between the lines of tradition and innovation, immaculate suits as well as deconstructed kilts. Presenting a gender-bending array of silhouettes and vivid patterns, Jeffrey manages to transform traditional regalia into a breath of fresh air.
London's Royal College of Art alum, Liam Hodges, takes a shot at parred down psychedelia in his A/W 2018. Known for his non-conforming style, Hodges did not disappoint as wide wearable silhouettes, patchworking and workwear inspired garments made their way down the catwalk. Mixing muted pieces donning his peculiarly eminent tailoring with more daring colourfully patterned pieces, the collection proves to be the perfect example of modern luxury.
Established in 2005, the MAN project —created by TOPMAN and non-profit initiative Fashion East—extended its repertoire once again this year, with catwalks and presentations by emerging designers Art School, Rottingdean Bazaar and Stefan Cooke.
Focused on redefining the limitations of gendered ready-to-wear fashion, Art School presented a collection that exuded creative brilliance, bridging the gap between fashion and art in the most inclusive of ways. Celebrating queer style, the collection was a texture dream, with satin structured dresses, sheer fabrics pinned down with exquisite embroidery as well as every day colourful ensembles.
Rottingdean Bazaar its second collection under the MAN Project scheme. The brainchild of art directors and stylists James Theseus Buck and Luke Brooks, the collection was striking and contemporary, drawing elements from pop culture as the main visual drive; with a life-size cardboard cut-out of Naomi Campbell even making a cameo.
CSM alum Stefan Cooke presents his debut collection this weekend. The London based designer continues his line of work from his MA Collection, which earned him the L'Oréal Professionnel Creative Award, by taking ordinary garments and subverting them through digital manipulation and sublimation printing techniques. Cooke's refined vision plays with seamlessly mundane clothes and sensory techniques to create visual illusions and trompe-l'oeils through a muted palette. The designs areeccentricc yet wearable: exploring pattern cutting and silhouettes, single-breasted coats and featuring a pair of trousers are mapped out in a hand linked construction of diamond-shaped panels.
For her A/W18 collection, Astrid Andersen took direct inspiration from the 1980s Buffalo youth movement, which was firmly rooted in London. Garments combined an eclectic range of materials, including colourful silk jacquard, custom painted silks, technical fabrics used in puffer jackets, tweeds, tartan, glitter organza and ethically produced fur. And of course, one can't adopt a Buffalo Stance without a cowboy hat! A preview of Andersen's upcoming womenswear collection was incorporated into the show, emphasising the designer's "genderless approach to fashion".
Find out more information about London Fashion Week Men's here.
Words / Sara Delgado & Huma Humayun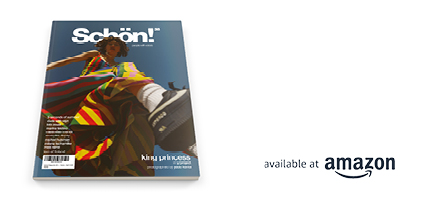 Discover the latest issue of Schön!. 
Now available in print, as an ebook, online and on any mobile device.