The Spring Summer 2019 Menswear collections landed amongst the sunny-side-up streets of London last weekend. As runways and presentations unfolded there seemed to be a common thread weaving through designers 'works. This was an undeniable sense of sensitivity. This crept into collections in unique ways, from fragile concepts of spiritualism and ones first true love, to a presentation of men quietly reading books in a library, to intricate embroideries and prints. From the myriad of talent, Schön! found the following particularly noteworthy:
The BFC show space was transformed for the Paradis X PONY presentation. Models slouched off dimly lit stone grey walls, with their brooding faces occasionally glancing down at the countless newspapers strewn across the floor. On their bodies hung a dichotomy of formal attire and sportswear.  Blazers were tucked into boxing shorts, logo t-shirts sat over collared stripe shirts and hoodies popped out from pale tartan coats. The colour palette positioned greys and blacks alongside loud reds and blues. The collection was rounded off with a touch of the 90's, as puffer fabric and side striped tracksuit bottoms accompanied well-placed bucket hats.
At the Alex Mullins show, it was three strikes and you're out. As his 27 looks were divided into seemingly 9 different aesthetics, at a push 9 different miniature collections. Looks transitioned from suiting disrupted by bright stretch fabric cutouts, to candy coloured knitwear, then a jump to Jackson Pollock reminiscent prints, followed by intricate embroidery, koi carps and then blasts of metallics. Whilst it sounds like absolute mayhem, somehow it worked for the designer and in a world where we can flick through fashion trends at the simple swipe of a finger, this collection if nothing else was topical.
The Berthold SS19 collection had a sense of maturity. Looks explored a single colour, with subtle and well-timed tone alterations. Models were mainly adorned in blacks which held an underlying battle between matte and shine finishes. Summer candy pinks and beiges encroached when required and kept the dimmer tints in check. Berthold's exploration of proportion within individual garments was also commendable and fashion's logomania cravings were satisfied with the perfect final touch of slogans on bags, which also served as a clear focal point when required. 
Bethany Williams created a collection with a conscience, accessing waste from books to form her designs. Quite appropriately the presentation was held at the Charing Cross Library where models slowly moved around the space, quietly read books or gazed through the options on the shelves. There was a wonderful naive messiness to the garments, words were scrawled in hand stitch and sporadically cut and pasted across bodies, large threads hung and swung off the models, garments were oversized and the palette was perfectly primary with blue, reds and yellows. Another layer was added to the work through the use of collaborations. Knits were created with Wool and Gang and styling from Lee Trigg, gave the men a timely touch of athleticism with high socks and sneakers. 
A sense of sunny spiritualism was present in the Cottweiler SS19 collection. Looks where exhibited amongst walls of taught twisted cream fabrics and meditative crashing wave sounds. The audience witnessed an admirable mix of lotus flower prints, burnt oranges and lilacs that took form in tracksuits, teeny shorts and crop tops. There was a sense of humour to the styling, as eye caps from tanning beds sat alongside tacky gold chains, scuba shoes and bum bags. It felt like everything your dorky father wore to a day at the beach was being presented at once, however, the things you'd groan and roll your eyes at were now truly working together in a Cottweiler spiritual harmony. 
The Edward Crutchley collection was a feast for those who fancy detail. The word that kept playing through one's mind was intricacy, whether it was the jam-packed emerald and maroon prints from a collaboration with artist Lucien Murat, or golden statement embroideries from the London Embroidery Studio, or even the finessed logo halo that embellished a models head – it was clear Crutchley was thinking of the finer things. As the collection unveiled, the ornate was timely balanced with blocks of subdued greys, blacks and whites which took form in big full blazers, high waisted pants and skirts. 
The South Korean designers behind rising label Blindness, reminded us of that moment when one first falls in love. As models graced the runway it quickly became apparent this duo had a firm grasp on the madness, sweetness, bitterness and loveliness of love. They showed us the delicacy of infatuation with ruffles and flounces of tulle cascading, as if in an unsettling, yet brilliant free fall around the body. Grounding blacks and stable beiges were thrown into chaos with sporadic explosions of red and blue, while underlying garments such as blazers and trenches attempted to regain a sense of control. Eyes were boldly blocked out with tulle and pearls, perhaps a metaphor for the blinding nature of love or a tongue-in cheek-reference to their name. Either way, it's undeniable that this season Blindness presented us with an exquisite vision.
The Menswear Spring/Summer 2019 collections were considerate and sensitive to the many elements that go into creating a collection in today's ever-evolving industry. Whether it was the speedy evolutions of Alex Mullins, the clever conscience of Bethany Williams, or the celebration of collaborations from Edward Crutchley; this week exhibited designers who had thoughtful visions for the future.
Find out more information about London Fashion Week Men's here.
photography. Jordan Eisbjerg
words. Alana Flood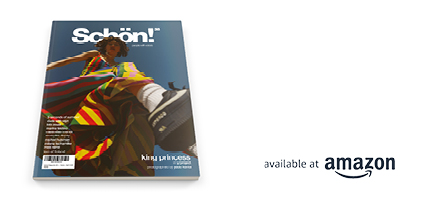 Discover the latest issue of Schön!. 
Now available in print, as an ebook, online and on any mobile device.