In reaction to a global climate of uncertainty, London Fashion Week Men's welcomed the occasion with a defiant take on bodies, identity, community. From the subtle to the deconstructionist approach, each designer provided diverse and creative interpretations of identity in 2017. Modernism and a redefining of masculinity were noteworthy elements of every collection, representing a defying stand against the classic and traditional.
Arashi Yanagawa combines grunge with the traditional in John Lawrence Sullivan's latest collection. Suits and trench coats represent power and elegance, whilst Yanagawa's playful experimentation shines bright in brilliant texture combinations such as matte leather and vinyl. Contemporary streetstyle makes an appearance in the form of bold logos, caps, and cotton polo necks, and sportswear pairs seamlessly with over-sized tweed and tailored suede, offering a smart and sculptural silhouettes.
In her first menswear collection, Phoebe English let finishing and textiles take centre stage. English avoids over-embellishment in favour of construction, shedding light on often forgotten yet fundamental design techniques. Precise handwork, hardwearing textiles, and innovative engineering make for pieces that explore the interaction between fabric and movement.
Christopher Shannon is infamous for providing the unexpected and his latest collection is no exception. Enlivened by a punk sensibility and pop culture references, Shannon neglects the typically minimalist sportswear aesthetic by contrasting casual silhouettes with unexpectedly avant garde elements. Shannon creatively takes a larger than life magnifying glass to the everyday by redefining the puffa jacket with experimental cut outs, brandishing hoodies with tongue-in-cheek slogans, and adorning two-piece sweatsuits with bold colours and juxtaposing fabrics.
Astrid Andersen's designs never cease to impress with her opulent interpretation of premium casual wear. In this collection classic pieces are revived in sumptuous fabrics from velvet boiler suits, to satin joggers, to all-over fur parkas. Characterised by an old school aesthetic, Anderson throws it back to 90s Harlem with a characteristically oversized fit, rich jewel tones and layered textiles that offer a luxury feel to contemporary sportswear.
Raimund Berthold's latest collection has cultivated a utilitarian and refined approach to design. Flowing silhouettes and a muted colour scheme impart an understated elegance with bold presence. Structured and refined shapes lend a hyper-masculine aesthetic, whilst layering textures gives dimension to monochrome looks.
Hussein Chalayan's designs are characteristically forward thinking and in tune with the innovations of the present. His A/W 17 collection speaks to the modern man, with pioneering cocoon shapes and unexpected details that reinvent classic design. Refined suits come in bellowing shapes, loose cuts and symmetric cutouts, whilst white suit shirts are switched for over-sized knits and quirky prints.
Hodges has made a name for himself by injecting bold prints, patterns and slogans into streetwear. Hodges' unique and rebellious take on workwear are for the everyday man who wants to stand out. Defined by comfortability with a statement, his collection's confident combining of distorted camouflage prints and flashes of neon yellow demonstrate his ability to bridge the outlandish and the wearable, in daring but self-assured designs.
For a brand so steeped in history, Belstaff consistently manages to deliver looks which are in tune with the contemporary. This collection takes a distinctly rock 'n' roll twist, with tattoo printed leather jackets over skull t-shirts alongside classic shearling and trench coats, making for a collection that's authentically British and timeless.
Xander Zhou provides a uniquely Chinese elegance to streetwear and his latest collection sees textiles take centre stage. Fluffy polo necks, washed denim, muted suede, and matte leather reworkings of the classic trench coat form a distinctly mod aesthetic. Taking inspiration from Asian youth culture, construction is Zhou's vessel to explore gender stereotypes demonstrated by contrasting cropped jackets with broad and boxy shapes.
Father and son duo – Joe Casely-Hayford OBE and Charlie Casely-Hayford – are renowned for their pioneering approach to English heritage style. This collection offers wearable and timeless pieces, enlivened by inventive layering and unexpected details such as zip shirts, exaggerated shoulders and loose threads. Casely-Hayford's contemporary pairing of subtle prints and suave cuts gives a definitively modernist approach to style.
Charles Jeffrey's designs are characterised by fantasy and unfettered creativity. Stripped of its theatricality, Jeffrey's collection is heavily grounded in reality with each piece being a striking reflection of an anxiety-ridden society. Filled with surprises redolent of a Tim Burton movie, the stunning show saw bodies encased in creations of clay. This eccentricity filters into the apparel, consisting of pinstripe suits, Georgian breeches and cassocks.
Feng Chen Wang's designs take on a distinctly conceptual and futuristic aesthetic in her A/W 17 collection. Filled with impeccably constructed sportswear and a plethora of surprising and experimental silhouettes, form is stretched to its limits with billowing shapes that frame the body. Complimented by a palette of matte and metallic, the simplistic minimalism of Wang's designs allow the technicality of her outerwear to shine.
After graduating from the Royal College of Art just this year, Swedish designer Per Götteson's debut collection is unapologetic and stripped back with oversized pyjama shirts and tracksuits proposing an accessible approach to fashion. Composed of androgynous designs where pants fit skin tight or drape freely, Götteson's A/W 17 collection breaks and explores the boundaries of masculinity.
Mochiko Koshino has forged a name for herself as an innovator. Deriving her influence from London's streets and clubs, her designs transform urban grit into artistic beauty. This collection takes the designer's signature inflatable coats in a clean and neutral palette of black and white. Defined by bold layering and structure, each piece represents Koshino's take on futurism.
Words / Daisy Schofield & Shama Nasinde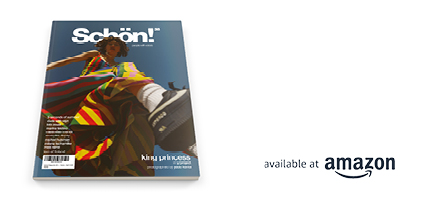 Discover the latest issue of Schön!. 
Now available in print, as an ebook, online and on any mobile device.