It's been a tempestuous season for menswear. Plagued by a series of external conundrums – such as the consolidation of men's and women's shows, the prevalence of See Now, Buy Now and last but not least, the threat of Brexit, designers for LC:M could have seen their pedestal plummet. Far from it, London's richest and most creative spur stood strong, with brilliant collections that reminded us why menswear is still, and always will be, a crucial constituent of Britain's fashion system. Schön! brings you the highlights of a weekend of shows. 
Royal blue turned into baby blue for Xander Zhou's Spring/Summer 2017 collection, just as a PVC red trench coat turns into a baby pink dragging jumper, both blended with beige and green earthy tones, as the streetwise designer added fabric to hoodies and trench coats— letting their sleeves overflow with nonchalance. 
Per Götesson opened the MAN show with grungy vibes of artfully tucked jackets into oversized denim trousers, which spewed loose chains. Following the lead, Fen Cheng Wang, with an elegant take on careless 'chic' with most of the monochromatic outfits pieced together with shiny pins— giving the outfits an unadorned and fresh look. Ending the show, designer Charles Jeffrey continued classical themes with a mix of Victorian and grunge— pairing ornate and thorny chokers with black skirts and cropped vests, queering the very lines of the body.
Craig Green proved his universe is an expansive one — one of infinite poetry, as layers of cloth unraveled and cladded models in protective layers. Draped in a new introduction of paisley patterned pieces and quilted looks, Green brought looks together with bold stitching, summoning harmony through chaotically structured trench coats.
Berthold's signature utilitarian style was a tactile delight in his opening monochromatic looks, all layered in respective colour blocks of varying shades of grey, cream, black, and bordering neon orange. Walking in black two strapped sandals and flowing, light fabrics. A highlight was the cross-layering of monochromatic trousers on top of shorts and short sleeved tunics underneath long sleeves.
A true pioneer of British tailoring, Hardy Amies returned with the summer classics in complete cream, black, and denim on denim inspired suit looks. Fabrics on the suits ran thicker, giving the light and creamy summer colours a rich feel. The denim jackets and denim poly cotton fabric are a fresher, more relaxed style to that of the contrasting neck scarves and checkered patterns, as Amies continues to pioneer the two piece looks for the modern man.
Fraser Moss and Jimmy Collins of YMC were inspired by tweed, suede, and jelly sandals this season— as their models encompassed the image of a modern day vaudeville tourist, carrying old polaroids, donning mid-calf socks, bucket hats, and head wraps. The colour scheme, a mix of alligator green, yolky yellow, coral, came together in beautifully scrapped denim combinations.
In addition to the shade palette of black, white and stone— Patrick Grant's collection for E. Tautz Spring/Summer added matte copper, turmeric, and blue-gray hues to the mix. The loosely tucked and oversized cotton blazers gave the show an eggshell texture of relaxed and light summer wear in more darker colour. Along with compositions of vertical and horizontal stripes, pin stripes beautifully wrecked havoc on suit jackets while more thick, colour blocked stripes brought harmony to the loose-knit sweaters.
Pioneering the collusion of men and women's wear, Casely-Hayford debuted women's looks for their LCM show. Drifting from the oversaturated market of ready-wear, Joe Casely-Hayford's son, Charlie, specifically chooses pieces that define what it means to be 'individual'— making it difficult to sum up one overarching theme. Silk looks, blazers, and dresses dominated, adding to the sleek vibe of a colour disorder in evenly spaced paisley and peacock feather patterns.
Matthew Miller's show took his cue from Grunge movements of the 1960s as shaved heads, baggy black trousers, and nose rings accompanied by all black converse, butterfly button-pins, and an echoing t-shirt logo, 'negasonic teenage warhead' appeared on the runway. Sandy coloured linen was the key texture of the show, appearing in half-tucked tunics, lengthy blazers, and overall complementing the leather and harshness of the all black looks.
Alex Mullins Spring/Summer show opened with a veneer of freshly dug earth, as the first couple of looks were a warm brown, complemented by prints of painted rose petals and bricks. One painting of roses and various limbs made an appearance on two of the tunics, while the colours shifted beautifully towards a yellowish powder blue denim and fabric cut into flower petals added texture to the pastels of salmon and off-white looks. 
Taking denim on denim to another level, Christopher Shannon reinvented the tracksuit. Mixing and matching all shades of denim, Shannon emphasized double waisted jeans, denim jumpsuits, and unbutton-able denim trouser-legs. Shannon played with the rules of denim – ripping pieces apart and the seams, restructuring them, revamping classic streetwear looks with ease and, as ever, flair (not in the trouser sense).
Sebastiaan Pieter's queer appropriation of taupe and metallics, with a splash of nude pink and powder blue, reveled in the digital sphere of emerging cruising spaces. The models sported high rise black or silver underwear that purposefully peaks out various trousers and shorts. 'Rent', 'come' and 'chill' all resonated as slogans for a contemporary generation of gay men, and its world of burgeoning sexuality.
Christopher Raeburn's SS17 show opened on fanny packs sewn onto durable bright red and bright white jackets: fit for a practical, perhaps cosmic festival. White beehive and astronaut drawings adorn black jumpers and jackets paying homage to the conquest of space emerged. Spots of red were present all among the grey linen straight legged trousers, sparsely striped crewnecks, and metallic teal hues on Raeburn's signature water and fire resistant Nomex fabric.  
Aitor Throup's return to the LCM schedule was a key moment. Describing his SS17 show as a self-portrait, the designer showcased five life casts of his own body. In true performance spirit, the models come in bold wearing white face masks, followed by figures shadowing their every move with black sticks as if they are life size puppets. As though signaling some sort of transition, this may be quite intentional, as Throup mentioned one of the main inspirations behind his show is his personal journey with his 'creative ego'.
Maison Mihara Yasuhiro's SS17 collection, named 'No Club Lone Wolf', lived up to its name in terms of individuality and in what it means to be a lone wolf. The looks exuded asymmetrically designed silhouettes— almost as though if you were to cut the model in half, you would get two completely different outfits. Binaries were challenged as a yellow leather jacket was adorned with a baby devil patchwork: Confuse, emblazoned on jackets, was a brilliantly fitting slogan.
Katie Eary's SS17 show is vividly patriotic, and reminiscent of potentially chic 4th of July barbecues as well as sleek beach town apparel. American flag stars littered looks, whether they appeared in the correct formation of six in each row or not. Serving as the stripes of the flag half the time, a silk patterned blue mackerel dominated in red and blue hues. Nautical, done at its best.
Designers Nick Biela and James Waller brought their Blood Brother collection to the LC:M schedule for the first time. Inspired by breaks from work, the designers showcased a blend of blue collar fabrics including light wool and cotton pin stripes — high-waisted wide-legged trousers fastened with shiny, utilitarian buckles gave the collection a retro-feel, while at the same time offering a weather proof guarantee. Mixing and matching workplace attire with summer freedom — Blood Brother brings it home in their properly coined collection, Homesick.
Christopher Kane's artful SS17 presented intricately checkered looks, combining contemporary cuts with boyish airs. Inspired by tales of criminals on the run, the words 'Law and Order' were printed in bold black letters brought chase into the mix. With bold colours, running may be an option, hiding – less so. Evoking a presence of youthful summer, Kane offered us a version of softened grunge. 
Words / V Tyurina
Film / Michael Radford @ michaelradford.tv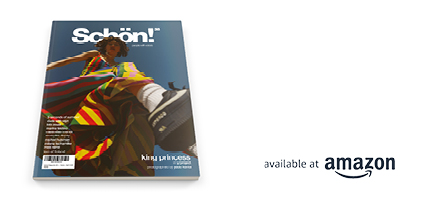 Discover the latest issue of Schön!. 
Now available in print, as an ebook, online and on any mobile device.