For Toddla T, the days of working in a shoe shop in Sheffield are long gone. The 32-year-old DJ, producer, remixer, radio host and composer seamlessly balances recording sessions and radio shows with colossal carnival parties and – wait for it – changing nappies. Besides parental tasks, Toddla has worked with the likes of Skepta, Roots Manuva, Arctic Monkeys' Matt Helders and Major Lazer. His keen eye for detail and passion for British pop culture have served him to receive accolades from the Grandmaster Flash himself. Set to redefine the dancehall resurgence, Toddla is now focused on bringing his own music to the world. Schön! caught up with the trailblazer at his own Spring Carnival at Village Underground to talk about his highly anticipated third album, parenthood and, of course, carnivals.
You left school at the age of 16 to pursue a music career and you've been DJing for more than half your life, how would you say your style has evolved?
I guess I've become slightly more confident due to experience. I DJ'd first so that's kind of the foundation but I don't take one thing more seriously than another. I try to juggle things as best as I can, to do each bit justice. 
You've been settled in the NW10 for quite a bit now but Sheffield is where your roots are. You grew up listening to the dancehall scene of Sheffield DJs like Winston Hazel & Pipes and then started your music venture in your teenage years playing at their empire club Kabal. What do you miss most about Sheffield?
I miss my family. I miss those times when I was growing up and being fascinated by local DJs and parties. I miss taxi drivers being polite, I miss everyone calling me "love"… we could go on forever… it's a special place, Sheffield.
The visuals of your new track Blackjack21 hail a new path for your music. For the video, you collaborated with director Lorenzo Cisi. Why did you decide to work for Lorenzo and how was it working with him?
I linked up with Lorenzo via a production company called Drive In, which is based out of a studio called Park Royal. To cut a long story short, I met a great bloke by the name of François [van de Langkruis] via a mutual friend who runs the studios. I was looking for visuals for my new project and he was looking for a project to get his teeth into… I had all faith in them to do something interesting and they delivered. This is just the start of the visuals from the forthcoming album! 
The video features everything: immaculate choreographical movements, breathtaking landscapes, horses, a convertible and, obviously, Sheffield's industrial scene. Lorenzo said that the video represents "a young Toddla T's journey into sound".  Could you tell us a bit more about the message you guys were trying to convey with the video?
First and foremost, I must give all props to Lorenzo for the video and storyboard: this is a collaboration, not me telling him what to do or whatever. He wanted the video to represent my journey from where I come from, where I went, and now where I'm going. This is just chapter 1 of the story.
The song features a sound much more soul-like, a bit more grown up and darker than what we are used to hearing from you. Were you looking for this change or was it something that occurred organically?
It was just where my head was when I made this record. Andrea Martin is the glue of the record, she voices most of it so it's naturally going to have a soul edge. However, I did want to and felt it was time to express that side of my taste. Partly because of having confidence to do it, which comes with age and experience.
You have been working on your forthcoming album for over two years now. What are you most excited about this album? Do you have a date for release already? A name? It's been half a decade since you last released an album so anticipation is quite high…
It will come out in the summer time.  I guess I'm most excited to show my personal favourite work with people, I'm truly proud of this one. Can't tell you the name yet… sorryyyy!
As you said, the album is voiced almost entirely by R&B icon Andrea Martin. How did you come about this collaboration and how was it working with her?
I met her in NYC, I had a gig there and was asking around to work with rappers. Being in NYC, I wanted to work with rappers as it's the home, etc. That didn't work out, but my friend switch shouted me and said that I should work with Andrea. From about 2 minutes in the booth, I knew she was the one to vocal my new project. She's something else. Yes, there are more cameos but they are just sprinkles to Andrea's magic.
You officially launched your record label Steeze last year, but the clothing line has been going strong for a while. We've seen you already working with grime artist Coco as well as up and coming rap sensation Nadia Rose. What can we expect from this venture?
I wanted to start a new page, a new label, a new platform. I'd already invested a lot of time into the clothing label so it made sense to mould it into music as well. You can expect more music and more Steeze very soon.
You seem to have a lot on your plate right now: the radio show, your album plus your new label. You've obviously been working with Coco and Nadia Rose but also Bugzy Malone, Shola Ama, Stefflon Don and Chilly Gonlazes, to name but a few. It's probably complicated with a 3-year-old – how's it been adding a 3-month-old to the equation and what's your main priority project wise?
It's mental, but an absolute pleasure. It's totally possible to juggle all of the above, you just have to be more sensible and mature about your approach to work and lifestyle otherwise it just won't work. Having my second baby was actually easier the first in terms of change of life… he's slotted into our family and life so well and easily, although I don't want to speak too soon [laughs].
Carnivals alongside RAMPAGE have become a great part of your music career these last years. This Spring Carnival, you brought Ms. Banks, Capo Lee, Big Zeeks, E.Mak and Bay C. What do you have lined up for this year's Notting Hill Carnival?
Two days of the greatest party on Earth! I'd do my best to keep the vibes as electric as they've been for the last 50 plus years… I don't want it to rely on line-ups but more the vibes and making sure I respect the legacy as best as I can.
Blackjack21 feat. Andrea Martin is available worldwide here.
Words / Sara Delgado
Follow her here.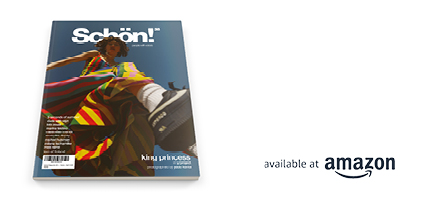 Discover the latest issue of Schön!. 
Now available in print, as an ebook, online and on any mobile device.