Refreshingly down-to-earth, Sophie Skelton seems blissfully unaware that she is on the brink of stardom. Earlier this year, she appeared with Nicolas Cage in 211, but she's probably most recognisable as Brianna Randall Fraser, the flame-haired progeny of the hero and heroine of Outlander. Based on the best-selling books by Diana Gabaldon, the show is such a hit State-side that fans have dubbed off-air time as #Droughtlander. Well, the drought is finally is over. Outlander returns with a highly anticipated fourth season, only – this time around – Ms Skelton will be taking the lead.
So, Sophie, you started out dancing ballet, right?
I did, yes, when I was two or three – tap, jazz and modern as well. I did all of them until I was 18, 19. Now I just try to keep up with it. I always travel with my pointe shoes.

At what point did you start performing professionally?
I've been in amateur productions since I was three and went more professional as a teenager. I grew up North, so I started doing shows at the Palace Theatre: Oliver! and things like that. Ballet was never what I wanted to do professionally. I do love being on stage, but I wanted the discretion of film acting because, on stage, you make everything bigger. I like that you can't lie on camera: what you think is what people see.
You made a deal with your parents to defer university to try out an acting career.
Yes. My parents designed toys, board games and such, so they knew the self-employment road. I'd done well at school, I suppose, so they were disappointed that I wasn't going to pursue the academic route and a stable career, and they did try to put me off a bit. We struck a deal that if I got all A stars at A-level and a university place, they would let me defer for a year. As it turns out, that year went quite well [laughs].

Were you confident it was going to work out?
It's not confidence. You know it's going to be a hard road but it's just that you can't give yourself another reality if that makes sense? It's not that you think everything's going to be fine, you just have to believe that it is. I feel like that never really goes away.
Prior to Outlander, was there a turning point in your career?
Outlander was my pivotal point really. I'd done what, for British actors, are the boxes that needed to be ticked. I'd been in Casualty twice, done a lot of CBBC.
When you signed on for Outlander, did you know what a big deal it was?
I actually auditioned for it in 2014 and didn't hear anything for a year, so assumed that someone else got it. There aren't many characters that you audition for that you feel protective over and I really did with Brianna, so that one hit quite hard. I was really gutted. Then I got an email a year later saying, 'Audition for Brianna in Outlander' and I was like, "I'm sure I did this!" It turns out they were going to bring the character into the end of Season 1, never did, so they never cast it.

Had you been watching the show by this point?
When I first auditioned, the show hadn't been out yet. You don't get much time for auditions – a couple of days tops – so I just tried to read Brianna's bits of the books. The second time, I binge watched Season 1 over and over because I was trying to get Claire and Jamie's traits into Brianna. I know that first season very well!
It's rumoured that Brianna goes back to the 18th Century and meets her father for the first time. Is there anything else you're allowed to tell us about Season 4?
Brianna goes through quite a lot of trauma when she goes back in time and a lot of the season is dealing with the aftermath of that. It's coming at a really important time, with everything that's coming out with the #MeToo movement. That was something that I really dove into because I wanted to make sure that Brianna's story gives some catharsis to people and helps them understand it a bit more in terms of a PTSD from rape trauma. It's an intense season. She goes through a lot.
The character has been more of a supporting role, but now the focus shifts to her and she becomes the lead. Was that daunting?
The way the season's written is that you only get two episodes at once and film that in a five-week block and then you get the next two. So, you don't really have time to get nervous. It's only at the end when you think, "Oh, I've been in every day since February and now it's July!"
Now you've finished filming, do you have some time off?
Yeah, although the time has flown by, with everyday life and doing the things you neglect. Taxes…
Laundry… But now you must be gifted or loaned quite a few clothes.
Erm, no actually. Shout out to Chanel! [laughs]
So, you still have to go to M&S to buy knickers and socks?
Yes, or Tesco if it's closer!
Watch the next episode of 'Outlander' on Amazon Prime this evening.
This Schön! online exclusive has been produced by
photography. Guy Lowndes
fashion. Kay Korsh
talent. Sophie Skelton
hair. Lewis Pallett @ Eighteen Management using Davines
make up. Eli Wakamatsu @ Stella Creative Artists using Laura Mercier
words. Huma Humayun
fashion assistants. Sarah Osei + Rafaella Lecca
photography assistant. Claude Baskind
location. Jones and Sons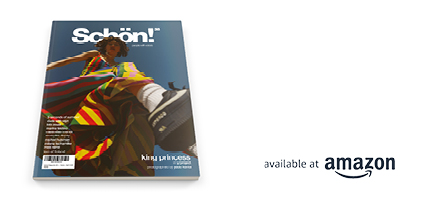 Discover the latest issue of Schön!. 
Now available in print, as an ebook, online and on any mobile device.