Petite, youthful and full of beans after a shoot for Schön!, Sarah Winter is a breath of fresh air. No stranger to period dramas, Winter has raised eyebrows (and probably a few heartrates) in bodice-busting drama Casanova, and also appeared in Reign. Now, her latest role as Louise de La Vallière in sizzling Canal + costume drama Versailles is set to make her a star. We get the lowdown from one of history's most troubled mistresses, as the first episode of a royal romp airs tonight on BBC2.
You didn't go to stage school; so how did you get into acting?
I did a lot of school plays. My first significant role was in The Tempest, and was perhaps a little ambitious for kids age seven and eight, but I loved it! There was a weird fairytale sort of language, which I seemed to understand, and thought was beautiful, probably because my granddad had introduced me to Shakespeare and taken me along to see Regent's Park open-air theatre every year. I had heard the poetry before, so I guess it was a bit more natural for me.
Why do you think you get cast in so many period dramas?
I have quite an old fashioned looking face – well that's what I've been told. I love watching period dramas, and I love the clothes. My mum always had this dream of me being in something with a bonnet, and I still haven't worn a bonnet yet. It is weird though as Versailles is the fourth French period drama I have done in a row!
Tell us about Louise de La Vallière. She seems very complicated…
She is very complicated. She's has one of the most powerful positions in the court that you can be in: Official Mistress to the King. She is officially having an affair.
She is someone in a very powerful, yet very difficult position, and she was unusual as most other people would use it for some kind of gain or power, but all she wants is Louis himself. She hates the fact that he is King and she wants him as a man.
She is a very strict Catholic girl as well, so the fact she is having an affair was really tough. She spent the last 30 years of her life in a silent convent repenting her relationship because she felt that bad about it.
Power, intoxication, secrets, betrayal and sex… Would you add anything else to sum up Versailles?
Fun! I mean Louis threw some serious parties. It was quite hedonistic and very lavish and there was a lot of 'feasting'. One day we were shooting until five in the morning and sat at this very sumptuous table covered in real food, and there were stacks and stacks of glacé cherries. By the end of the night, we had eaten most of them!
We also had entertainers perform 17th Century dance for us and acrobats and fireworks (hope that's not a spoiler). It's definitely a spectacle.
Do you have any hot tips for up and coming actors at the moment? Who are you digging?
Ooh, good question! He's already made it pretty much, but I love Jack O'Connell… and Denise Gough. She is starring in People, Places and Things in the West End at the moment. It's one of the best things I have ever seen. Her performance is so inspiring. If someone doesn't pick her up from that and put her on a bigger platform, then there is something wrong with the world! She is really super-talented.
Talking of super-talented, do you have any hidden talents?
I won a Coca Cola hula hooping trophy when I was a kid. It was only one hoop, but I did it for an exceptionally long time. Alas, I don't know if I can still hula. Must try it!
Versailles will air on BBC2 on 1st June.
Interview / Sara Darling
Follow her here.
Photography / Yiannis Mouzakitis
Fashion Editor / Marianna Frannais
Hair / Keiichiro Hirano @ David Artists using Bumble and bumble
Make Up / Claudine Blythman using Bobbi Brown
Photography Assistant / Theodora Papanikita
Fashion Assistant / Sharna Callender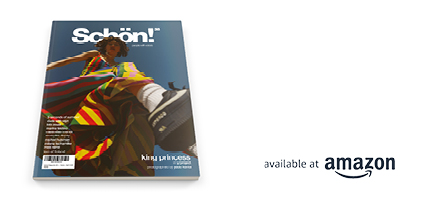 Discover the latest issue of Schön!. 
Now available in print, as an ebook, online and on any mobile device.