Bringing the magic of the catwalk to life with the simple use of a pen and charcoal on paper is Richard Haines, the esteemed illustrator who captures the nuances of movement, shape and interaction. Beginning his jet-setting career as a designer for reputable fashion houses including Calvin Klein and J. Crew, Haines' career took an immediate turn when he rekindled his deep love for illustration.
"I've drawn for as long as I can remember. As a child, I remember seeing illustrations in books and magazines and immediately thinking 'they tell stories, I want to do that too!'" he mentions. The vibrant contours, shading and intimate approach behind his work, is what distinguishes Haines from any other illustrator in the world of fashion today. Reminiscing on his love for illustration, the famed New Yorker caught up with Schön! to share his journey and deep love for all things creative, leading up to his career as one of the most reputable illustrators sketching the catwalk today.
Moving to New York with the intent of pursuing a career in illustration, Haines' career instead skyrocketed as a fashion designer for reputable houses where he harvested experiences, which nurtured his ability to master illustration and image making. Throughout the years spent as a designer, Haines admits that "endless changes, fabrics being delivered late or incorrectly, or the customer not liking a product" were all aspects that he did not enjoy of the designing career path.
With a refined eye for detail and infinite hunger for creativity, his long-lived design career took a turn when he returned to his first love for illustration. Although his work as an illustrator reinvented the way we capture the runway and has graced the pages of many famed publications over the years, Haines outlines that he "doesn't rework any of his pieces" and that they are all "one-offs." Although his work has become more confident and assured over the years, the artist admits that "perfection is a myth, there is no such thing as perfection! Some drawings I like more than others, but perfection is not a word I consider."
From riding the New York subway to sitting front row at haute couture runway shows for some of his favourite houses like Valentino and Schiaparelli, Haines states that "watching people, seeing how they move and interact, [and their beauty]" is what fuels the inspiration behind his work most. Whether he's capturing haute couture looks speeding down the runway or telling a story behind an everyday interaction, the artist is predominantly "looking for an attitude in my subjects- a pose, an angle or a personality that is waiting to be captured on paper."
Amongst the many moments spent sketching the runway, the New Yorker reveals that "his need for speed and ability to present his take on the designer's message" is his favourite part of capturing these moments. While the intimate and organic nature of his work remains, Haines mentions that the digital world significantly influences his work. "Instagram is a huge influence [since] image and media is available immediately. My work is very simple [as I solely use] pen and charcoal on paper. [However,] the way it's presented in a digital world is what makes it different."
Looking back on his successful career, Haines states that, "switching to illustration [from fashion design] nine years ago was the best thing I've ever done." Amongst his busy schedule, Richard reveals that he is working on a few projects that will be announced throughout the year and left us with his best advice for aspiring artists. "Never be afraid to show your work, to show up to events, to be involved and always observe. Most importantly, be true to yourself and to your work."
This Schön! online exclusive has been produced by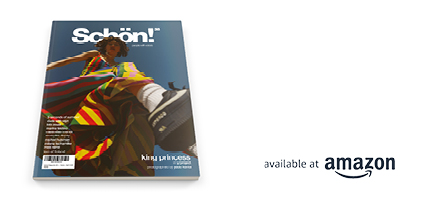 Discover the latest issue of Schön!. 
Now available in print, as an ebook, online and on any mobile device.