R&B icon NE-YO has a lengthy list of hits to his name. He's sang, produced and penned twenty years worth of chart-toppers for the world's biggest stars whilst keeping his own career shining. A song NE-YO created is likely to have ruled the airwaves during a particular time of your life. When people look back at what music dominated the late '00s it probably has NE-YO's credit on it. "It feels great considering I've never attempted to start any sort of trend," he says. "I just do music the way it feels good to me. Glad to know that what feels good to me feels good to quite a few people! I'm honoured." NE-YO has been a tastemaker for a whole generation of popular music. An artist only reaches such permeating success when they apply skill and hard work to their innate talent. A singer, a dancer, a songwriter, a father (and a vegan) — there's more than meets the ear to this R&B hitmaker.
NE-YO has lived and breathed music since childhood. In search of better opportunities, his mother relocated from Arkansas to Las Vegas when NE-YO was a child. "Music has been there my whole life. My entire family is musically inclined. I had no choice. But I didn't mind." He started his journey in an R&B group named Envy until its breakup in 2000. NE-YO went on to forge his own path as a songwriter, taking on the stage name we know today after a producer joked that he sees music like Neo sees the Matrix. "Initially I did music just because I loved it" he reveals. "[I] knew nothing about the business and got taken advantage of." NE-YO persevered and realised he could turn his creativity into a career once he "got with people who care enough to get my business right and I started actually making money!" The breakout track that took the artist from one-to-watch to label must-have was Mario's 2004 hit "Let Me Love You" written by NE-YO. Soon, then Def Jam CEO, Jay-Z signed him as a solo artist and his first singles "So Sick" and "Sexy Love" soared up the charts. A trend that would continue throughout his career. Every album NE-YO came out with produced a hit and slew of Grammy nominations. The NE-YO classic "Miss Independent" earned him his first Best R&B Song win. With all the acclaim and accolades a musician could desire, the pressure to outdo previous accomplishments is inevitable. NE-YO prefers to focus on the present. "I try not to concern myself with what was" he admits. "Those moments are gone. It's all about creating new ones. I don't compete with myself because I'm too good AND I suck. I'll never win or lose."
NE-YO's sound simultaneously inspires nostalgia and modernity. The imprint of NE-YO's sonic influences — Michael Jackson, Prince, Marvin Gaye, Stevie Wonder and Sammy Davis Jr. — have heavily shaped his sound and performance style. While the diversity of producers and genres NE-YO incorporates keeps the singer reinventing himself. "I've been blessed to have worked with a number of amazing artists," he says. "It's always a memorable experience when the song comes together so well you can already see yourself performing it." The R&B sphere has migrated significantly away from the music he grew up listening to. Classic R&B was an emblem of romanticism, affection and passion-fuelled lyricism. In today's world of warped ideas on masculinity, excessive materialism and objectification Hip-Hop and R&B have all but erased any remnant of vulnerability. The 38-year-old is conscious of this shift in authenticity but insists artists upholding the core of R&B still exist. "There are a few artists in the new generation that still have enough real raw emotion and shamelessness to express [vulnerability]. That makes me happy." NE-YO also touches on how today's Hip-Hop and R&B artists seem to merge into one. Singing to almost identical beats and adopting similar aesthetics, he's vocal on the lack of stylistic diversity. "We are not all the same. Sounds should be respected and represented equally…they're not" he says. Although it's easy to critique the lack of individuality in today's R&B, there's clearly an audience and demand for one particular sound. The pressure to top the charts and compete with what's thriving can leave artists torn between the kind of music they want to make and the kind of music that's trending and popular. NE-YO has come to learn that "true success in this business is accepting that [it's] 50/50. Half for the people, half for you." In an industry that is always moving onto the next thing, he says the greatest challenge of his comeback has been "adapting to the ever-changing industry and navigating the shorter attention spans. Countless new artists appear every day."
It makes sense that NE-YO's latest body of work, "Good Man," is a seamless combination of his signature crystal-clear R&B infused with today's most popular genres. The record includes acoustic-pop track 'Nights Like These', featuring Latin American singer Romeo Santos, 'On Ur Mind' featuring Alternative R&B pioneer PARTYNEXTDOOR, and sunkissed island-inspired 'Push Back' with pop singer Bebe Rexha and London MC Stefflon Don. "Good Man" is "a complete vibe start to finish," says NE-YO. The album speaks to the gentleman — a characteristic Ne-Yo has always exuded — known for his tailored attire and tilted fedora hat. His seventh studio album explores topics of love and women, bringing the concept of uplifting women into the Hip-Hop/R&B narrative. "There's a Good Man in all of us men. The sooner we realise and nurture that, the sooner the world and women will respect and nurture us again." NE-YO's self-awareness is encouraging to see. Music sets the framework for what's acceptable and his message is a progressive step in the right direction. In the past year, thanks to the #MeToo movement, the skeletons of the entertainment industry have been exposed igniting an international push for accountability. Music and Hip-Hop, however, seem to be lagging behind. Often the strength of an artist's music protects them from any repercussion. It brings to question whether the industry has become desensitised, or turned a blind eye for so long, that any change is unlikely. On why the music industry hasn't caught up with the rest of entertainment NE-YO says musicians "put our demons out in the open in our songs. The good ones have nothing to hide. All the info desired is right there in the music."
Music is not only a reflection of the times but of an artist's personal growth. NE-YO is a father and husband now and speaks of his different identities with pride and celebration. "I'm happy as hell in a faithful monogamous relationship and I'm still just as fly as I ever was. If not flyer." He speaks fondly of fatherhood saying it has taught him "patience and responsibility. You need both to be a good father and a good man." And he raves about turning to veganism after watching Netflix documentary 'What The Health': "I'm more fit, my skin is clearer, energy through the roof!" he says. "If I received any backlash at all I've successfully ignored it and will continue to do so. I feel amazing!" Ne-Yo calls this stage of life 'Good Man Season.' A period for maturation and becoming his best self. "'Tis the season. To do what's right because it's the right thing to do" he says. "It's time to get back to love and positivity. PERIOD." NE-YO radiates optimism and embodies joy, it's arguably this spirit that has kept his music timeless and his impact lasting.
NE-YO's latest album 'Good Man' is out now.
This Schön! online exclusive has been produced by
photography. Ben Duggan
fashion. Douglas Van Laningham @ Photogenics Army
production. Villani Productions
grooming.Garret Gervais @ MCH Global using Chanel
photography assistant. Roman Udalov
video. Riley Robbins
location. Nevin Dolcefino
words. Shama Nasinde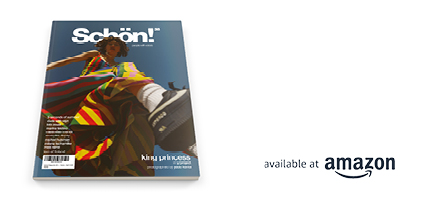 Discover the latest issue of Schön!. 
Now available in print, as an ebook, online and on any mobile device.