Miranda Raison, former Spooks star and Globe graduate, is certainly a master when it comes to juggling roles. Balancing career time between TV and film-work, with a series of trad thespian engagements usually running alongside, we pin down the lead lady for a shoot and a heart-to-heart. Starring alongside Judi Dench and Kenneth Branagh in Shakespeare's tragicomedy The Winter's Tale as the female lead Hermione, Raison is halfway through a three-month stint in the production. 
What attracted you to The Winter's Tale?
I'd only seen the play once so I didn't know it very well. I saw the production in Brooklyn a few years ago, but I thought that Hermione was an amazing part. Also, Judi Dench being in it too was a big pull.
In 2013 you had an audition for Kenneth Branagh's production of Macbeth which you have described as "horrid". What did you learn from that experience and how do you think you've evolved since then?
Oh gosh. I don't know because to be honest with you, when I did my audition for The Winter's Tale, this is not a very intelligent answer, but I was sitting down. For Macbeth, he wanted us to walk around the room and I just couldn't get my head out of the script I was walking around and reading it and I kept thinking, "I need to look up and connect with him" but I didn't.  I just couldn't read and look up fast enough particularly with Shakespearean language. With The Winter's Tale it was much more cosy. 
I was with Kenneth for a while auditioning for both plays, Winter's Tale and Harlequinade, I play his wife in both plays so obviously the connection was quite important. Also it was just a nice time and then I got the call late that night saying you're the frontrunner and I think they told me the next morning. It was all quite painless and easy.
What is it about the themes in Shakespeare that continue to resonate with modern audiences?
Certainly with Winter's Tale the setting is a court and it's all Kings and Queens, but actually it's very domestic. So I think a lot of Shakespeare's characters happen to be Kings and Queens because they have their own set up, they're easy to separate from the rest of daily life and tell the story in a contained space, [such as] a castle or a court, but actually the issues are very domestic. With Winter's Tale, it's themes of jealousy, friendship and loyalty: they're all very current emotions and current issues.
Winter's Tale is one of Shakespeare's less performed plays, what does this production bring to the play and what can someone unfamiliar with the play expect?
I think Kenneth Branagh's thing, particularly in his films Much Ado About Nothing and Henry V, was to make Shakespeare very accessible. Winter's Tale is known as a problem play, it can be quite a head scratcher with some of the language because he goes mad a lot of the time. Actually, there are two different worlds in Winter's Tale. The world of Sicilia which is his Kingdom and is like the Nutcracker. It's very Christmassy and lush.
The other world is this very Bohemian almost Pagan set-up. Again, they've done it quite traditionally but they've filled it with top quality people and the music and everything is just beautiful. To give a more succinct answer, really what he does, he gives actors space where really its the language and the play itself that comes out and the story is as simple as possible to understand for people for people that don't know it.
Dame Judi Dench plays the part of Paulina in this production. Previously, she played the part of Hermione in the 1969 Royal Shakespeare Company production. How was it working with someone who has already worked so extensively with the play and did she give you any tips for the role?
She did actually. She's very modest. She's not the kind of person in a million years who would come up and say, "darling, I wouldn't do it like that if I were you." She leaves you to get on with it, but there were certainly a few things, like I completely shamelessly nicked her pose that she stood in as the statue. I just sort of said to her in rehearsals, "how did you stand?" because there is a scene where Hermione is a statue. She said, "Oh, I just did this."
It was so simple the way she did it. I was like, "Oh my god, that's brilliant, I am definitely not going to come up with anything cleverer than that. I'm going to nick your statue." So she was quite happy with that. She's got more than advice about the text and things, it's more her attitude. Because she'd never dream of snapping at anybody or being anything less than courteous, fun, polite and easy to work with, that kind of filters down.
Kenneth Branagh and Judi Dench are icons of theatre and the screen. What is the atmosphere like backstage and in rehearsal?
It's very different with both plays. With Winter's Tale, it's less playful. Harlequinade, the other play, is a farce and we're all kind of fooling around, we have a very relaxed atmosphere. With Winter's Tale, we all do definitely have more pressure on our shoulders, we feel it. Not only is it a much longer play but it's just you're in this company and you want to do it justice. You don't want to be the player on the pitch with the star players who just looks crap because you're playing next to Lionel Messi.
The play contains one of the most famous Shakespearean stage directions: "Exit, pursued by a bear", how has this been incorporated this into the production?
Well, they have a trick with it which is really clever which I won't say, but it's quite a dramatic and huge statement that they make with this one. They don't have a bear onstage. It involves a sort of Japanese Kabuki. It's an amazing trick how they do it. The actor Michael Pennington, who plays Antigonus,this is the fourth time he has played Judi's husband over the years. He's the most amazing actor. He just gives this heart breaking speech just before he exits pursued by bear about how he'll never see his wife again. It's my favourite bit in the play. He's brilliant.
Harlequinade follows a theatre company putting on a play. How realistic a representation is this of the world of theatre?
Terrence Rattigan wrote it in the '40s and he was very much a lover of actors but at the same time sending them up. They are quite extreme versions but of things that he really saw. Ken and I play Edna and Arthur Gosport who are incredibly spoiled, incredibly self involved. My character is the complete egomaniac, his is the complete scatterbrain. They're both entirely self-centred and a bit nuts but they're surrounded by a slightly more sane company but I think it's probably taken from experience that Terrence Rattigan had in the theatre that he's just slightly exaggerated. It's very much 1940s, it's set in a certain time so the period and everything is quite extreme but it's good fun.
Which do you prefer, acting for the stage or acting for the screen?
The genuine answer is both. I think one helps you enjoy the other. For years I just did screen work. There were seven years where I didn't do a play at all and actually when I came back doing theatre I had horrible stage fright for the first play that I did. 
So do you still face stage fright and nerves?
I do, not as badly as I did then. I think everybody feels the nerves but there is a difference between the adrenaline fear which can be quite good, certainly for the first part of a run it helps you keep that little bit more alert but then it can cross over into the quite paralysing. That, I don't really get I have to say, but I have had it and did have it then which is an almost out of body experience. It was bound to happen after not doing one for seven years. Some actors get it so badly that they will just never do a play and that's completely understandable but its probably something I would have been quite judgemental of before I actually had it myself. It's a crazy sort of feeling. It probably sort of lasts a few seconds but it feels like hours.
You're also starring in a new crime thriller, Spotless. What can you tell us about that?
I think it's really good. It's a sort of black comedy and when it was first pitched to me it was pitched as European Breaking Bad, which didn't really say much because I thought well everything is going to want to say it's like Breaking Bad, but actually it's sort of Dexter Breaking Bad. The added element to it is that Canal+ originally produced it and it has got a very French vibe to it as well. It's about a crime scene cleaner and his family and he becomes involved with the mob and it's really dark. My parents have only just watched it and really struggled with some of it but they really enjoyed it. My Dad actually said it was the best thing he's seen for a while.
You've done stage, film and television – would you ever get behind the camera?
At the moment I'm writing something with my cousin which we haven't taken to the next level yet. We've spoken to people about developing a script for an idea that we had a long time ago. I really like the idea of writing, if I can be disciplined enough. The idea of directing, not so much. I'm a bit more of a sheep than a shepherd I think when it comes to things like that. A passion to write, more than a passion to direct.
2016 is already looking like a pretty busy year for you, are there any other plans in the works?
Having worked with Canal+ on this drama, I'm very keen and there are a couple of vague plans to do a bit of work in France next year which I would really like. I speak French and I really want to get into working in French cinema because I really think they make such brilliant films all year round. I've had a couple of nice intriguing offers for next year which I'm definitely going to look into.
See The Winter's Tale and Harlequinade/All On Her Own at Garrick Theatre, London, until 16th January. 

Words / Caitlin Donaldson
This Schön! online editorial was produced by
Photography / Paul Whitfield
Styling / Sylvester Yiu
Make-Up / Maddie Austin using MAC Pro
Hair / Hamilton Stansfield at slreps.com using Philip B Hair Care
Photography Assistant / Christos Markou
Styling Assistant / Artyom Shaligin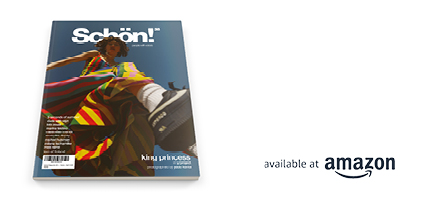 Discover the latest issue of Schön!. 
Now available in print, as an ebook, online and on any mobile device.