The majority of people could not include portraying a 16-year-old drag queen in their resumé. However, it's all in a day's work for John McCrea, who plays the lead in the popular musical Everybody's Talking About Jamie. The Apollo Theatre debuted this highly acclaimed musical in February 2017. With the announcement of the show's renewal, a film adaptation on the works as well as the musical hitting cinemas, Schön! sits down with McCrea to discuss burning energy, the power of knowledge and the contradictions of being a teenager.
John McCrea grew up in Surrey. As a young boy, he had overflowing energy, which often led him into mischief. To combat this, he was sent to acting school. "It was actually my academic teachers that suggested taking up some extracurricular activities," he recalls. "And as soon as I realised I couldn't get into trouble when I was performing, everything started to make a lot more sense to me."  It quickly became apparent that acting was more than just a way to blow off steam.
As he entered his teenage years, McCrea engaged in more formal studies, attending the Sylvia Young Theatre School. "For me, it was the best experience and I certainly wouldn't be the actor I am today without it," he states. McCrea appears to be a lifelong student, he eagerly approaches each role as a chance to gain further knowledge and develop his skills. "I try to learn on every job I do," he says. "I have always been that way so I'm always trying to soak up knowledge from my surroundings." One role which truly challenged his knowledge was his work in God's Own Country, where McCrea played a University student. He reflects on this time fondly. "It was an extraordinary experience. Francis Lee is so talented and a very inspirational man to be around."
In fact, having respect and admiration for those around him seems vital to McCrea's work as an actor. When congratulated on his recent nominations and awards, including an Olivier Nomination and a Critics Circle Theatre Award, he alludes to what is most important to him. "There is nothing quite like the bond between you and your fellow actors, it's intoxicating. Of course, getting positive notices from your work will always be a nice thing, however, the reaction from the audiences is what fuels me." Arguably a sign of the true theatre actor within.
It is clear this love of theatre is not abating. In what is recognised as his best performance so far, McCrea, 25 years old, plays a 16-year-old drag queen in a show-stopping musical. "For me, the greatest challenge was being sixteen," he admits. "It's such a specific time in a person's life. You're not a child anymore but you're also a long way off from being an adult and Jamie is a walking contraction. One character in the show describes him as 'clueless and clever' another says he is 'a genius and an idiot' so there is a real knife's edge quality to him." As Jamie is based on a real person, there's another layer of challenge presented in McCrea's role. "The one thing I did draw on quite heavily was his physicality," he explains. "He moves in a very specific way and so I really tried to capture that."
This is the second adaptation of Jamie's story. In 2011, the BBC Three documentary, Jamie: Drag Queen at 16, was telecast. However, in McCrea's opinion, the stage adds a little more. "We had to expand sixty minutes of material into two and a half hours," he muses. "So naturally, you take creative licence and create characters that didn't exist originally to keep the story moving. We have also changed the environment from County Durham to Sheffield, which has altered things as simple as dialect and accent," he explains. These new alterations seem to be working well, as the show has been critically acclaimed and McCrea is seen as instrumental in its success.
With all of this tucked under his belt, it's only natural to wonder what McCrea's next challenge could entail. "I'm a huge Noel Coward fan so I would love to tackle his work at some point," he says. "As well as new material. I'd also like to have a crack at playing David Bowie. Apart from that I just want to keep on working and learning really." It appears that whatever direction he takes, at heart, McCrea will always be that young boy burning off steam on stage, as he concludes, "I hope to work in as many ways as possible but my heart will always belong to the theatre. I consider it home."
'Everybody's Talking About Jamie' will be screening a live broadcast to cinemas on July 5 across the UK, Ireland and selected European territories. Grab tickets for the musical here. 
This Schön! online exclusive has been produced by
photography. Simon Lipman
fashion. Kay Korsh
hair. Neusa Neves @ Terri Manduca using Laura Mercier + Tigi hair care
fashion assistants. Clara La Rosa + Martynas Stirneckas
words. Alana Flood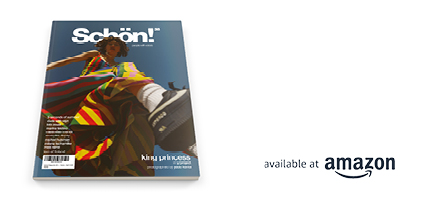 Discover the latest issue of Schön!. 
Now available in print, as an ebook, online and on any mobile device.