Jackie Cruz can do it all. Known to most as the silver-tongued outspoken inmate Marisol "Flaca" Gonzales on Netflix's original series Orange Is the New Black, which has long been praised for its representation, breaking gender and race stereotypes whilst also raising awareness on the American prison system conditions. But Cruz's talents aren't restricted to the screen. In fact, they aren't restricted at all. Unapologetic, determined and serene, Jackie's joie de vivre and strong stance to fight for justice are undeniably contagious. After a car accident that changed her life, she found refuge in her creative freedom: whether that'd be in the form of music, acting or activism. As the sixth season of Orange is the New Black approaches and Jackie's musical career takes off, we catch up with the trailblazer to talk about her upcoming releases, changing the world through art and why she considers herself a visionary.
Hopefully, Orange Is The New Black is coming back shortly, although there is no air date yet… What are you most proud of a show like this in this day and age?
I am just so happy and proud to be part of this show because, number one, it is a show created for women and by women. OITNB is bringing awareness to a problem that we have incarcerated in the system. The system is messed up, you know? It was incredible that one woman wrote the story and we got to go inside this world and meet all types of unique interesting women that you maybe felt like were bad because they were in prison. What I've learned from being on this show is not to judge a person because of where they are. People make mistakes and the system is so messed up that you get stuck in this environment. We need more shows that highlight the problems that are happening inside of women's prisons because it is a big problem.
[Also,] I get to work with the most beautiful women. They are so genuine, humble and authentic. To be a part of Netflix and being one of the first shows that people can stream, that's amazing. I feel like we've broken so many barriers on TV and we get to pioneer. We are pioneers in the whole streaming world. We've just created history and I'm honoured to have been part and continue to be a part of it. [This] show inspired me to open my own production company, 'Unspoken Production', and right now I'm working on my own projects of stories that need to be told, that need to be highlighted, that we don't see or aren't represented much in the media.
Each season the series has continued to establish high performances and it keeps growing in audience. Did you expect this success when you first joined in season one?
Oh, of course not. We would all sit in a room, one of these little rooms that they gave us at first, and we were like "you guys, what is this show is gonna be about? What do you think?" No, this is something that came out of nowhere, and it felt like, because people watched it 13 hours straight and when it first came out, we were pretty much recognised the next day. It was kind of cool but it caught us all off guard. We didn't know is was gonna be like this, which is a blessing.
Flaca is definitely not your first role but it is arguably your breakout and you've been quite open about how you had to juggle your waitressing job and acting during the first two seasons of the show. Having worked your way up to series regular, what does it mean to you to be playing Flaca nowadays and what was your first reaction when you found out you landed the role?
Honestly, when I landed the role I thought it was just for one day. Literally. I was jumping up and down, it was exciting. I didn't realise they would call me back for a second day. We didn't know what to expect and I just went in there giving it the best shot. It was this scene with Taystee fighting over the King Kone. We fought really hard and I said "Listen, push me, don't be afraid" and we really did and honestly I was soaking in Epsom salts for two days because we really hit it hard. It was just the funniest experience I've ever had really.  I didn't know what to expect, I didn't know when they were gonna call me again, but I just kept my faith going and did the best I could do with the lines that they gave me.
Well, it worked out in the end because you had one sentence in the first season and now you're an integral part of the show. That must feel amazing…
Yeah, it makes me feel validated as an actress because I started small and slowly [and] they saw something in me. This show, to me, has been a masterclass because I've learned so much and I've grown. It's already been six years, I was in my early or mid-twenties when I first started and I've just grown as a woman. I've grown with these women and I've just learned so much. I can't even tell you how grateful I am. But this is just the beginning for me. It's been six years, but it's just the beginning. I feel like [OITNB] opened the door for Hollywood. And now, I'm ready for anything.
What are the main challenges you find playing Flaca? Do you feel you're similar to her in any way?
Yes! I actually feel similar in a lot of ways, but I also feel that she says what's on her mind and she's not afraid what people think of her — that's maybe something I wished I was a bit more like Flaca but, of course, more respectfully. Flaca is a bit of my alter ego in a way because I wasn't really cool in high school, I didn't have what she had: the cool style, the confidence… I was ambitious but I was afraid to be myself. I kept moving around when I was in high school from the Dominican Republic to California to New York… so I always had to make new friends and I was always vulnerable but Flaca is just so confident and secure. So I don't have that in common, but I do feel like we share the love for music. She loves '80s rock. I believe music is something that they want to put in the show, maybe they won't, but music is my first love. After my single, La Hora Loca, comes out, [we'll see]. They write a lot on the show with a little bit of your own life so maybe they'll make Flaca sing, who knows…
You were raised by your mother and aunts. Being part of an industry that has long placed womxn in the backseat, with movements like #MeToo and #TimesUp gaining unprecedented traction and being part of a series that highlights powerful women, who are some womxn that inspire your everyday life?
My mom and her sister, who raised me to be who I am right now, and my godparents that live upstate and are in their mid-70s. They are just very proud of me because since I was a little girl this is all I ever wanted to do so they can't believe it. They can't believe that I am actually doing what I said I was going to do. Besides my family, I am also inspired by Carmen Perez and Isabel González, she was an editor at Billboard Magazine. Carmen Perez is an activist that works with The Justice League NY, that I'm a part of right now, with Harry Belafonte and his quote is that "artists are the gatekeepers of the truth." I don't know what it is, but the moment I met her, I connected with her. I'm like her long lost sister or something. She is just an incredible person and she made me feel secure to speak up and say what's on my mind and fight for what's right. She is not afraid to do what's right even though it's the hardest thing in the world. That's what inspires me: people like her, the women from the Women's March…
I'm a part of Carmen's tribe and I just feel loved, I feel like we're doing the right thing and she just made me feel really powerful. She made me feel like my voice is strong no matter what people say. Not everyone is gonna agree with what you believe in but I don't care anymore because why shouldn't I fight for it? The president right now was a reality star and people care what he thinks so why can't I just say what I think? I fight for what I believe. Isabel González is the one who introduced me to Carmen.  She is someone that puts me around the right people because she believes in me. Having mentors like that, I just feel so lucky. I like to be the weakest link in the crew so I can learn from the people around me and what they do. As I get older, that's what I've learned. You lose some friends through success [but] I'm growing still and I'm not afraid to cut negativity out of my life and keep the positive.
That's a thing we all should learn to do, but not all of us do it. So would you consider yourself an activist?
I definitely am. I'm a part of The Justice League with Carmen Pérez, which was started by Harry Belafonte. He is her mentor, and Carmen is pretty much my mentor. I try to follow her steps and fight for what's right and [learn] how I can help and use my platform for the better.
How important is it for you to use to tackle issues like prison reform, immigration, LGBTQ rights and gender inequalities?
It's the most important thing in the world. That's the best thing OITNB gave me: my voice and this platform.  I can live out my dreams: I can work on my music and talk about the things that I believe in to fight for what's right. I'm not here just for myself. I want to open the doors for other people just like me. That's why I started my production company, that's why I started my own label, 'Unspoken Records'. I like to support other women, other friends, people that don't have maybe as many followers as I do, but that I know are incredible — if [only] someone heard them or saw them.
Going back to your own company, you're set to have your directorial debut soon…
Yes, it's literally only two minutes so not a big deal. It's just the beginning of something that I want to create for an actual feature. This little beginning I directed goes to my music. I'm almost doing little movies before my music videos. It's called The First Take and it's about the first woman in the world, which is Lilith. No one talks about her because she was written out of The Bible. [In] Jewish mythology. They say Lilith was the first woman and she and Adam didn't get along because she didn't want to follow what he was saying so he said: "Hey God, give me another woman, this one won't listen to me". Basically, I am trying to say that we've been sexist since God. God gave Adam another woman and she still didn't listen, so my video [focuses on] the first feminist, Lilith, and the song is called Be Bad. The voice of God is played by Eugenio Derbez. I met him I thought "oh my God, he would be the perfect voice for God." So I have this little two-minute short starring Eugenio, me and this other actor, Victor Almanzar, from Power. Eve is this beautiful blonde bombshell, and I'm the Latina that's giving Adam a hard time.
When is it coming out?
Soon. This summer. I want to include it in my music video that's editing right now. But it'll be out this summer for sure because my album is coming out this summer as well.
So apart from writing your own film, you also write your own music. How important is songwriting to you?
I've been doing this my whole life — people are like "oh, now she sings?" Before OITNB, the reason that I moved to NY was for music. OITNB really was a blessing. I'd quit acting. I wasn't getting roles because of the way I looked. I didn't look Mexican enough, or whatever. So I moved to NY. I lived in California for pretty much eight years and I got maybe two small roles [so I decided to focus] on music. I quit acting for six years. Music is my first everything.
Writing my own music is [crucial] because people want to know about you and who you are. I have a co-writer with me because, obviously, I can't do everything but I know what I want to say, what I wanna talk about and what it is that I feel. I'm really good with melodies. I've been working with this rapper called Feefa, he's his own artist but he's also helping me because I [needed] someone to help me write in Spanish. He writes about his life and true things that happen to him, we felt really connected and wrote like 20 songs in a month. It was crazy. I already have my album. We wrote La Hora Loca in 30 minutes. Things have just been happening so quickly with him. It was just this amazing explosion of creativity that happened between us. It's been such a fun journey. It's very important to me because it's my story. Who else can tell your story better than you?
Yeah, of course. So when can we expect your album?
I've been learning more and more about my culture and about myself and what I want in my music. Music is passion, and also therapy for me and for my listeners. I'm talking about my dad, I'm talking about my mom, I'm talking about my car accident, I'm talking about love, I'm talking about heartbreak. I'm looking forward to bringing a new sound to the game. Feefa has helped me find my sound and I've been searching my entire life. I'm so excited to drop my music in summer. The album is still in the works but I'm gonna be releasing singles in the meantime after La Hora Loca. That's my plan.
I'm independent, so I get to do what the hell I want.  I have full control of my projects. I'm filming behind scenes and I want to do a documentary on how to make it on your own because, really, this is hard. I'm putting my own money into this. I'm putting everything into this because I believe in it and why not? I'm saying "yes" to me. I'm not gonna wait for somebody to be like "I'm gonna hire her". This is been my lifelong journey and OITNB already said yes so I'm using that door and breaking it open, My music is going to take me to the next level, it's going to help me book even more films and get more money to create what I'm trying to do in the industry. What I'm trying to change. Being a Latina woman we don't have a lot of opportunities and instead of me complaining about it, I want to make my own opportunities. Not just for me, but for the women and for the underrepresented. I'm working on a movie right called "All The World Is Sleeping" and it's similar to what I'm doing in OITNB: it's about women who are recovering from addiction. Not a lot of people get to hear those stories and that's exactly what projects I feel I need to work on.
You mentioned being a Latinx woman. Did you know that Latinx people still remain to be the most underrepresented group? 
Yes, I know. I know because I'm living it. It's terrible. There were zero Latinx women that made a film last year. I'm gonna be the first one to make a film this year, hopefully. That's my goal. I want to make history, why not? I feel that's what I'm here for. Because I struggle. All of us are struggling to make it. And a lot of us say we want to help but that's just talk. Instead of me talking about it, I'm just gonna do it. It would be really amazing if the people who have the power united and helped each other to make it. That's the problem with the Latinx community right now. There's just too much competition, why not open another chair for the next person? That's what  I'm trying to open up. I'm just gonna do what I gotta do and lead by example and hopefully, people will see what I'm doing and they would like to get involved but again I'm not gonna beg you to help me. 
I'm just gonna continue to shed light on these social injustices and use my platform to speak for what I believe in and continue not to care what the trolls say.  You can unfollow me if you don't like it. I want the people to understand that they are just like me. I don't want to be untouchable. I want you to touch me. I want you to know that you can actually do exactly what I'm doing. People love to say they want to do things but they don't understand they have to work really hard. I started this life when I was 15 years old and it's right now [that] I'm releasing my music. 15 years later.
You said that you don't like being put in a box and that you can have many dreams. Apart from music and acting, what are some of your other dreams that you'd like to fulfil?
I want to direct. I have so many ideas. I work with this one writer, her name is Carol Garlick, and again she is another person that I'm using my platform to show the world. She is incredible. I feel that being a director is something that I never knew that I wanted until I did it. I just realised I'm a visionary: so directing, taking pictures and video is just something that I love to do and the more I do it, the more I see my potential. I'm going direct one of my shorts actually, about a woman who gets raped in the military, it's called Pink Fire. I'm not sure when I'm going to do it, because my music took over this summer, but I plan to do it when I'm filming OITNB if they call me for Season 7, which I haven't had the phone call yet. My life is up in the air right now.
But you have one life. And if you have this passion in your heart and soul that maybe God or whatever you believe in gave you then, why not do it? I've lived in a car before. I had a terrible car accident when I was 15. I was on a deathbed and here I am today living out my dreams so if I can do it, why the hell can't you? I didn't have a dad, my mom shipped me around when I was a kid and I grew up as a gipsy and then I moved out at 16, so don't tell me that you can't do it. If my life is not an inspiration to you, I don't know what else to do. I've lived such a long-short life and that's why I tell my story. Before I was ashamed, I didn't want people to think that I was victimizing myself, now I'm trying to use my story to inspire you to believe in yourself because honestly, I wish I had someone [like that] when I was younger — that's why I do a lot of speeches in colleges. I swear the best experience is to give back: to have young children actually listen to you. It just feels really good, and it's just a win-win situation for me.
'Orange Is The New Black' season six premieres July 27 on Netflix.
Listen to Jackie's latest single,'La Hora Loca', here.  

This Schön! online exclusive has been produced by
photography. Benjamin Askinas
fashion. Douglas VanLaningham @ Photogenics Army
talent. Jackie Cruz
hair. Iggy Rosales @ Opus Beauty
make up. Mikayla Gottlieb @ Opus Beauty
words. Sara Delgado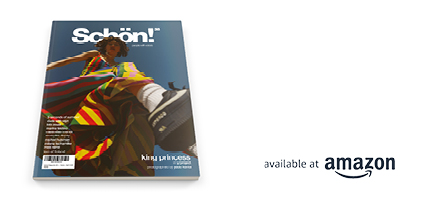 Discover the latest issue of Schön!. 
Now available in print, as an ebook, online and on any mobile device.