It's a tale as old as time to grow up in a small town, get bullied by the other kids for being different, and find ways to express yourself creatively. This is precisely what happened to HoodrichJ, a DJ and artist based out of New York. A lover of the arts, 'HoodrichJ' (a.k.a. Jamont) is a part of the young gender-fluid generation – believing gender is just a construct no one needs abide by. With runway shows, photoshoots, and a new show on NTS Radio under his belt, this former outsider is only getting started. 
Shot by Sophia Wilson exclusively for Schön!, this power duo represents a new generation of young POC creatives. The New York City-based and self-taught photographer has made a name for herself at only 17 capturing youth subcultures and pop milestones through her lively yet subdued lens – with multiple magazine covers, Fashion Week shows and features in some of the most coveted media brands. These 17-year-olds represent the future and present of fashion and the creative arts: a young generation, whose voices will not only not be silenced but heard loud and clear. To accompany this quasi NYC oneiric editorial, Schön! sits down with HoodrichJ to talk about black hyper-masculinity and their taking over the creative field.
What was it like growing up in your town outside of New York City? You state that your sister is also non-binary and you two are very close. What was it like having that sort of support growing up? 
It made me grow up faster than most kids. I was bullied a lot as a young kid because I was different. It made me become dependent on the internet. I grew up meeting people on Instagram, Tumblr… I started to get recognized by many people through the web. I basically grew up on the internet. My sister and I were very much outcasts in our small town. Everyone around town knew us as "those kids". My sister was the skater, tomboy of the town; while I was very much into fashion. My parents made my sister and I share everything, evenly, no matter our gender. We started sharing clothes and venturing outside my small town to NYC. It's amazing to grow up so close with someone who is equally just as different as myself. 

What drew you to start making your own mixes and putting them up online? 
My father was a big-time DJ in the 1990's and 00's. He has worked with many of the big names of the 90s – including  "CokeBoys." My dad was very much into the industry of New York, he used vogue and break dance at parties in his teens. I grew up going with him to meetings with several different companies. I was a loner outside of school so to keep me busy, my dad taught me how to DJ and mix music.
How did you get in touch with Ryan Charlie? How was it walking that runway show? 
It was scouted by the designer. It was my first runway and I had school before the runway. So throughout my school day, all I was doing was overthinking about walking the runway. However, I somehow figured out a way to still ace my AP Statistics Exam…
How was it collaborating/walking for VFILES? 
It was bittersweet. The people at VFiles are a warm-hearted team that really takes time to discover underestimated young artists. They aren't like other companies where they are scared to included everyone from all walks of life. There's no discrimination whatsoever.

Who are some POC creatives you admire and/or collaborate with?
Issa Rae, Venus X, Princess Nokia, Cardi B, Julia Sarr-Jamois… The majority of the people that I look up to are powerful women of colour. Their perseverance is truly underestimated and never recognized enough. Men are looked too highly of as "savers", but in actuality women are the ones crushing boundaries, embracing and empowering each other. I need to see more of that with men. 
Has the internet helped you reach out and discover other like-minded individuals? 
Definitely, I grew up on the internet. The internet has helped me find myself and solved a lot of my problems. I've met the majority of my friends from the Internet. I started to get scouted from my Tumblr when I was 14 – like American Apparel X Principle 6 and Hood By Air. I've also collaborated with several DJ companies that scouted me through my Soundcloud mixes, like NTS Radio.
What is the creative climate like for young, non-binary creatives today? 
I feel that the industry is opening up to non-binaries. I'd say is getting there as a whole but still has a long way to go…

For you, what makes Gender Neutrality important? 
Men need to realize their privileges and use them to help women, trans and others. Since the world is so split with genders, we feel different about each other through our gender roles. We need to stop these gender roles so both women and men will be able to do whatever they want, no matter if it's feminine or masculine. 
Do you feel it's important to use your platform to crush "black hyper-masculinity" stereotypes? 
Yes, I've impacted so many young black men to love women, trans and others. Some of my friends even write "respect women only" on their skateboards. I love it. My persona is all about loving each other and empowering the youth. I try to make an example of what a strong carefree black man is. Being militant in your blackness is key, however, there's much more to that. It's also about endlessly passing on that unstoppable self-love to others, the love that you've developed through all of that hatred you get for being black. 
You've discussed the importance of not shying away from being called feminine. Do you think we still have a long way to go for femininity in males to be accepted? 
Of course, when I break it down to people of how amazing the world would be for a genderless world, they agree with me. People my age say, "you're so cool", "love your aesthetic", or other comments. I stress to them that thinking outside the box is important.
You mentioned your mental illness on Instagram – more individuals are openly discussing their illnesses from anxiety, addiction, to depression publicly. How important is being vocal about mental illness for young adults to help break the stigma (if there still is one)? 
I've made my mental health a priority. It's important to know that not every day isn't going to be perfect. Crying, frustration, loneliness, and overthinking… they're healthy. Normalizing mental health is important to me rather than romanticizing it into something that isn't real. Talking about it with other people and social media, makes me feel like they're not alone, they see someone just like them struggling and surpassing struggles each day. Imperfection should be shunned out.
Listen to DJ HOODRICH J's NTS radio show here.
This Schön online exclusive was produced by
Photography / Sophia Wilson
Fashion / Jared Martell
Talent / Jamont
Make Up / Raisa Thomas
Interview / Estefania Hageman
Words / Estefania Hageman & Sara Delgado.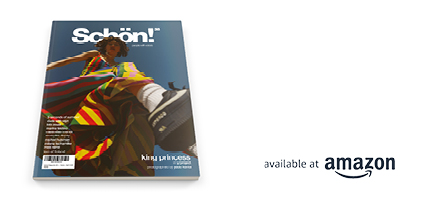 Discover the latest issue of Schön!. 
Now available in print, as an ebook, online and on any mobile device.